System X

Enfield, North London
Paul Reid - Bass Guitar & Vocals
Mark Lowther - Guitar & Backing Vocals
Bob Gibson - Drums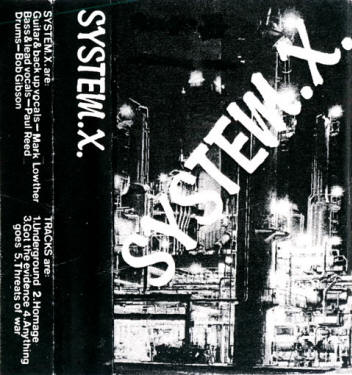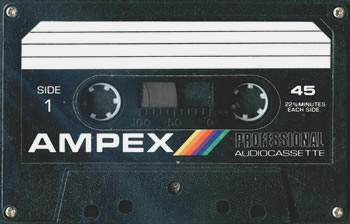 Above is the bands five track demo that they recorded back in the late 70s.
The band consisted of Paul Reid Bass Guitar/Vocals, Paul wrote wrote all the songs with some input from Mark Lowther Guitar Backing Vocals and myself Bob Gibson on drums.
System X started in mid 1977 as far as I remember, We all attended the same school in Enfield North London and were all mad about Punk since hearing the Dammed's New Rose on Radio London back in December 1976.
None of us had any background in music before then, Paul and Mark were self taught and myself (Bob) just smashed out a rhythm and hoped it went with the other two.
After a few drunken sessions down the Halligan Band Centre Rehearsal studio in Highbury we decided to hit the big time and record a demo tape in a studio in Kings Cross which I think cost about £25.
I played the couch cushions with Paul and Mark in Paul's House before we decided to do the recording in early 1978.
We recorded five tracks which were: 'Underground', 'Homage', 'Got the Evidence', 'Anything Goes' & 'Threats of War'.
Unfortunately nothing ever came of it despite sending the tape to a few clubs and sadly we never played a gig.
We all went our separate ways soon after and lost touch until a few years ago when I contacted Mark through Facebook and got hold of the demo..
Paul's whereabouts are unknown, Mark did carry System X on and they sounded a lot more professional and polished than the 5 Tracks on offer on Our Original Demo.
Myself (Bob) is now married and living in Suffolk and works as a store man at a local council in Suffolk. I still love Punk as much as I did back in the old days ...Mark is Married living in Hackney and a typesetter .
Bob Gibson
2012
Bob Gibson

Mark Lowther

In the recording studio

Bob Gibson

Paul Reid

Mark Lowther
Bob Gibson
Thanks to Bob Gibson



©Detour Records