THEY MUST BE RUSSIANS
Split Single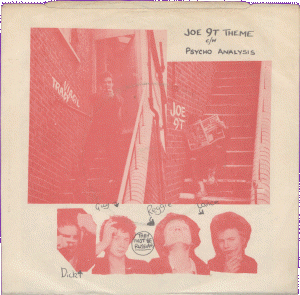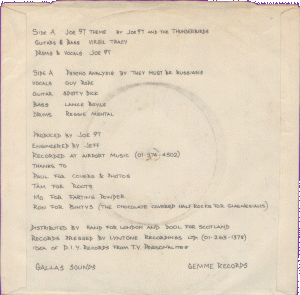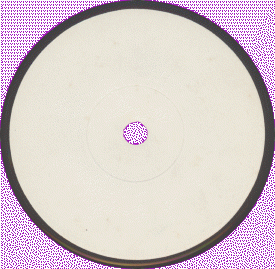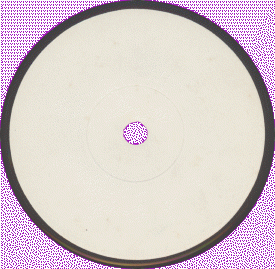 They Must Be Russians : Psycho Analysis
Joe 9T and The Thunderbirds : Joe 9T Theme
Catalogue Number - LYN6526
Label - Gemme Records
Year Of Release - 1979
Quantity Pressed - 1000
Recorded Airport Music Studio, Southall
They Must Be Russians line up
| | |
| --- | --- |
| Guy Rope (aka Guy Wigmore) Vocals | Spotty Dick (aka Mike Clarke) Guitar |
| Lance Boil (aka Adrian) Bass | Reggie Mental (aka Mark Breton) Drums |
Joe 9T and the Thunderbirds line up
| | |
| --- | --- |
| Virgil Tracy - Guitars and Bass | Joe 9T - Drums and Vocals |
Klive Humberstone

Mark Breton

?????

Nigel Humberstone

Mike Clarke

Early 'They Must Be Russians' line-up rehearsing in a school somewhere in 1977. This line up was the original incarnation of the band!
'They Must Be Russians' came about in summer 1977 in Royal Windsor, Berkshire. 'Clarke' and 'Breton' played in a band at school there, which also included 'Nigel' and 'Klive Humberstone' (later to find fame as In 'The Nursery'), and played 3rd division Punk covers ('Chelsea' and the 'Cortinas') alongside a smattering of originals. They played one school gig alongside 'David Buck', who did a passable 'John Cooper-Clarke' Punk-Poet act, and the first TMBR, which was basically 'Clarke' and 'Wigmore' / guitar and vocals ala 'Spizz Oil'. There was earlier an abortive attempt to play a Jubilee party in Windsor in sunny summer '77 with a one-off line-up, but despite the full cans of lager thrown at us from passing soul boys in their Mark 2 Cortinas that day (something to do with a 'God Save The Queen' Pistols t-shirt?), the inept few songs we managed inspired laughter from the (by now well-oiled) middle-aged party goers rather than the potential street cred-vitriol we had hoped to inspire. The band name came from a tabloid letter protesting at Jamie Reid's safety-pinned depiction of the monarch, a letter which similarly inspired a Sheffield band of the same name that summer. The latter's guitarist later joined 'Clock DVA' and 'The Box', bizarrely dating Clarke's sister in the late 1980's.
The split single was recorded in late 1978 and was paid for by 'Joe 9T',two Scots guys (from Helensburgh perhaps) who the band met whilst dossing for a summer on a beach in Antibes near Nice in the South of France. There were a couple of shows at the Chippenham pub in Maida Vale, possibly with any one or two of: 'The Passengers', 'Bank Of Dresden', 'Modettes' and the 'Tesco Bombers', but my memory's not what it was. I can remember the 'Tesco Bombers' squat off Westbourne Grove, seeing them at the 'Africa Centre' supporting the 'Psychedelic Furs' (the Furs, Ants and others looked like a more imaginative way for Punk to go at the time than the 'UK Subs', 'Upstarts' et al) and Guy plaguing 'Kleenex' for a support slot whilst ligging his way through their summer tour. 'John Peel' played the single a few times, we got quite high in a Small Wonder chart printed in 'Sounds' ("You're higher than the Lurkers!" my sister exclaimed, those things were important then), though 'Pete Stennet' later told me it was because he liked the record rather than any great sales. Again, I'm unable to remember any songs beyond the single though we had a full, if shortest, set of originals. By late summer 1979 the band had fizzled out .There was another summer spent on the beach of Antibes, which was several months of fighting locals, splitting up with our girlfriends and subsisting on cheap wine/stolen food (just as most of us left to come home two rival biker gangs had a shoot-out on the beach apparently). Though we had aspirations to emulate pre-1st LP 'Siouxsie & The Banshees', 'Devo' ,'Spizz Oil' and the 'Subway Sect', I don't think we took it all particularly seriously. It was great to put out a record, we were all 18-19 years old in 1979 and just 3 years previous, the idea that, with only some cheap instruments and a few chords, you could not only form a band but make a record had been unthinkable.
Like many of the bands then who made a single and played a few gigs before vanishing, we were one-shot wonders, but Punk made anything possible, if only briefly. 'Guy' went off to University, 'Adrian' went travelling, I saw 'Mark' a few times in the early 1980's but have no idea where any of them are now. I carried on with music, playing in various bands, doing the odd fanzine, a mail-order and a record label in the early 1990's.
That's about it......
Above is an original gig flyer from 1979
Mike Clarke

September 2005
©Detour Records