| | | |
| --- | --- | --- |
| | | |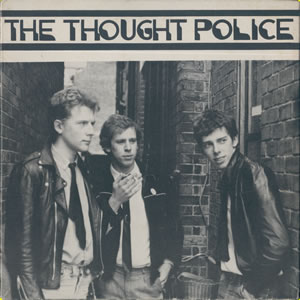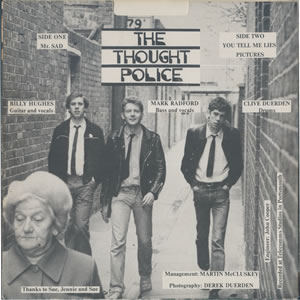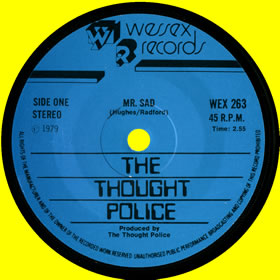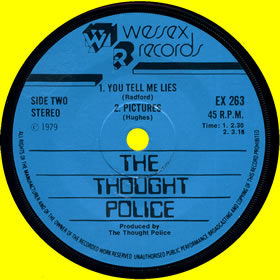 Mr Sad / You Tell Me Lies / Pictures
Catalogue Number - WEX 263
Label - Wessex Records
Year Of Release - 1979
Quantity Pressed - ?????
Billy Hughes - Guitar & Vocals
Mark Radford - Bass & Vocals
Clive Duerden - Drums
INFORMATION
Band name : The Thought Police
Active : Portsmouth and southern England, 1978 - 1980
Released Recordings : Mr. Sad E.P - tracks : 1. Mr. Sad (Hughes / Radford) 2. Pictures (Hughes) 3. You Tell Me Lies (Radford) - Wessex label
Unreleased : 1. Lost In Your Hairdo 2. Go-Go Baby (Dave Symonds recording sessions) 3. Fantasy (from the 'Mr.Sad' recording sessions)
HISTORY
The Thought Police were formed in Southsea, Hampshire early in 1978 by Mark Radford, Clive Duerden and Billy Hughes, all 6th form pupils at St John's College. Clive and Billy had dabbled in various bands prior to the 'serious' business of the TPs, while Billy and Mark were independently writing songs throughout the winter of 77/78 which would eventually form the TP's first set list.
The Frames (whose guitarist Nick Radford was Mark's brother) and the Thought Police were the only St John's College bands to seriously launch themselves onto the local music scene. Both bands rehearsed in the cellars of the Portsmouth Irish Club, where the vents of the Chinese restaurant next door provided a suitable aromatic punkness to the astoundingly dangerous rehearsal rooms (there was one exit - a wooden staircase - shared with a number of very dodgy second-hand amps which had a propensity to short out, not to mention the constant tinnitus culminating from rehearsing 5 nights a week) The Frames immortalised the Irish Club / Chinese Restaurant rehearsal vibe in their existential paean 'Chinese Takeaway' - "I like Chinese Restaurants / I like Chinese meals / I just sit at home all night and listen to John Peel...1234"
After months of non-stop rehearsal - God knows how the band passed their A Levels - the Thought Police were ready for their first gig at Southsea's infamous Cumberland Tavern later that summer. This was a triple bill with The Frames and Alice, a hippy band with a 'chick' singer (who were at the 'very competent' end of the performing circle that night, it must be said) Note that local Grammar School band Chaos also shared their first bill with Alice - it must have been a rite of passage for all Portsmouth punk bands. The Thought Police only had 6 songs at the ready, so their encore - which they did to rapturous applause - was a recycle of the first couple of numbers, including Radford's stonking 'Fantasy', which quickly became a crowd favourite. Numerous local gigs followed, including a number of supports at the Rotary Club, Pompey's first truly punk / new wave venue. Clive Duerden recalls: "The Rotary Club! I remember we played there supporting a heavy metal outfit called Black Dog, whose hairy supporters sat on the floor at the front in greatcoats and waved their heads about as if it was 1969 and they were up to their necks in mud at Woodstock, on bad acid. Strange to say, they went down better than we did. The other thing about the Rotary was the night we played and the Church Daubers asked if they could 'borrow our equipment' and play an unscheduled impromptu gig. We weren't keen! Other classic things at the Rotary? Local chancers the X-Spurts. They had a bad-tempered lead singer with glasses, who screamed his way through their main song, which was called "I Wanna be A Lesbian - Don't You?" Classy stuff!"
However it was inevitable that three nice middle-class boys would leave for university in October 78, and as all three attended different colleges - East Anglia (Norwich), Exeter and Kent - this made rehearsals a bit tricky. Regardless, the band pulled their connections to play a slew of university gigs around the country, including University College London in the Strand supporting 'Sraight 8' - a band sponsored by Pete Townsend. Bill Hughes remembers this vividly: "We were staying in halls of residence somewhere in Camberwell, where our school friend, Greg Ingham, was shacked up with an English teacher from St John's - a scandal at the time and a bit embarrassing for the TPs who'd last seen her marking papers in the library, and now she was sprawled on a bed with one of our contemporaries. We were frankly appalled and jealous. The band and followers were sleeping in baths - seriously, there were 4 baths in each communal bathroom - which cramped more than our style. We managed a couple of rehearsals then dragged ourselves to UCL for the Saturday night gig. Straight 8 were doing that disdainful professional thing bands do to supports, and pretty well blanked us. I have memories of a last-minute rehearsal in a cupboard, with rumours of extreme violence taking place nearby - unrelated to us - and then the gig started off with a showing of 'Jubilee' which set the tone for the night - a bad one. The Thought Police took to the stage and kicked off with 'Shake Your Heart' followed by 'Walk Away' which I inadvertently started in C instead of A. It was hard to hear the cacophony, as we'd been give about 5 minutes sound check by the charitable Straight 8, but very painful kicks from Mark alerted me to my mistake. I think it was a reasonable gig overall - the next day we relaxed by going to the flicks, and a tramp 5 rows behind stood up and peed without ceremony, a river of wee streaming straight under the seats and pooling on our shoes. Happy days indeed!"
Easter 1979 saw the TPs go into the recording studio - Telecomms in Portsmouth, where Joe Jackson had recorded his demos for 'Look Sharp' - and the result was the iconic, if slightly disappointing, 'Mr Sad' EP. For some reason the band left off their great crowd-pleaser 'Fantasy' from the disc, and any subsequent release must surely rectify this mistake. Soon after, they played a gig at the University of East Anglia - the day Thatcher was elected, so the student body was indeed revolting - and back in Pompey during the summer the band played a few local gigs but didn't really capitalize on the release of the EP. There were rumours of Peel and Kid Jensen plays, and there was a very unkind review in Record Mirror, but nothing much came of it.
Clive recalls the genesis of the 'Mr Sad' EP well, and dismisses any 'romanticising' of the Wessex label: "Our single was entirely self-financed. All of us jointly paid for the studio time, then when it came to pressing our own record, I put up half the money, and Martin, our manager, put up the other half. That cost me all of my wages from working the whole summer of '79. We touted our tape around all sorts of people in May/June 79, and no-one was interested, so we decided to put it out ourselves. We went to the NME, spoke to Charles Shaar Murray, who never took his sunglasses off the whole time, even though we were indoors, and tried to play the big rock journalist with us. We told him there was a great band scene in Pompey, and that since the NME had recently done features on Glasgow, Manchester and Leeds, maybe they should come down and check us out. "It's too far away," he said. Funny guy."
" I went to make the arrangements for having the single pressed. The studio, Telecomms, told me that they could do it, and that it would appear on a custom label that they were involved with - Wessex. We never met anyone from something called Wessex, we just handed over the money for having it pressed, plus the label artwork, which I designed, and a few weeks later we got the finished product. It was a convenience label, it wasn't a record company in any real sense. I was told at the time that several other people had used the Wessex imprint. Retrospectively of course it looks to people as if there was this south coast outfit on the lookout for any bands in the area, but that's nonsense. No A&R man, no financial help, nothing - just a name to stick on a product. If there was another Wessex label, then it wasn't the one the Thought Police appeared on. We were a hell of a lot more DIY than most other bands, particularly those who actually were signed to a small label, who had the whole pressing, design, manufacturing and distribution done for them. No-one helped us at all. We promoted all of our own gigs, and financed everything we did. Something to be proud of."
Xmas 1979 and Easter 1980 saw the band in rehearsals at Rowlands Castle Village Hall, culminating in a self-promoted gig in the hall supported by the TPs favourite local band 'The Boasters' who were the nicest of fellows. Earlier that year the band had recorded two new tracks at Dave Symond's studio in the village - 'Lost in your Hairdo' and 'Go Go Baby' - and the direction was much more mod / psychedelic influenced than before. Hughes again: "The recording wasn't perfect but it was a huge advance on the Telecomms session a year previous - Symonds was a well-known Radio 2 DJ who'd engineered band recordings in the 60s and 70s, and Clive's bass drum was recorded via a mike used by Ringo on some session or other, so we felt we were heading towards the big time. I remember playing a very poor guitar solo and Dave saying through the phones - 'I dig where you're coming from man' - which became our catchphrase for the year". But only three more gigs were to follow - Exeter University in the early summer of that year, then Kent University's Keynestock festival and finally The Brewer's Arms in Poole, where things started to go very wrong.
Exeter was a good gig - the Thought Police were well-rehearsed after the recording and the gig at Rowlands Castle - but image and direction were confused. Bill was writing in a poppier vein, Mark was pushing the mod angle, and Clive looked like he'd just emerged from Max's Kansas City in New York. The Kent gig was also well-received - the band were very relaxed and enjoyed the day - but later that summer came the absolute nadir of their career - the Brewer's Arms gig in Poole.
A brilliant sunny day in July and the TPs had been asked to support an up-and-coming Mod band from Bournemouth. When they arrived the area outside the pub was swarming with Mods and Bikers, all looking warily at each other, and some members of the TP entourage felt very uncomfortable.. However, the soundcheck went fine - the new material sounded good, the band looked good, and the locals were friendly and appreciative - but when they took to the stage later that afternoon the band fell apart after only a handful of numbers. "I've blocked it from my memory" says Hughes, "but I know it was a horrible experience. I couldn't play, my hands were sweating and sliding all over the guitar neck, I was palpably afraid that we were going to get hurt and I just wanted to be somewhere else. It was very upsetting, considering we were pretty well-rehearsed and should have played a blinder. It was all irrational fear and paranoia, but something very unsettling happened that day." Duerden : "The Brewer's Arms, yes, it was horrible. I seem to remember the chief reason was that they had the lighting rig (such as it was) along the floor at the front, pointing upwards into our eyes, so Bill couldn't see his hands on the frets at all. To compound the problem, my bass-drum pedal broke into pieces about two songs into the set, and we didn't have a spare. Somewhere, I think I've got a tape recording of that gig, but no, I haven't been able to stand listening to it for thirty years!" The band abandoned the set half way through and sped back to Portsmouth to lick their wounds. By the end of the summer Clive announced he was quitting to concentrate on his studies, Bill had left university and was moving to France for a while, and Mark had his own things to do. Effectively the Poole gig was the end of the Thought Police. It's arguable, but with their new material, better judgement of sound, and much-improved playing, the band were on the verge of a decent career had they chosen to face their performance demons and continue. Poole had simply knocked the confidence out of them, and it wasn't fun anymore.
In the aftermath of the Thought Police, Bill and Clive played together throughout the years, but all three members of the band have never been in the same room since. Bill is close to Mark and sees him on a regular basis - their children play together, and the families often meet up - and Bill and Clive have remained good friends. Recently there's been a clamour from friends and fans for a reunion gig, and perhaps the time is almost right? "I think it would be amazing to play some of the old songs in anger again", says Hughes. "I'm actively encouraging it - slowly and cautiously - but I think we'll need to meet up for a few drinks first, and get used to each other as an 'entity' all over again. It might take some time, but one thing I'm sure of, if there's a reunion gig it won't be at the Brewer's Arms!"
Thanks to Bill Hughes
©Detour Records