V2

Manchester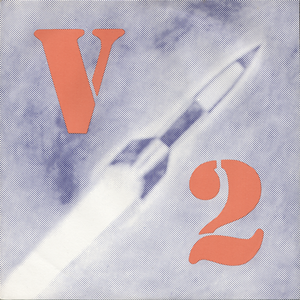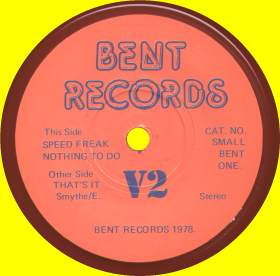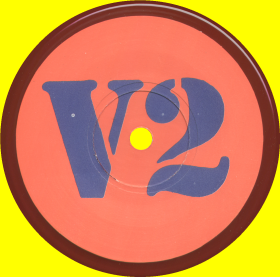 Speed Freak / Nothing To Do / That's It
Catalogue Number - Small Bent One
Label - Bent Records
Year Of Release - 1978
Quantity Pressed - 800 (Black Vinyl) / 7000 (Red Vinyl)
(The first pressing of the above was on Black vinyl and the second pressing was on Red vinyl. Over the years it has been rumoured to have been pressed on Blue vinyl as well - Can anyone verify this?)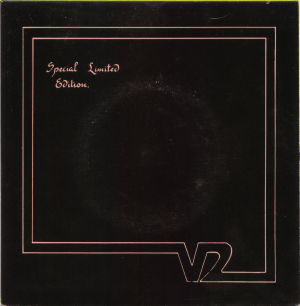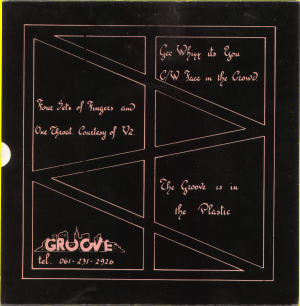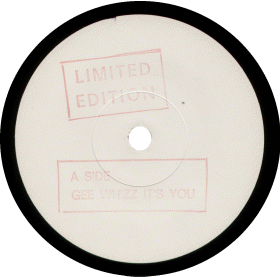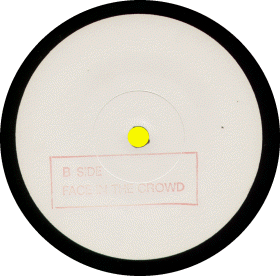 Gee Whizz It's You / Face In The Crowd
Catalogue Number - ZOE 1 B-1 (268) / ZOE 1 A-1 (268)
Label - Groove Records
Year Of Release - 1979
Quantity Pressed - 50 (unconfirmed)
| | |
| --- | --- |
| David Wilks* (aka Jonathon E) - Vocals | Mark Standely (aka Rev. P.P. Smythe) - Guitar & Vocals |
| Stan the Man - Bass | Steve Brotherdale (B'Dale) - Drums |
* Named after the Rollerball character played by 'James Caan'
Slaughter And The Dogs weren't the only members of Manchester's punk vanguard to absorb both style and image from the glam rock era. Almost as raucous and showy were V2, formed in December 1976 by Standely, who'd just left the RAF, and Wilks, the latter having attended the second Sex Pistols' Lesser Free Trade Hall show, supported by the Dogs and Buzzcocks, in 1976. Both were veterans of Pips nightclub, where they'd bonded in the dedicated Bowie/Roxy room. They persuaded Stan to pick up the bass due to the fact that he was a fellow Bowie fan and had "good hair". Ex-Panik and Warsaw drummer Steve Brotherdale met them on a bus, after asking him for directions to the Electric Circus, before inviting him to join the band after they got chatting.
They subsequently picked up supports to Slaughter, with whom Stan had struck up a long-standing friendship. Their second ever show was at a Dogs concert at the Middleton Hall, alongside Fast Breeder, featuring future members of the Durutti Column. V2 would also support Slaughter at the Marquee when they ventured to London – although by the time of the Dogs' homecoming gig at the Wythenshawe Forum in 1978, tensions between the two bands had emerged – encouraged on the night by the fact that visiting London band the Plague had their equipment 'misplaced' by the headliners and V2 got the blame. Their debut single, 'Speedfreak' ("It was more of a double a-side with 'Nothing To Do', which was really popular live," reckons Brotherdale) was the first song Standely ever wrote. It was released at the tail end of 1977 and immediately sold out of three separate pressings, despite a dismissive review from Tony Parsons in the NME, although pretty much everyone else seemed to like it. The distinctive wailing on the single, incidentally, came from "a real World War II siren".
There was a recording hiatus until the end of 1978, by which time Brotherdale had convinced the others to bring his former Panik colleague Ian Nance on lead guitar. "They needed a proper lead guitarist," he reckons, "and Nance was a great guitarist". By now they were a capable live attraction. There was some support in the media too, not least from the fickle pen of Paul Morley, writing in the NME in June 1978: "V2 think about presentation. Their music is stripped, effective, trebly punk – anachronistic if you will. They vigorously project this with garish musical homage to the ironical nursery surrealism of Alice Cooper, and the non stop colour barrage of the Damned. Any irony is perhaps destroyed by the apparent seriousness of their intentions, but their show is very flash, and very imposing. Lots of smoke, lights, make-up, glam(punk)rock, potentially extremely popular."
The combination of glam and punk didn't please all the purists, but it was an honest derivation of both Slaughter and V2's influences, and in many ways helped Manchester punk a more varied 'sound' than its London counterpart. As Mick Middles recalled in From Joy Division to New Order, "The bands adhered to no universal dress code. On the contrary, the genres were disparate and often clashed quite strikingly. One remembers Gorton glam rockers V2, for instance, slumped menacingly in one corner, clad in figure-hugging flame-red or marine-blue plastic, bleached hair and make-up, while at the next table sat the darkly-clad Bohemian jazz outfit, Ludus, whose inspiring and beautiful singer, Linder, would at all times be clad head to toe in regulation black."
The 12-inch 'Man In The Box' followed for TJM Records, like 'Speed Freak' recorded at Arrow's Studios on 25 October 1978, reaching the top of the alternative charts and sold 8,000 copies in three months. Their stage show was something to behold, even for the heady times. Flour would be thrown on audiences during encores, there were sporadic outbreaks of violence, a mock onstage electrocution (in order to diffuse said fights), while at one show in some northern backwater, Steve Brotherdale recalls the purpose-made floor collapsing and Stan falling halfway through, leaving only his shoulders and head visible, and his leg badly gashed. Only for a girl in the audience to leap on the stage, take a run at him and kick him square in the mouth. This was done because "she liked him".
Despite a strong live following, including many women, who occasionally proffered chocolates at gigs as well as assaulting them physically, the group fell apart and drifted in various directions, calling a close on operations in 1980. The core of the group became the Earwigs with the addition of Toby Tolman of the Nosebleeds on drums and guitarist turned bass player Hugh O'Boyle of Victim. By a bizarre twist, V2's former drummer Steve Brotherdale became their singer. "They asked Dave Wilks of V2 to sing," Brotherdale told me, "but his voice didn't fit. I was having a pint with Mark and he asked me to listen. Mark was singing and I just said let me have a go, I was only joking, and we did one of their songs, 'Mr Greed'. We did that, and they wanted my voice. It was kind of a psychedelic thing. We played with Mood Six and the [WEA compilation album] ' A Splash Of Colour' bands at Gossips in London, where I also drummed because our drummer had hepatitis, despite having a broken leg myself." After the Earwigs, Ian Nance returned as lead vocalist, alongside Toby on drums, and they recorded an unreleased album, Enter The Reptile House, that never came out (from which some of the Overground V2 material is drawn). Brotherdale also recently unearthed further unreleased Earwigs recordings in his shed in 2002, which have now been cleaned up ready for release by Tosh Ryan.
V2 reformed first in 1985, the 'Man In The Box' line-up reappearing at the Boardwalk. "We didn't think anyone would turn up, but it was packed," Brotherdale recalls. And again in 1996 after the aforementioned Overground Records offered to release a compilation of the band's back pages. That year they returned to the stage at the Holidays In The Sun punk festival at Blackpool's Winter Gardens. However, during rehearsals Wilks was taken ill, and sadly died a months later, while Phil Pope stepped in to anchor the vocals. They also played a second set on the Sunday featuring guitarist Eddie Mooney, an old friend of Standely's and another former veteran of TJM. Standely concurrently joined the reformed Drones on bass in 1997. When drummer Gavin Johns moved to Finland the following year, in stepped Chris Connelly, as V2 issued their first single in 19 years on the Data label (featuring a song that was originally scheduled to have been their second single for TJM). When Pope left to concentrate on his Doors tribute band, the Doorz, Mooney became the group's new vocalist in 2001. Standely is also active in Pleasuredome.
Discography:
Speedfreak/Nothing To Do/That's It 7-inch (Bent SMALL BENT 1 1977)
Man In The Box/When The World Isn't There 12-inch (TJM TJM1 1978)
Gee Whiz It's You / Face In The Crowd (ZOE 1) 1979*
Is Anyone Out There?/If You Could Only See/So Much Life 7-inch (DATA 002 June 1998)
(originally to have been their third single, but pulled. Featuring two new b-side songs)
Archive releases:
Anthology CD (Overground OVER55 CD 1996)
*For some strange reason, the band tried to disown themselves from this release and when 'Overground' did their 'Anthology' release forgot to mention it to John who owned the label. After the the release of the Anthology we asked John why this single wasn't included? At the time of the release John he had never seen or or even heard of it's existence! Being a bit mystified he telephoned the band to see if it was actually V2. The story he was told that it was them but they were embarrassed about the release and went around all the shops in Manchester who was stocking it and buying them all back and smashing them! Perhaps this is why it is so rare? To be honest, it's not a bad single, even though the A-Side is a Cliff Richard cover from 1960....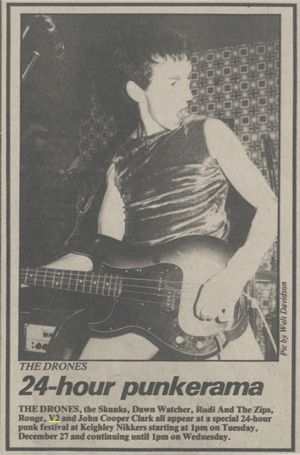 The above snippet at the 24 hours Punk festival at "Nikkers", Keighley appeared in "Sounds" on 24th December 1977.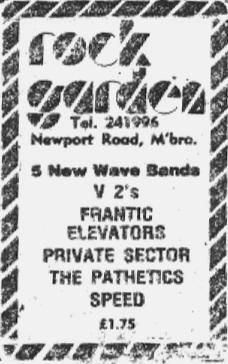 An original advert for the "TJM" Tour.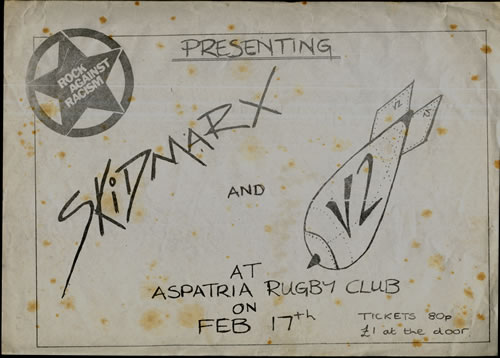 Original A4 Gig Flyer for "Skidmarx" & "V2" for 'Aspatria Rugby Club', Wigton, Cumbria from Friday 17th February 1978.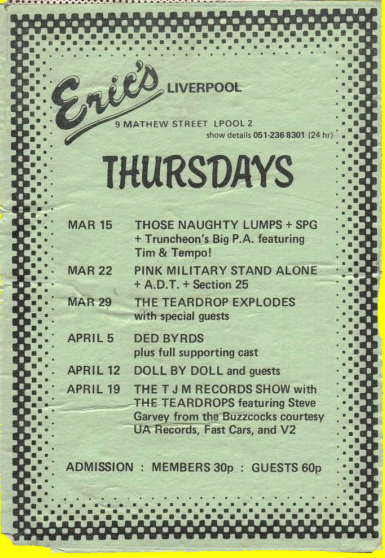 Above is an original A5 gig flyer from "Eric's", Liverpool for March & April dates from 1979.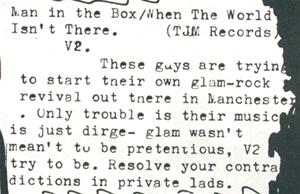 The above snippet appeared in the fanzine "Ripped & Torn" #17 from March 1979.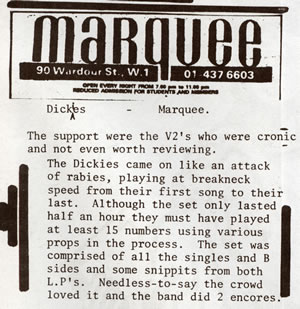 The above gig review for 'The Dickies' & 'V2' that took place at the "Marquee", London appeared in the Northampton based fanzine "NN4 9PZ" from 1980.
The majority of the above text was written by

Alex Ogg and was taken from his excellent book "No More Heroes"
©Detour Records