Canterbury, Kent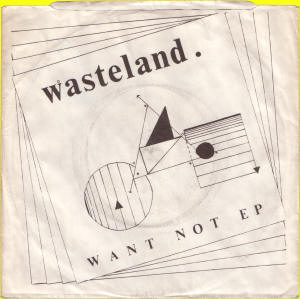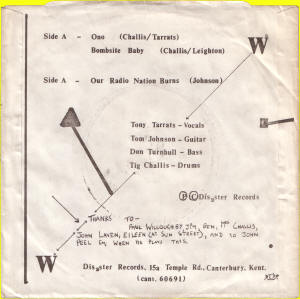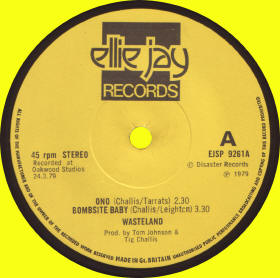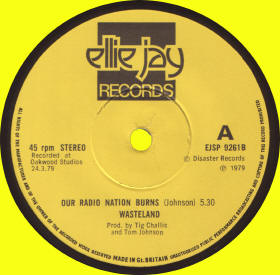 Ono / Bombsite Baby / Our Radio Nation Burns
Catalogue Number - EJSP 9261
Label - Disaster Records
Year Of Release - 1979
Quantity Pressed - 1000
| | |
| --- | --- |
| TONY TARRATS - VOCALS | TOM JOHNSON - GUITAR |
| DON TURNBULL - BASS | AIDEN "TIG" CHALLIS - DRUMS |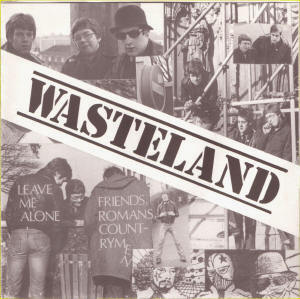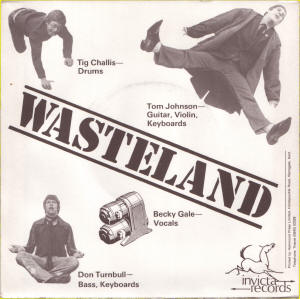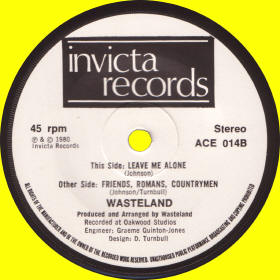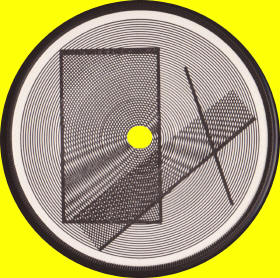 Leave Me Alone / Friends, Romans, Countrymen
Catalogue Number - ACE 014
Label - Invicta Records
Year Of Release - 1980
Quantity Pressed - 500
| | |
| --- | --- |
| BECKY GALE - VOCALS | TOM JOHNSON - GUITAR, VIOLIN & KEYBOARDS |
| DON TURNBULL - BASS & KEYBOARDS | TIG CHALLIS - DRUMS |
A rare and obscure UK punk band from outta Canterbury / Whitstable, Kent. Originally called The Infested' who even got their forth coming release advertised in the Zig Zag' independent listings but sadly the band split before the EP was released. This fooled collectors for many years and regularly appeared on "wants lists" from all around the world. After the band had split, two bands formed out of the ashes, 'Wasteland' & The Ignerents'. Ben Challis formed 'The Ignerents' while is brother 'Tig' was the drummer in 'Wasteland'. The bands debut release was a 3-track EP and featured the excellent track 'Ono'. The next release was a slight change in direction, 'Tony Tarrats' left and was replaced by 'Becky Gale'. The a-side took on a punk back drop with a more of a pop feel with Becky's vocals while the b-side is a frenzied instrumental complete with keyboards and a violin of all instruments!!! Sadly, this was the bands last release and is nearly impossible to find as only 500 copies were pressed & the band only sold 150 copies at the time. After speaking to the parents of 'Tig Challis' they told us that they had dumped the remaining 350 copies in the early 90s after finding them in a wardrobe during a spring clean!!
After the band had split, 'Tig' then went off to university in Sheffield. On returning back to Kent after he had graduated, 'Tig' was involved in a very serious motorbike accident which left him confined to a wheelchair with brain damage. He lived out the rest of his life in Spain where the weather was more suited to his live style but sadly died in 2009.
Bizarrely, his brothers band 'The Ignerents' ended when drummer 'Stan Gretsch' died in a car crash after taking and driving a stolen car!!!
Stan was also the last drummer for the Kent based "Rivals".
©Detour Records