Why Control?

Liverpool
| | |
| --- | --- |
| Cliff Ison (aka Cookie) - Vocals | Martin Cass (aka Mart) - Guitar |
| Colin Gronbach (aka Grom) - Bass | Mark Hodgkinson (aka Algy) - Drums |
Your site brings back some great memories full of adventure, drama and thrills. Stories from a day when Britain [verses Great Britain] reached puberty.

My name is Martin Cass I now live in Ohio, my lifetime friend and fellow punker is Mark Hodgkinson he lives in Chester. We were the artistic pioneers, editors, photographers, and anarchists that tried to document the rock revolution as it occurred on the pages of Bombsite fanzine [used on your site] . We tried to produce with little equipment and no money. The dole was paying us about 6.50 per week. Interestingly, the press of the time crapped up the whole event, as many of the musical journalist would risk their very career and credibility if they supported the movement. Slowly that did change but by then the primitive era was over. The news was mixed, slow and glamorized and often did not interest us anyhow. When described today it sounds like the whole country was punk crazy in 1977, it was not that way, there were few and we risked our necks walking the streets of Liverpool and Manchester.

We were unemployed or working in factories for cash under the table, Britain's north had no money. Most nights we would make our way over to Eric's, the place was home, full of energy and a refuge for the punk weirdo's [as we were known].
We ran the fanzine for about a year, during which time we also started put a band together. We knew everyone so finding places to practice was not so difficult. The band was "Why Control", we played with the Toilet's, Mike Peters band before 17 and The Alarm, and a few shows with Martin & The Brownshirts, Paul Adam's actually practiced with us for a few months around 1977-78.

Between 1977 -79 we played many events around the NW in Ellesmere Port, Liverpool, Chester, Queensferry and were lined up to play Eric's lunch gig but got cancelled for a reason that I do not recall. We played all original and our sound was chaotic, distorted, and fast. Many of the gigs were interrupted because of fights, either us or the punkers watching. I remember playing a Rock Against Racism gig and the whole place erupted when the scuffers arrived because someone decided to close the bar early, it made the papers.

Looking back, Liverpool had less horse power and maybe it was because the Pistols missed it.

Eric's was a wonderful place, but Roger Eagle and his gang altered the flavour of how the city represented the punk scene. The place had a handful of arty university pranksters and jokesters, the weekly sitcom included Burns, Wylie, Drummond, Jayne Casey and Ian Broudie, and they were encouraged by Roger to take the whole Deaf School thing to the next level, but it was not punk rock. Reflecting on the day, the Bombsite crew were quite bold describing the Big in Japan performance as crap, we risked getting banned by Roger, but they really were not going in the same direction as us. After reading Bombsite issue #2, Julian Cope who was working at Probe records [where we used to stash a big pile of fanzines] down the street from Eric's, started a petition to get the band to break up. Furthermore, we were with Wylie the night at Eric's that he says Joe Strummer gave him a guitar and was inspired to go and form a band, we remember the night a little differently. Wylie tripped into the practice room as we were talking Bombsite stuff, and abruptly asked Strummer why he had not fired manager Bernie Rhodes yet, Joe turned back to Wylie and said, "why don't you fucking fire him" I remember like it was yesterday.

We "Why Control" were a little more primitive or grunge, the guys in leather jackets. On another occasion that I remember which turns out to be Friday 18th November 1977, Paul Cook and Steve Jones were promoting their record launch in Liverpool, they stopped in at Eric's to see 'The Toilets', 'The Fall' & the Buzzcock's. Standing around drinking at the bar, Steve Jones was a bit lit up, he stumbled over and joined us, there was no way he was going over to join the art crowd. At one point he walked toward the set and threw a beer glass at the stage, Pete Shelly stopped briefly and shouted at the crowd, as the glass almost hit him, Jones just laughed. There were other regulars, from the other side of the street, and all a bit rough for Roger to handle, some of them migrated over to Manchester, and had a go!
Sadly, we did not do any studio stuff, only live.

When the whole thing turned to "Tainted Love" we bagged it and ran.




Live in 1977




Live in 1978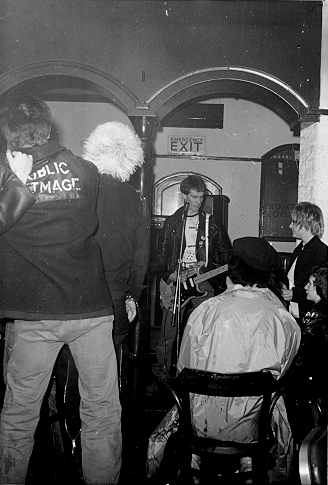 Live in 1978
Martin Cass proudly showing off issue 1 of his fanzine in 1977



Martin Cass

September 2007

©Detour Records