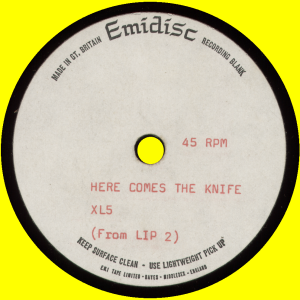 "Here Comes The Knife"
Catalogue Number - N/A (From LIP 2)
Label - Emidisc
Year Of Release - 1978
Quantity Pressed - 1 Known Copy Only
Format - One Sided 7" Acetate
Line Up #1

"SWIFT"

Bob Simmons - Vocals & Guitar

Bruce Maine - Bass

Dick Slexia - Drums
Line Up #2

"Easy Glider"

Bob Simmons - Vocals & Guitar

Bruce Maine - Bass

Dick Simmons - Drums
Line Up #3

"XL5"

Bob Simmons - Vocals & Guitar

Martin Ayris - Bass

Dick Simmons - Drums
Named in honour of the Gerry Anderson series Fireball XL5, this Brighton-based group contributed just one track to the Farewell To The Roxy compilation and then disappeared leaving absolutely no trace.
Bob Simmons: "In 1976 I was a good friend of Dave Greenfield's and asked him about starting a group. But he told me he'd joined a band called the Stranglers and they had a year's worth of gigs lined up. Because I couldn't get him as keyboard player, we basically formed a guitar band. First of all it was a fairly basic rock band, and the drummer in that band, Dick Slexia, would later join the Piranhas. All the local bands used to rehearse at the Resources Centre, the Crypt. The culture was that most Brighton punk bands rehearsed down there, including the Piranhas. XL5 came out of another band, Easy Glider. My brother decided to come and join as drummer, and we inherited the bass player from that group in its early stages. Easy Glider in turn came out of another group, Swift, which played with the Troggs and Spencer Davis in '72 and '73. Bruce Maine left fairly quickly and then Martin Ayris came down from Canterbury and that became the XL5 line-up."
The band's first gig was at Canterbury Art College in 1976. XL5 started working around London and then played up and down the country. They had an extensive set of originals, including unrecorded and forgotten numbers like 'Sex Tax' & 'I Hate School'. "We had quite a lot of long songs and quite a few short songs and very little in between! Lightning chose 'Here Comes The Knife' for the Roxy album. It was all recorded on the RAK mobile. Unfortunately the album didn't sell that well. We did a tour of Scotland with some other bands to promote it, but it didn't seem to push it a lot. We also went up there with the UK Subs to play, who I used to promote in Brighton and we played a lot of gigs with in London. Jimmy Pursey was a fan of ours. We used to do the 'XL5' theme as an encore and he leapt up on stage, off his head, and joined in. We had a lot of good fun."
The only tapes that may or may not exist, Simmons thinks, would belong to Martin's brother David Ayris, who recorded the Canterbury Arts College show. "After XL5 ended I got together with Dick Slexia of the Piranhas and the brass section from Dexy's Midnight Runners and we put together a reggae band, the Tribe, which lasted about a year." There was some interest from Pete Waterman, but it never came to anything. Bob Simmons continued to write, notably for Wishbone Ash, and has just completed his first play, set in Brighton.
Compilation:
Farewell To The Roxy (Lightning LIP 2 1978; 'Here Comes The Knife')
Above is an original gig poster from late 1978 when the bands from the

closed 'Roxy Club' went on tour of the UK.

Above is an original un-used ticket for the "Farwell To The Roxy" Tour.

On 24-April 1978 The Roxy Club London Closed its door for the last time, the manager of the Roxy Kevin St John came up with the idea of having a Farewell to the Roxy tour which consisted of 4 dates only all in Scotland. The bands that played the tour were "UK Subs", "Blitz", "XL5", "Red Lights, "Acme Sewage Co", "The Goats", "Open Sore", "The Jets" & "The Bears" , which all played Glasgow "Satelite City" on the 14th of June 1978.
Thanks to Alex Ogg for the above info that has been taken from the

"No More Heroes" book.
©Detour Records