XPRESS

York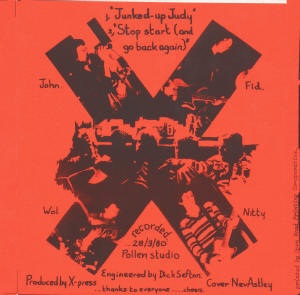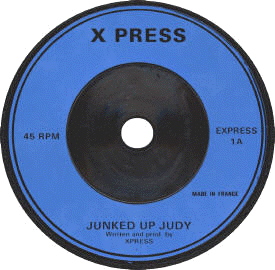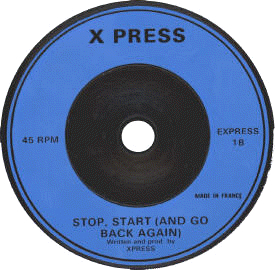 Junked Up Judy / Stop, Start (And Go Back Again)
Catalogue Number - Express 1
Label - X PRESS
Year Of Release - 1980
Quantity Pressed - 1000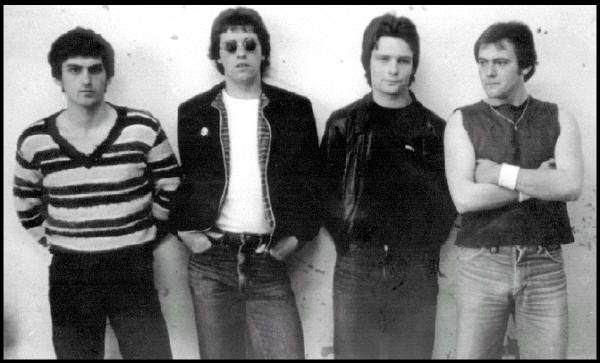 | | |
| --- | --- |
| John Hindle - Vocals | John Findlay (aka Fid) - Bass |
| Martin Walker (aka Nitty) - Guitar | Ray Brearton (aka Wol) - Drums |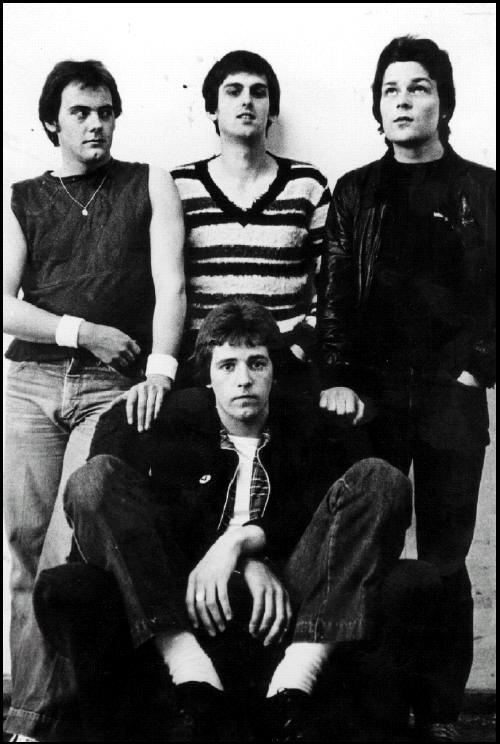 Formed in 1978 by four bored school friends (The Original Bored Teenagers)
The band started in York and gigged around that area supporting the likes of 'Cyanide' & 'Sema 4'. They played support to some of the bigger bands when they visited their area like 'The Revillos', 'The Vibrators' & 'Generation X'.
They self financed their debut release "Junked Up Judy" which was backed with another stage favourite "Stop, Start (And Go Back Again)". This B-side track can be heard on "Bored Teenagers" volume 1.
Sadly the band called it a day in 1982 and leaving us only one killer single. The drummer and vocalist later joined 'The Combine', a local New Wave type band that also featured an ex-member of 'Sema 4'. The guitarist went onto play with 'The Pyjama Party' who also released one single.
The below notes have been taken from the "Bored Teenagers" volume 3 compilation album
"Whatever Happened to Fashion" – 1979/80
One of the tracks from our first studio demo, this is one of the bands early 'Angry' songs. "Fashion" comments cynically on the irony of people all buying into the same fashions and images in a bid to be individual…did punk go the same way? The lyrics are as relevant in today's re-make/re-model pop stars culture as they were back in the good old days of the late 1970s.
Recorded fast! Live it was even faster! Our early motto "the faster the better".
"All Dressed up (no war to go)" – 1982
Arguably one of the our finest tracks, this song was written around the time of the Falklands war and also makes reference to Northern Ireland, although not specifically about these conflicts it is a comment on the futility of war and also the mercenary Fighters involved in them. Lyrically it represents a darker side of X-PRESS in complete contracts to the more poppy approach of Junked up Judy etc. From the staccato vocals, heavy drums and bass to the skids/big country guitar is was always a real in your face crowd pleaser. We often opened with this track to grab the crowd and give them a taste of what was to come.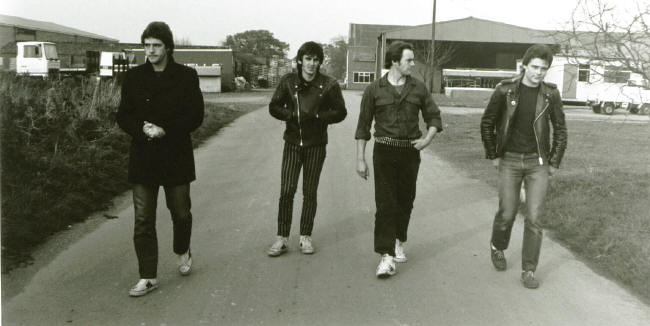 "Xpress Publicity Photo From 1981"
Above is an original gig poster when "Xpress" supported 'The Revillos" at the "Forge Inn" on 21st December1981
As they are today!

This photo was taken at their re-union show which was staged at "Fibbers"

on 11th October 2003
X-press...The final word....
Formed as many bands were in the back room of a local pub (apres youth club)
in late 78 on the coat tails of punk. We quickly moved from youth club gigs to support gigs with the Vibrators, Gen X and the Revillos to name a few, it all seemed so easy how could we fail? everyone was due 15 minutes and we wanted ours NOW!..... we gigged, we recorded, we had record company scouts at our gigs, a review of our single Junked up Judy in sounds music paper seemed like the key to the door.. but then a new sound was approaching, FAST, keyboards! kilts! Strange haircuts, make up, fuckin hell whats going on!.... we were 2 years too late and 200 miles too far north (lazy bastards!) the door slammed shut and so did many of our venues.
After a brief spell as a Five piece ( with the dreaded synthesiser) we returned to our roots and wrote a new set as a post punk outfit somewhere between Big country and U2, after all they were there at the start (sort of) and managed to adapt, it was a good phase, we could play better (we hit the ground running in the early days) and we didn't aim too high, But time was ticking once again, houses were being bought, real life was beckoning, you know the score, so we finally split in late 83.
However we had an ace up our sleeve and she was called judy, over the following years a steady trickle of record collector types would ring us up and ask for copies of our single 'junked up judy' for money! 3...4....5 pounds a time, FANTASTIC! (bearing in mind we gave them away towards the end of our 'career') much to our bemusement/amusement this carried on for a while and many nights out were enjoyed on the back of it.
after this time Detour records approached us and asked us for tracks to go on the bored teenagers compilations.
The single continued to rise in value and has become a great source of pride for us all for it to mean something all these years later.
and now for the update.... yup you guessed it, the reunion.
In late 2002 we were asked to reform for a 40th birthday bash. we thought about it for about 10 seconds and went ahead,
and on may 9th 2003 X-PRESS rose again, fantastic night, all the old faces were there (well they are old now) and as we had done one gig, we might as well do another.. and another. So we did 2 more gigs at our local barfly club, Fibbers in York. The last being on the 9th of Jan 2004, playing to a sold out club.
Shortly after this our drummer left the country for a new life in New Zealand (not as a result of the reunion!) and that was that.
But you never know, New Zealand is about 30 years behind the uk in youth culture so maybe punk is just about to happen over there... c'mon lads spike up your hair its time again........
X-PRESS
R.I.P
1978-2004
©Detour Records