First Release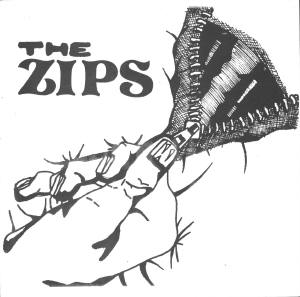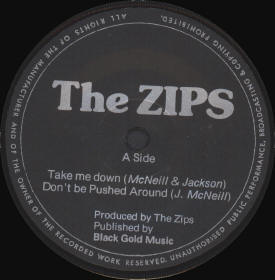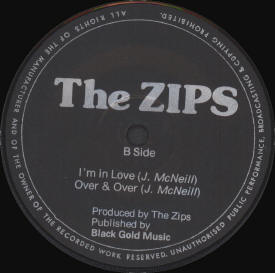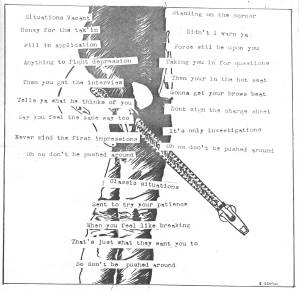 Take Me Down / Don't Be Pushed Around
I'm In Love / Over & Over
Catalogue Number - ZIPS 1
Label - Black Gold
Year Of Release - 1979
Quantity Pressed - 500
All copies came with a A4 insert which is shown above
Second Release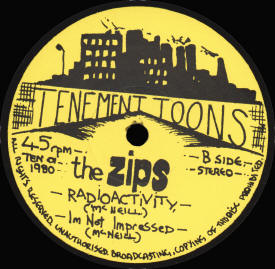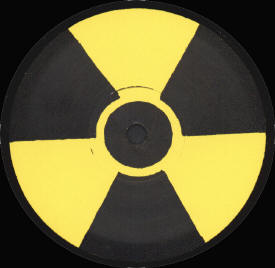 Radioactivity / I'm Not Impressed
Catalogue Number - TEN 01
Label - Tenement Toons
Year Of Release - 1980
Quantity Pressed - 1000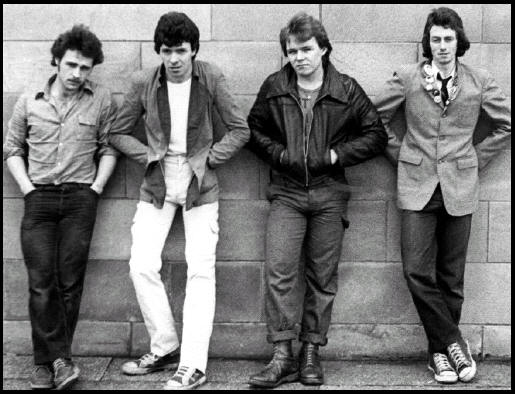 Custom House Quay, Glasgow. 1979 - Photos taken as publicity shots for release of The Zips EP.
| | |
| --- | --- |
| John McNeill – Vocals/Guitar | Joe Jaconelli – Drums/Backing Vocals |
| Brian Jackson – Lead Guitar | Phil Mullen – Bass Guitar/Vocals |
The Zips were born in Glasgow in February 1978:
John and Brian, veterans (at 20) of the Glasgow Pub Rock circuit, satisfied a yearning to join the Punk/New Wave explosion by splitting previous outfit "Road Angel", recruiting Joe and Phil and launching as the Zips.
After 4 weeks of rehearsal they had enough material (a mixture of originals and choice covers) for their debut gig in a pub called "The Peel". Their reputation as an energetic live act meant that soon they had moved onto support gigs in the 'City's Art School' and 'Universities'.
In an effort to reach an under-18 audience they also pioneered Saturday lunchtime gigs at the rarely used "Custom House Quay" bandstand, beside the River Clyde. Many embryonic bands were given the opportunity to support them, in most cases using the Zip's equipment.
By the end of '78 they had amassed enough original songs to be performing almost exclusively Zip's material, and in November booked a 4 track recording session in the Burn's Howff in Glasgow. 4 songs, "I'm in Love", "Over and Over", "Take Me Down" and "Don't be pushed around" were recorded in almost as many hours and became the basis of their eponymous EP, which was finally released in April 1979 with funding from the local record shop owner, Charlie "Hannibal" Hayes.
The Zips EP soon became a favourite of 'Radio Clyde' and also won favour with John Peel on Radio One. The 500 copies swiftly sold out, but due to delays in retrieving all the monies owed a second pressing was abandoned in favour of a new single on their own label, "Tenement Toons".
Meanwhile, the band had won the Scottish heats of a competition organized by a company called "Vitavox" and appeared in the finals at the Venue, in London. Undeterred at coming fourth of four bands, they used the trip to visit record companies, and although some, "Island" in particular, were positive about the band's music, no contracts were offered.
Back in Glasgow, they set about planning for the new single, "Radioactivity" c/w "I'm not impressed". It was recorded at 'Sirocco Studios' in Kilmarnock in an 8 hour session in January 1980 and it's 1,000 pressing was released on "Tenement Toons", in April. This time, funding was by Brian's granny, as a vote of solidarity with the A-side's "anti-nuke" message. Although the single received a fair amount of airplay, and despite support slots with, amongst others, 'Cockney Rejects', plus exposure at CND/Anti-Nuke rallies, the single did not match the success of the EP and this was reflected in poor sales.
The band were now caught between two movements, New Wave and Ska, and the cracks were beginning to show. Gigs were becoming fewer and far between, and debts were mounting. The Zip's last gig was on 11 December 1980 at the "Sandrianne Hotel", Kilmarnock.
After the band had split, Brian decided to quit the music biz and emigrated to Australia.
As well as the singles, two live recordings were made. The Atlantis, Clydebank in 1978 and the Sandrianne Hotel in 1980.
The story would be incomplete without paying tribute to the Carry On/Carry Off team (roadies) George Watson and Eric Jones, who stuck with the band through thick and thin; sleeve artist, Colin Watson;' and Zips fans everywhere/anywhere.
John McNeill – November 2000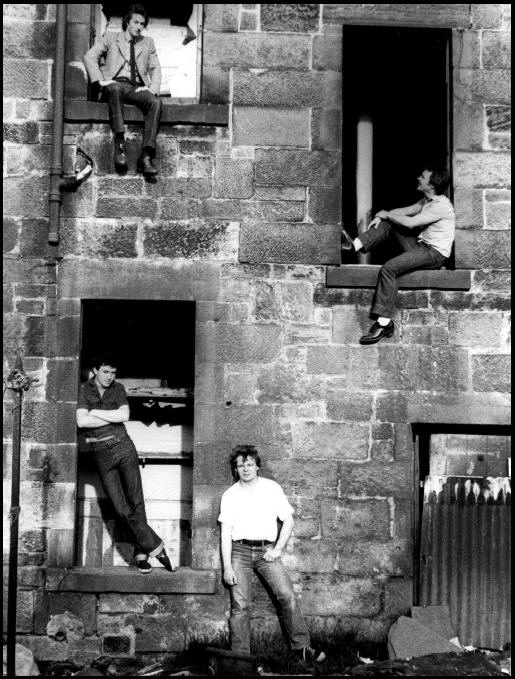 Slum demolition of old Tenement buildings, Southside of Glasgow, 1980. Photos taken as publicity shots for release of "Radioactivity single" & for the launch of "Tenement Toons" label.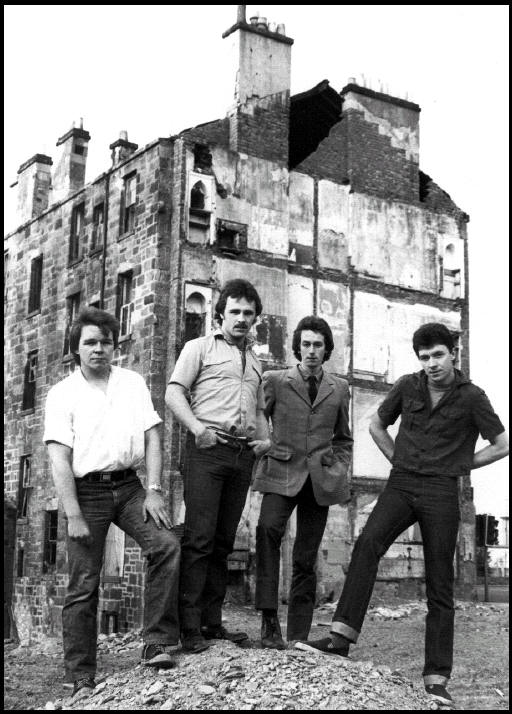 Same photo session as above.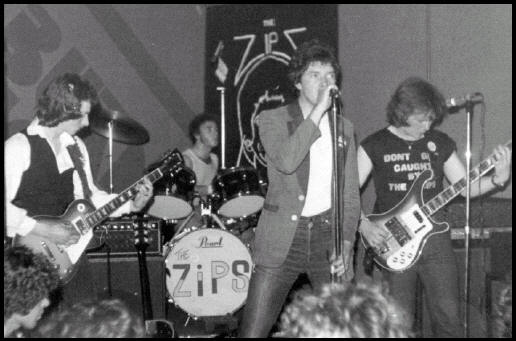 The Burns' Howff, Glasgow - 1979. This is the Pub where The Zips EP was recorded.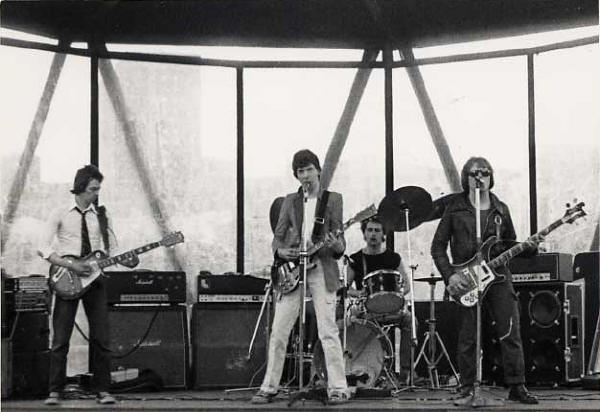 Live at "Custom House Quay", Glasgow 1979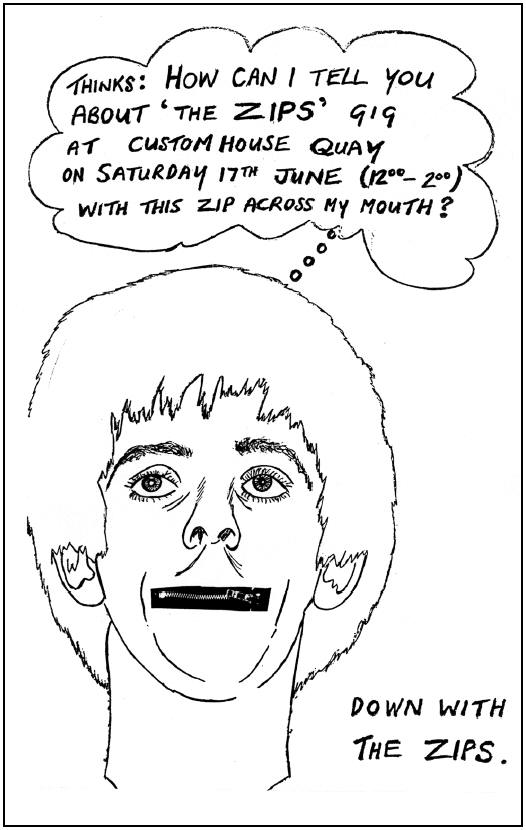 Above is an original A4 gig flyer from 1979 that was designed by 'John McNeill', using a tracing of 'The Stranglers' 'Jean Jacques' Burnel' that was taken from the front page of NME or Melody Maker.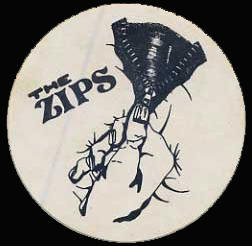 Above is a copy of an original sticker from 1978
©Detour Records