| | |
| --- | --- |
| Kevin Thorpe - Vocals | Alan Fearn - Guitar |
| Paul Sneap - Bass & Backing Vocals | Pete Pearson - Drums |
Stock Copy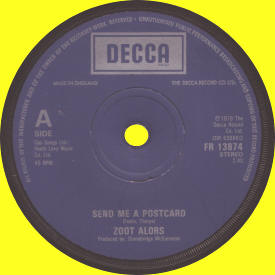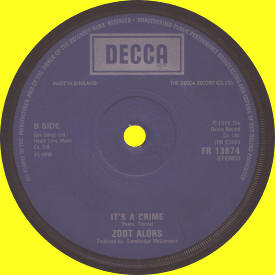 Send Me A Postcard / It's A Crime
Catalogue Number - FR13874
Label - Decca Records
Year Of Release - 1979
Quantity Pressed - ????
The Stock copies are a lot rarer than the white label promo copies.
Promo Copy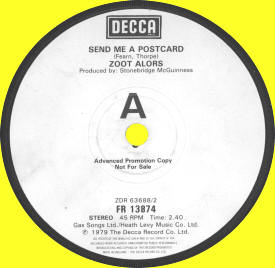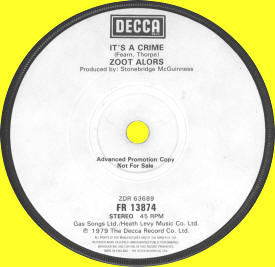 Send Me A Postcard / It's A Crime
Catalogue Number - FR13874
Label - Decca Records
Year Of Release - 1979
Quantity Pressed - ????
The White Label Promo copies are a lot more common than the standard issue / Stock copies.
My time with Zoot Alors, were in the early days, up to where a recording contract was about to be agreed upon. It was unfortunate, that Pete (our drummer) and myself (bass) were dismissed from the band, completely without warning. Pete and I were most distressed.
Zoot Alors went forward, appeared on a television program called 'Get It Together' with 'Roy North' who went onto host the Basil Brush Show. The Zoot Alors single was 'Send me a postcard', with 'It's a crime' as a B side, the sad thing is I do not even own a copy myself. Other tracks that were recorded between 1977 and 1979 were "Inside Out", "Judy", "Is it true", "Be the one" and "We're all alone".
Zoot Alors then broke up, and moved to the USA with another of my old mates from another band, they emerged as 'Blue Train' and had a Billboard top 100 single out.
Thanks goes to "Paul Sneap" for the above information.

2005
Nottingham's Zoot Alors are noteworthy, aside from one distinguished single, principally for the fact that the band was one of the few of the era to grace children's TV. They appeared on the Get It Together show alongside presenter Roy North, famous for being Basil Brush's right-hand man, or possibly just right hand, if you prefer.
The group originally comprised bass player Paul Sneap and drummer Pete Pearson, who both appeared on the band's original demos. Fearn: "I sent off our original demo in response to an advert from a publishing company in Melody Maker. This was on a Tuesday afternoon. On the following Saturday morning, four days later, we were offered a publishing deal with Gas Songs/Heath Levy and a management deal with Ray Williams (also of Gas Songs) who had, in the early 70s, managed Elton John and was responsible for breaking him in the US. Our demo had been one of thousands sent in which had been thrown into a huge plastic dustbin. On their way home, staff at Gas would stick their hands in, lucky dip style, and listen on the tube home .Ray picked ours and immediately loved it. He then called Tom McGuinness, ex-Manfred Mann etc, who subsequently produced us. That's how I thought the music business worked - it had been the first tape I'd sent off!"
However, the rhythm section was subsequently axed from the band, much to Sneap's chagrin. There are tapes of several unrecorded compositions cut between 1977 and 1979 at St Jame's Studios in Nottingham, including 'Inside Out', 'Judy', 'Is It True?' and 'We're All Alone'. After the single, Zoot Alors broke up, before the central songwriting partnership re-emerged as Blue Train and scored a Billboard Top 100 single in the US. Fearn also played with local act the Favourites.
Discography:
Send Me A Postcard/It's A Crime 7-inch (Decca FR13874 1979)
Thanks goes to 'Mario Panciera' for the above Promo Photograph and Alex Ogg for the above text..
©Detour Records