The Alsatians

Canning Town, London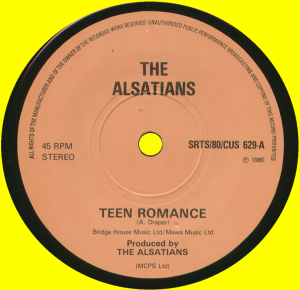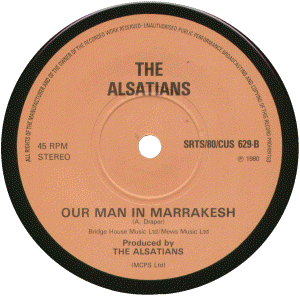 Teen Romance / Our Man In Marrakesh
Catalogue Number - SRTS/80/CUS 629
Label - SRTS Records
Year Of Release - 1980
| | |
| --- | --- |
| Dyl Draper - Vocals | Alan Draper - Vocals & Guitar |
| Tim Scott - Bass | Bruce Stockley - Drums |
A rare and classic UK Powerpop release from 1980. No picture sleeve was ever issued.
The Alsatians : A Brief History
In 1976, Alan Draper (guitar & vocals) formed the Barley Wine Band with Dyl (vocals), Tim Scott (bass) and Nik Sands (drums). They recorded a one-sided single for Extortion Records called 'New Coffee Mug' and made their live debut at the Institute of Education, Soho on 9th May 1977.
In April 1978 they underwent a name change and became the Alsatians, their first gig under this name was at the Middleton Arms, Hackney on 1st May 1978, supporting the Tickets. Sands quit shortly thereafter and Draper joined punk band Minnie Ralores during the summer of '78, debuting with them at the Bridge House, Canning Town on 3rd June that year.
Singers Lesley Croney and Mark Hope left Minnie Ralores and Draper drafted Dyl back into the line-up alongside Sue Scott (bass), John K (sax), Sheila Porteous (guitar) and Tony Gregson (drums). This version of the Alsatians entered the Melody Maker Contest held at City University, London on 15th May 1979 and were highly commended by the judges – Splodgenessabounds were the eventual winners.
After a residency at the Bridge House during the summer of '79, Sue Scott left to join the Gymslips and Draper formed the 'classic' Alsatians line-up with Dyl (vocals & flute), Tim Scott (bass) and Bruce Stockley (drums) and recorded and released 'Teen Romance' / 'Our Man In Marrakesh' on SRT Records in March 1980.
Other crowd favourites were 'Here Come The Superheroes', 'See You Around' & 'Crazy'.
The Alsatians gigged throughout 1980, marrying a new wave energy to a classic pop sensibility and building a faithful following based in the East End of London. They regularly played the Bridge House, as well as Redbridge Tech, the Paviours Arms, City of London Poly and North East London Poly. Several other guitarists joined and left during this period including Kev Beaumont and Maff Davis.
On 23rd January 1981, the Alsatians played at the celebrated Marquee Club in Soho, supporting Mighty Mars, with hundreds of Alsatians fans attending they blew off the topping band and got fined £15 a minute for going back on stage for encores as the crowd wouldn't let them go. After this triumph they did several more gigs at the Bridge House before breaking up on their final gig there on 26th May 1981.
Alan Draper

January 2008
Kev Beaumont

Alan Draper

Dyl Draper
Live at the "Bridgehouse" on Monday 28th February 1980
Kev Beaumont

Dyl Draper
Bruce

Stockley

Alan Draper

Tim

Scott

The above photo was taken on Thursday 15th May 1980
Dyl Draper

Kev Beaumont

Tim

Scott

Alan Draper

Bruce

Stockley

The above photo was taken on Thursday 15th May 1980
Thanks to Alan Draper for all the above info and photos.
©Detour Records