Beyond The Implode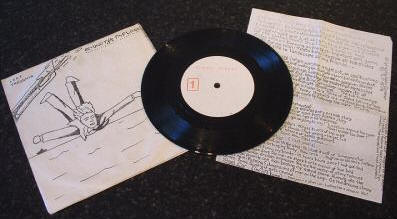 "The Last Thoughts" EP
This Atmosphere / Midnight Adventures

Lassitude / Escape Thru Levitation / Steel Car
Catalogue Number - DIVE 101
Label - Diverse Record Label
Year Of Release - 1979
Quantity Pressed - 250 Copies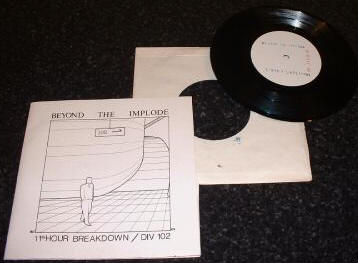 "11th Hour Breakdown" EP
11TH HOUR BREAKDOWN / LOOK BACK AND CRASH / LASSITUDE
Catalogue Number - DIVE 102
Label - Diverse Record Label
Year Of Release - 1980
Quantity Pressed - 250 Copies
Beyond The Implode and Diverse Records were both formed by Eddie Smith AKA Eddie Cameron in order to release some songs he'd written as a limited edition privately pressed EP. Not knowing where to start, he got in touch with other fledgling DIYers like the Desperate Bicycles and Danny Miller of Mute Records, who both recommended the Master Room in London and Orlake record pressing plant in Dagenham.
The original BTI (1979) was Eddie, vocals and guitar, with Frank Hughes on bass. Ian Gardler was added, also on bass plus electronics and ticking alarm clock. Mike Gardler, Ian's brother, joined temporarily on lead guitar. This was the line up that recorded the Last Thoughts EP ("This Atmosphere" / "Midnight Adventures" / "Lassitude" / "Escape Thru Levitation" / "Steel Car") and it became the first Diverse Records release in September '79. Cat no. DIVE101, 250 numbered copies (25 with lyric sheets), 150 distributed by Rough Trade in London, the rest sold via local record shops like Probe, Penny Lane and Virgin in Liverpool and Paw in Runcorn. 250 was the lowest number that Orlake would press and the most that Eddie could afford. Diverse was run on a shoestring budget and the tracks from the EP were recorded in the bedrooms of both Frank Hughes and Mike Gardler.
Mike Gardler left BTI before the EP came out after a dispute with Eddie. Ian Gardler, who'd brought Mike into the band in the first place, replaced him on guitar. The record got positive reviews from Jon Savage in Melody Maker and Red Starr in Smash Hits. John Peel liked the band and played "This Atmosphere" on his radio show, saying the track was "primitive but effective". Within weeks, all 250 copies had been sold but instead of pressing more, Eddie decided that the objective had been reached and deleted the EP.
BTI only played one gig, at a hippy commune in Corwen, north Wales, just after the Last Thoughts EP came out. About 5 people turned up. Eddie says "After the gig, we found ourselves with no money and nowhere to stay. Luckily, the hippy elders supplied us with some old mattresses and we all ended up sleeping in the room that we'd just played in. Early the next morning, with no food or drink, the desperate side of Beyond The Implode showed through. It was decided that Ian would go out onto the streets of Corwen and rob some milk. He returned triumphant 20 minutes later, dancing like a post-punk Artful Dodger, armed with three pints of fresh, nicked from nearby doorsteps. Rock n roll success seemed light years away. We never did any more gigs, it wasn't fair on the nation's milkmen".
The second line up (1980) was Eddie, vocals, Ian, guitar, Keith O'Connell AKA Keith Discreet on bass, Kev Shields on keyboards, and Nick Evans on drums. The band got some of their mates to do backing vocals; Peter Thomas (DJ at the Swinging Apple, Liverpool), Ste O'Leary and Lorraine Daniels. This was the line up (minus Lorraine, who couldn't make it on the day) that recorded the 11th Hour Breakdown EP ("11th Hour Breakdown" / "Look Back And Crash" / "Lassitude") at Open Eye studios in Liverpool. The record was released in June 1980, cat no DIVE102, 250 copies, all sold via the local record shops including 110 bought by Pat Walsh of Paw, who stored them in his garage for 10 years then, in order to make room for a bigger car, trashed the records at the rubbish tip.
Line up #3 (1981) was Eddie, vocals, Kev, Keyboards, Keith, bass, Mark Brackley, sax and Marshall Parsons on guitar. They recorded some tracks but never released them.
Beyond The Implode produced two issues of a fanzine called Look Back And Crash. The 'zines featured a series of cut-and-paste collages made from images taken from other publications. Also included was stuff about legalising cannabis, stopping animal cruelty and fighting fascism. Kev and Ian both worked in office jobs and had access to a photocopier, so many an happy overtime hour was spent printing out a Look Back And Crash or two. The same photocopier had been used a few months earlier by a friend of Ian's, Steve Gerrard, to print the Last Thoughts EP covers. Steve also printed 25 lyric sheets which were inserted into random covers. He would have printed more but the machine ran out of ink.
After Ian left BTI, he played in a series of bands including Wild Weekend, who recorded tracks at Hologram Studios in Stockport with Tim "Bomber" Harris who later joined Blitz.
Kev formed a synth band called Havoc Of Fusion who had some tracks played on Radio Merseyside. He presently has his own Beyond The Implode myspace website.
In keeping with the original DIY thing, Eddie is currently working on the BTI tracks on his computer and is planning a reissue of some sort in the near future.
Lastly, the cassette that turns up from time to time that was rumoured to be a self financed band release is no more than a bootleg which the band had nothing to do with!!

Above is a review of the debut single by 'Jon Savage' that appeared in "Melody Maker" on 29th September 1979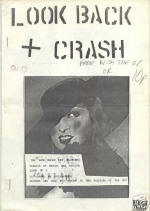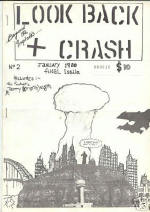 Above are two issues of the self produced fanzine.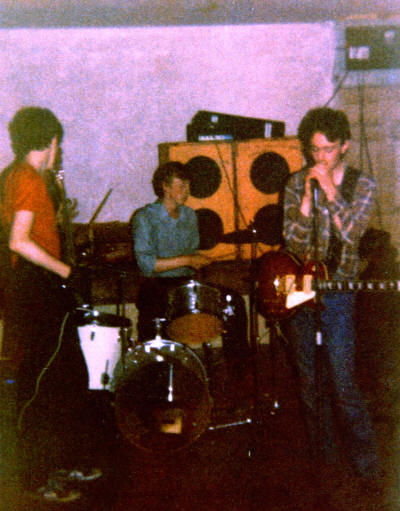 Ian, Nick & Eddie
Live at the Hippy Commune in Corwen, north Wales in 1979.
NEW RELEASE
Beyond The Implode have a new limited edition 7 inch EP out on Siltbreeze Records. 300 copies only, the record features 4 tracks from 1979, two previously unreleased.
Track listing is; 1 - This Atmosphere, 2 - Disperse The Clouds, 3 - Steel Car, 4 - Mid Ad Version. Catalogue number SB-109.
Thanks to Eddie Smith
©Detour Records