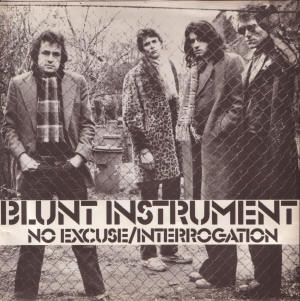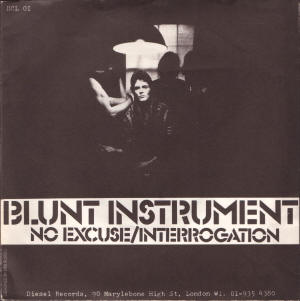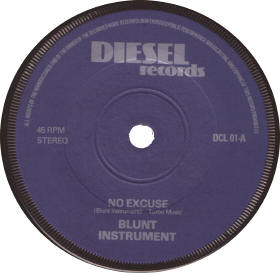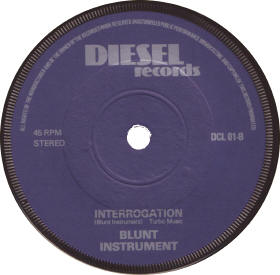 No Excuse / Interrogation
Catalogue Number - DCL 01
Label - Diesel Records
Year Of Release - 1978
Quantity Pressed - ????
| | |
| --- | --- |
| Robert Sandall - Guitar & Vocals | Bill Benfield - Guitar |
| Ed Shaw - Bass | David Sinclair - Drums |
A London-based Punk outfit, in the loosest terms, who provided a musical outlet for prolific rock writers Dave Sinclair, originally from Griffnock in Scotland, and Robert Sandall. Sinclair has described Blunt Instrument as a 'pseudo punk band', but his former band leader isn't so sure. "We weren't a lot more pseudo than many of the other middle class blokes playing punk – and there were plenty. David was very sceptical about the style of the music and the attitude, but it felt serious to me, anyway." They managed to play a series of shows around London, including a support to Metal Urbain at the Roxy and a show with Wire at Imperial College, before releasing 'No Excuse'. It was "Immensely derivative" noted Sounds, whilst also clocking the MC5 influence. That's a little uncharitable, as it's one of the better-sounding obscurities from the period. The sleeve suggests that the band members had made the transition from the hippy era with a fair degree of sartorial reluctance, though the stencilled lettering was more contemporaneous. Blunt Instrument's quick demise was recounted in Sinclair's Love Is The Drug. Sinclair broke his wrist falling off his drum kit, and during the hiatus Benfield elected to return to his former post as an English teacher. Although Nick Aldridge replaced him, by now any chance of seizing the moment had passed.
After renaming themselves London Zoo they signed to Zoom to release 'Receiving End'. However, when Bruce Findlay took his label to Arista they were lost in the shuffle. A further single for Gramophone, 1980's 'Who's Driving This Car', backed by 'You And Your Big Ideas', followed in 1980. Sinclair worked briefly with TV Smith's Explorers before concentrating on writing, while Sandall joined the Sunday Times as its rock critic. Sandall: "Punk was the moment that made me realise I had to put up or shut up as far as music was concerned. It was a call to arms, an end of mildly stoned inertia, and I can't imagine I would still be caught up in writing or anything music related if punk hadn't happened." If any unreleased tapes of Blunt Instrument do exist, he's not admitting it.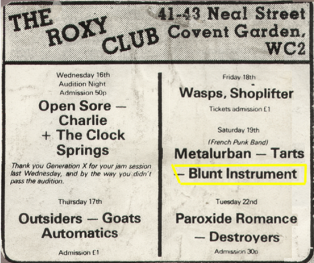 The above advert is for Saturday 19th November 1977.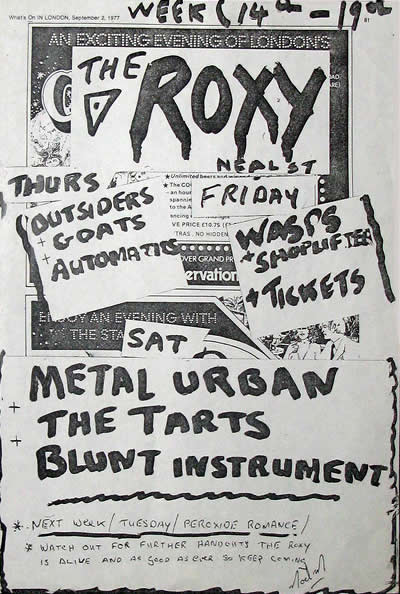 Above is an original gig flyer from the Roxy Club and is advertising 'Metal Urban', 'The Tarts' & 'Blunt Instrument' for Saturday 19th November 1977
Picture Supplied By
Discography:
No Excuse/Interrogation 7-inch (Diesel DCL 01 March 1978)
Alex Ogg

2005
From Alex Ogg's forthcoming book "No More Heroes"
©Detour Records