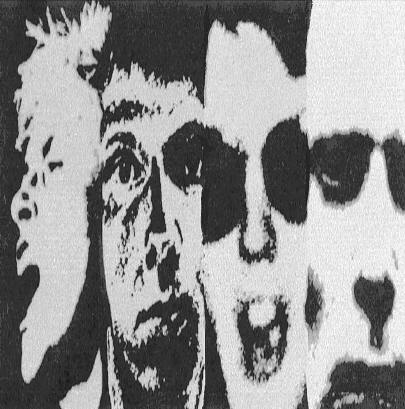 | | | |
| --- | --- | --- |
| Chris Skornia – Lead Vocals / Guitar | | Kirk Brandon – Bass / Vocals * |
| John Fuller – Lead Guitar / Vocals | | Simon Wright – Drums / Vocals |
*(replaced Jerry Iles)
The Cane Biography
The Cane really began quite unintentionally because of The Sex Pistols' unreliability.
In '76 the Pistols were touring of sorts but often cancelled gigs at short notice. One such gig was in Torbay, South Devon. Local promoter and agent Lionel Digby had booked them into the 400 Club in Torquay for September 28th and by the time they cancelled he had already generated a lot of interest in his "Punk Rock Night", which was to be the first in the area. So he contacted two local musicians, Chris Skornia and Simon Wright, as he knew they were interested in the punk bands that were emerging from around the country and America, and asked them if they could put something "punky" together to replace the Pistols for the night. They hurriedly assembled some likely musicians and set about learning punk covers from the records they had recently bought. Calling themselves The Kayo Punks, the barely rehearsed 5-piece did the show.
The night was such a success that Chris and Simon decided to make it into something more permanent. So with a scaled-down version of The Kayo Punks, Chris on guitar, Simon on drums and Jerry Iles on bass, and with a name-change, The Cane was born!
They started writing and were soon in demand locally, and through '77 were supporting bands like Sham 69 and touring with Chelsea and The Cortinas. In '78 the time came when Jerry had to leave so Chris thought it was an opportunity to expand the band and it's horizons. He recruited Kirk Brandon to replace Jerry and John Fuller on lead guitar. With this new line-up working so well they decided to try and make "the big-time" in London. They recorded a set of demos in a small Torquay studio and went off to live in a house John knew of near Heathrow. There they wrote and rehearsed more material. (Unfortunately the new songs were never recorded so now they're lost.) They hung out at all the London punk clubs they could blag their way into, like the Vortex and the 100 Club, trying to become part of the scene, and went to see agents and promoters with their demos. They even tried a name-change to The Pack Of Lies, but all to no avail.
Punk was changing and the infamous "musical differences" thing started to happen within the band. Chris was getting interested in new-wave/powerpop-type music whereas Kirk was looking for more credibility and a heavier, deeper direction.
Inevitably the band split and they all went their separate ways.
Chris Skornia switched to keyboards and joined The Boyfriends, a powerpop band formed by ex-Vibrators bass-player Pat Collier, and later went on to form The Truth with Dennis Greaves of Nine Below Zero.
Kirk Brandon formed a riotous band called The Pack, then Theatre Of Hate and finally, Spear Of Destiny.
John Fuller moved to California and put together a band with Dean Martin's sister-in- law, who did the sound effects for "The Exorcist", before returning to the U.K. and forming an early incarnation of Culture Club with Boy George.
Simon Wright carried on playing in his old stomping-grounds in South Devon where he still performs regularly.
The Cane tracks on this album are taken from that demo session in Torquay in '78, the only recordings the band ever made, virtually live and full of spirit and attitude. The way Punk was meant to be!
Chris Skornia. October 2004
| | |
| --- | --- |
| | |
| | |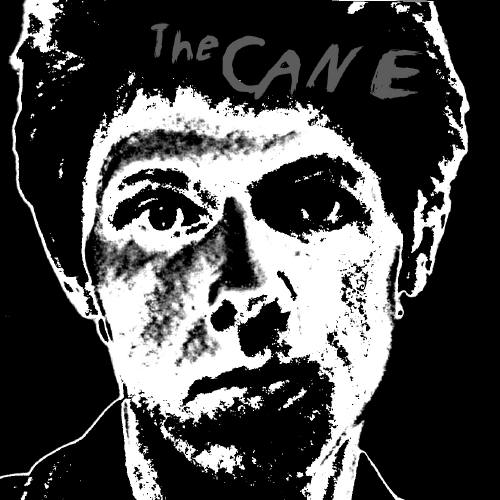 Chris Skornia – Lead Vocals and Guitar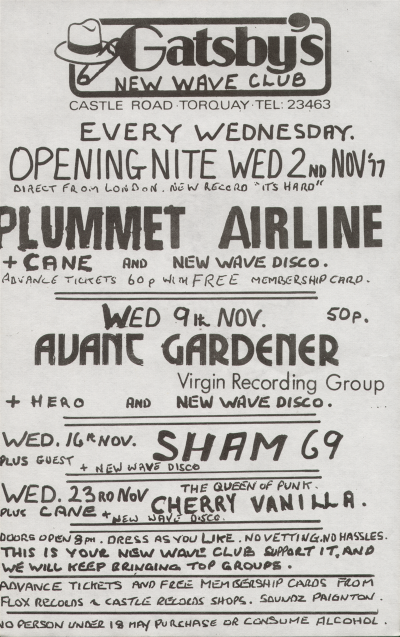 Above is an original A5 Gig Flyer from the "Gatsby's Club", Torquay from Wednesday 2nd November 1977 when they supported "Plummet Airline", Wednesday 16th November 1977 when they supported "Sham 69" (Ticket shown below) and Wednesday 23rd November 1977 from when they supported "Cherry Vanilla".
Above is an original unused gig ticket for the "Gatsby's Club", Torquay from Wednesday 16th November 1977 when they supported "Sham 69".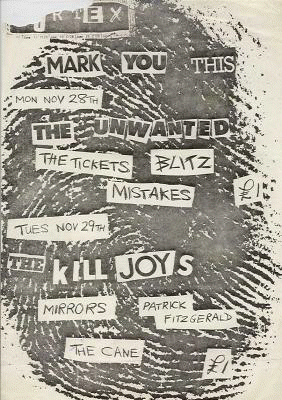 Above is an original A4 gig flyer for the legendary "Vortex" Club from November 1977
Nadi Jahangiri', lead singer of another local band 'Das Schnitz' remembers going to watch

'The Cane' a lot. They were older than us but a great band live. All I remember from them was that they had a song called 'Thalidomide' which 'Kirk Brandon' used to sing with a rasping, spitty intensity that might seem a bit camp now! He broke his leg and left Torquay in 1978 I think.
Nadi Jahangiri
13th April 2005
<<BACK TO INDEX
©Detour Records