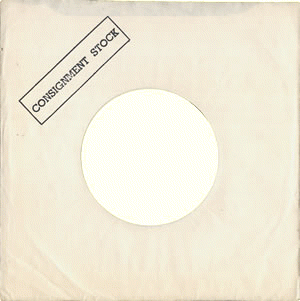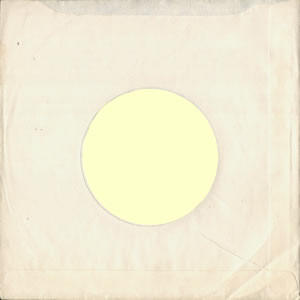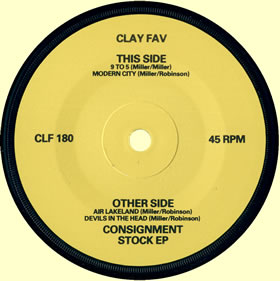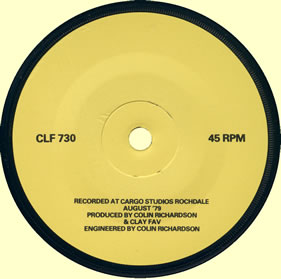 9 To 5 / Modern City
Air Lakeland / Devils In The Head
Catalogue Number - CLF 180 / CLF 730
Label - Clay Fav
Year Of Release - 1979
Quantity Pressed - 1000
(Approximately 200 copies with stamped sleeve)
| | |
| --- | --- |
| CLIVE ROWLANDSON - VOCALS | ROBERT MILLER - BASS |
| ROBERT BATESON - DRUMS | GORDON ROBINSON - GUITAR |
A fairly simple and common story....but there was a lot of fun along the way.
The name of the band came from a local street - "Claife Avenue", which just about showed the extent of our ambitions!
Bate 'the drummer' was slightly older than us. He'd left school and was earning money so he had the drum kit. Gordon had a guitar and a knack of writing catchy tunes. Rob played Bass and did a bit of organising. We shared the vocal duties at first. The songs sometimes only existed briefly before they were lost forever. Gordon would write something on the guitar but the tuning would be different the next time the guitar came out and the moment was gone. It was then "Clay Fav" learned the fundamentals of Rock music - get a tuner and learn to play properly.
Anyway, the three of us would spend evenings and weekends stuffed into Bate's tiny bedroom with a drum kit trying to make just slightly less noise than would get us chucked-out by his mum. Eventually we moved up in the world and hired the Red Cross Centre (See above photo) in Windermere to rehearse in which meant we could make lots of noise, people could even come and listen and the realisation that none of us could actually sing...or front a band. Enter 'Clive', a year younger, but with a frame and front to compensate...and a legendary pair of Army green fatigues.
The four of us decided that we needed to get 'our sound' down onto vinyl. Money was very tight but somehow we got enough together to spend a day at 'Cargo Studios' in Rochdale. After a long day, a lot of tiredness and arguments, we emerged with 1,000 copies of the "Consignment Stock EP". The planned picture sleeve idea was ditched due to lack of funds and it was replaced by a stamp saying, funnily enough 'Consignment Stock'. The name didn't mean anything in particularly but we had a stamp with it on at work. We can't remember how many we stamped but it was only a few hundred. One of our songs "Air Lakeland" was our protest against tourism. In the winter you'd be welcomed into any pub and be on the best of terms with the bar staff but in the summer....every pub would be five deep at the bar and you couldn't get served. We just wanted them all go away so we could resume our drinking for England.
We managed to sell a load of our single to 'Rough Trade' and then it was played on Radio1 by 'John Peel', not the once but three times!!! The first time he got the name of the band and the title of the EP mixed-up. I wrote to him and explained this, so he played it again. His intro was something like "This is a song by Clay Fav, which is a silly a name for a band as I've heard in ages. Anyway, good to hear music's alive in Lakeland - here's ....." and he played it sandwiched between the Clash (4 Horsemen) and something else.
Our recording career now at it's end, we 'hit the road'. We'd moved on at this point from playing our own stuff to playing other people's music. We'd played with so many poor bands so we just wanted to do it better. The personnel started to change. Gordon didn't want to play live and left to be replaced by Rob's brother Alan and ditto Clive by Aidey. Aidey certainly had the look of a front man and also had wheels and then down to a 3-piece. A common thread at this point was that our gigs hardly ever reached the end, largely due to fighting , so we got into the habit of playing the best stuff first....just in case! I remember playing one gig at a Punk festival in the North West where we sat listening to poor Punk bands for hours. We hit the stage with 'Love Song' by 'the Damned' and got halfway through 'Wardance' by 'Killing Joke' when a massive fight broke out and we legged-it through a toilet window.
Symbolic that..... cos that was it. We all went our separate ways.
Rob Miller

October 2002
Thanks to Rob Miller & Clive Rowlandson
©Detour Records