DEMOLITION

BLACKBURN
| | |
| --- | --- |
| Steve Holmes - AKA Matt Emulsion VOCALS | Paul Davies - AKA Split Belsen GUITAR |
| Pete Sanford - BASS | Jim - DRUMS |
Formed in May 1977 when myself (aka Matt Emulsion) and Paul Davies (aka Split Belsen) who played lead guitar decided to start a band. We used to go to the same school but met up through the "Lodestar" after having the same taste in music...Bowie etc. We first got together in Paul's (Split) mums living room where he just churned out a few chords...DEMOLITION was born so to speak. We used to attend the 'Electric Circus' in Collyhurst, Manchester on Sunday nights which was a big punk venue, but it was a mix of this and seeing bands like the Pistols at the Lodestar on a Tuesday night in front of about 35 people (believe me they were bad) that kicked our arse into gear.
We hooked up with another lad from the Lodestar who played bass called Pete Sanford.
At the time i was DJ`ing at the Lodestar and approached Andrew Grimshaw (Son of Margaret Grimshaw - joint co owner of the Lodestar, who became our manager ) about us practising there and maybe a gig??? Andrew financially backed us with thing like PA, Mixing Desk, travel to gigs etc. where we got our drummer from is a distant memory.. he was called Jim and the only words i can recall ever saying to him were "hit the fu**ing things".
Split was our main songwriter with such classics as NO FEELINGS, GANGRENE, SWASTIKA GIRL, HEART FAILURE, FACTORY FLOOR, and about another 15 I cant remember. We went on to support many bands at the Lodestar including 'THE BOOMTOWN RATS', 'THE ADVERTS', 'EATER', '999', 'SLAUGHTER AND THE DOGS', 'LONDON' and a few more, we actually blew '999', 'Eater' and 'Slaughter and the dogs' off the stage as the audience wanted more "Demolition". We played a few gigs away from the Lodestar including a couple of Uni`s, Aberystwyth, Accrington...where I remember playing a gig with SCHOOLGIRL BITCH. I also think we had a bit of a "jammin' session" with them but i cant really remember. Possibly our biggest gig was in front of 3500 people at Wigan Casino at a Rock Against Racism gig. It was when the Pistols were touring under various different names and the turnout was phenomenal. The demise of Demolition came as Split thought he deserved most of the credit in the band. I as lead singer was getting all the attention and he didn't really see eye to eye with Pete on bass. The end came shortly after we went down to a recording studio in Coventry where we recorded our first single NO FEELINGS/GANGRENE...double a side. What happened to the tape god only knows but it never happened as Pete gave Split a good hiding after discovering him practising Demolition songs with a local "Rock" band with Split on vocals...an ego had landed.... it was brilliant while it lasted.....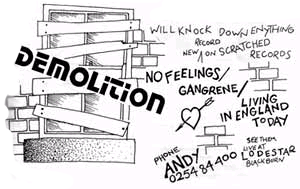 Above is the original advert for the bands debut single that never was.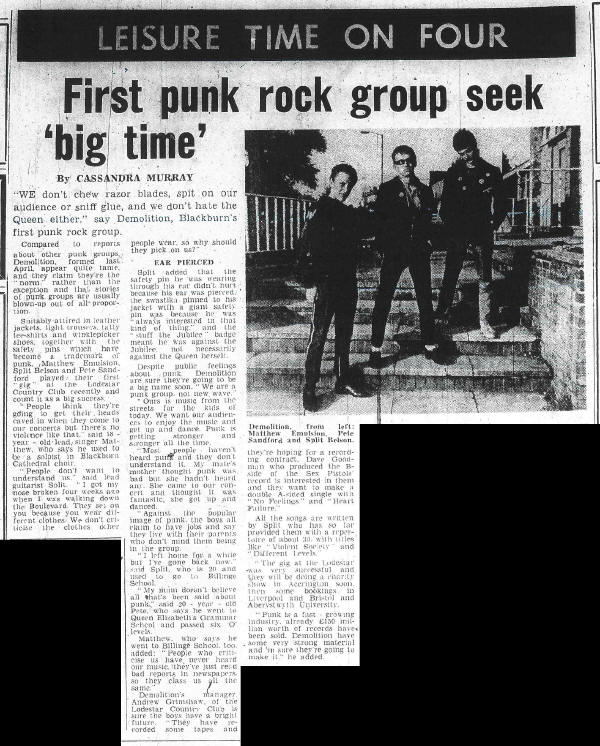 The above article appeared in the "Lancashire Evening Telegraph" in 1977.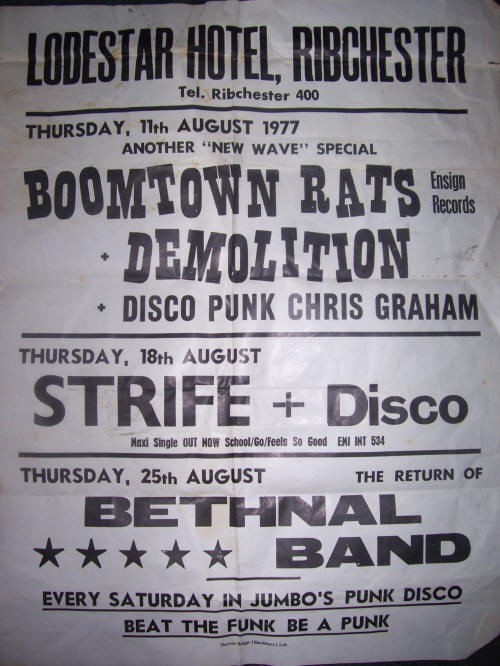 Above is an original gig poster that features 'Demolition' supporting 'The Boomtown Rats

on Thursday 11th August 1977.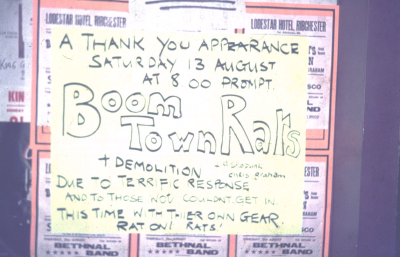 Above is an original gig poster that features 'Demolition' supporting 'The Boomtown Rats
on Saturday 13th August 1977.
This was a special one-off gig as the first gig was sold out and a lot of people couldn't get in!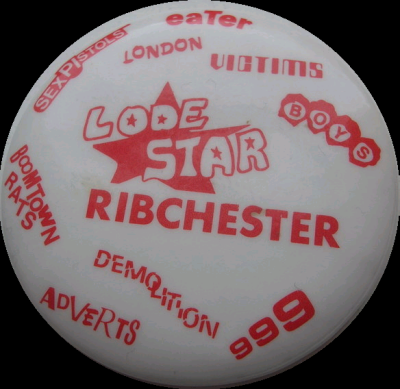 Above is an original 3½" Tin badge that was sold at gigs at the Lodestar in 1977 / 1978.
Steve Holmes

August 2006
Thanks to Steve Holmes & Eamon Dawson.
©Detour Records