Dick Envy
'Dick Envy' were a London based band that featured the American singer / Search & Destroy fanzine editor 'Vermilion Sands'. She first came to the UK after befriending 'Rat Scabies' at a 'Dead Boys' / 'Damned' gig in New York. She then secured a job at 'Step Forward' / 'Illegal' Records in Dryden Chambers helping out 'Nick Jones. Her task was promoting the label which she did to the best of her abilities. Most of the stunts included going topless when ever she could and one of her most outrageous stunts was being photographed while pissing in a sink completely naked!!!
Her band 'Dick Envy' were very active on the London Punk circuit mainly as a support band to some of the bigger names of the time.
When 'Dick Envy' split, she then went onto release two singles. The first being just under the name of 'Vermilion', the second one as 'Vermilion & The Aces. Both singles were released on the 'Illegal' label. Her backing band on the second release was actually 'Menace' minus the singer.
Angry Young Women / Nymphomania / Wild Boys

(ILLEGAL RECORDS) 1978

Motorcycles / The Letter.

(ILLEGAL RECORDS) 1979

Above is an original 8" x 10" Black & White Promotional Photo of 'Vermilion' from the "Illegal' Record Label.
Then in 1982, 'The Aces released a single in their own rights just as 'The Aces. This record did not feature 'Vermilion this time!
One Way Street / Why Should It Me mine

(ETC RECORDS - ETC 01) 1982
.
The above two photos were taken by Allen Adams of 'The Blanks' at the "Vortex" on 15.08.77. First on were 'The Now' but for some reason they didn't play but were replaced by 'Dick Envy', next up were 'Tanya Hyde & the Tormentors', then 'The Prefects' and the main attraction were 'The Slits'.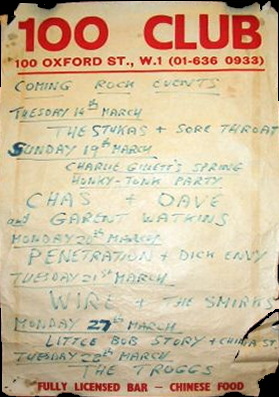 Above is an original 20" x 30" Gig Poster for the "100 Club", London that lists 'Penetration' & 'Dick Envy' on Monday 20th March 1978.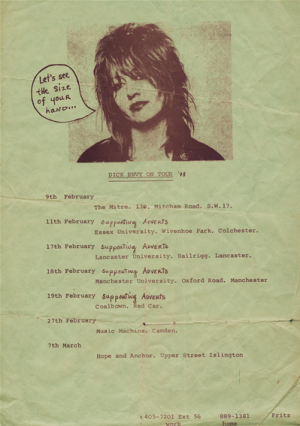 Above is an original A4 Press Release for "Dick Envy On Tour '78". Four of dates are supporting 'The Adverts".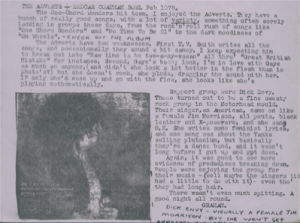 The above gig review for "The Coatham Bowl", Redcar that featured "The Adverts" & "Dick Envy" in February 1978 appeared in Stockton based fanzine Strictly Rockers #2 from 1978.
Thanks to Allen Adams & Joe Public
©Detour Records