THE DRIVE

Dundee
Angus (Gus) McFarlane

- Lead Vocals
Ron Neish - Lead Guitar
Bob Phillips - Slide Guitar
Roger Patterson - Bass*
Ron Jack - Drums**
*Replaced by Bruce Money
**Replaced by Colin Letham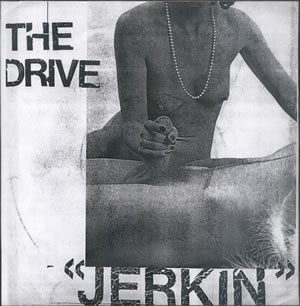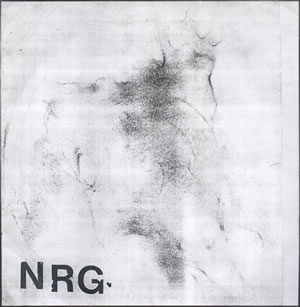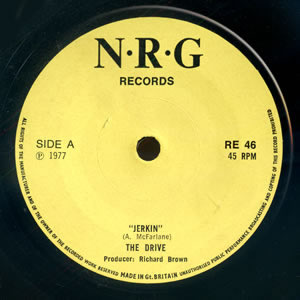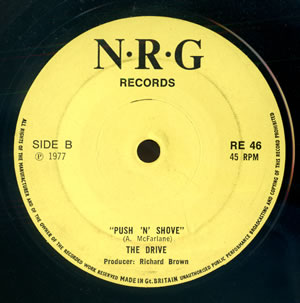 Jerkin / Push'n'Shove
Catalogue Number - RE 46
Label - N.R.G
Year Of Release - 1977
Quantity Pressed - 1000* (Confirmed)
*Please note, No picture sleeve was ever issued. The one shown here was made up by a fan back in the day but is not official.
The original pressing of 1,000 copies of Jerkin' was done around the time Elvis Presley died. Pressing plants around Britain were in overdrive to cope with the demand for his material. That meant that our master tape was sent to the first company that said they'd do the job. Unfortunately, the quality of the pressing was sub-standard. The lacquer that covers the discs after pressing was either not applied, or was applied badly, and the result was poor quality sound. Despite this disappointment, we were in full swing with our plans to conquer the world and couldn't stop. A Scottish chain of record shops - Bruce's Records - asked us to give them all the pressings after a spikey interview with me was published in a Scottish Sunday newspaper scandal sheet. Sales went well, and the 1,000 pressings were sold in a couple of weeks. Job done, I thought, and started to write more material for recording.
Meanwhile, the result of all this self-generated newspaper publicity was that a small chain of record shops in London, Beggar's Banquet, got in touch and asked us if we would like to include Jerkin' on a compilation LP called 'Streets' - it was their first venture, as well as promoting a band called Tubeway Army with Gary Numan. We said 'yes', and sent the master tape to London. So, the version of Jerkin' on the 'Streets' LP is far superior.
There were two further songs recorded "Queen of the bitches" and "Steal Yourself". Despite the awful sounding titles, these songs were musically far superior to our first efforts - especially "Steal Yourself" - brilliant guitar solo. Sadly, that tape was dumped in the loft of a flat in Dundee, Scotland around 27 years ago. If the quality of the tape hasn't degraded badly by now, it's probably likely that the tape was junked.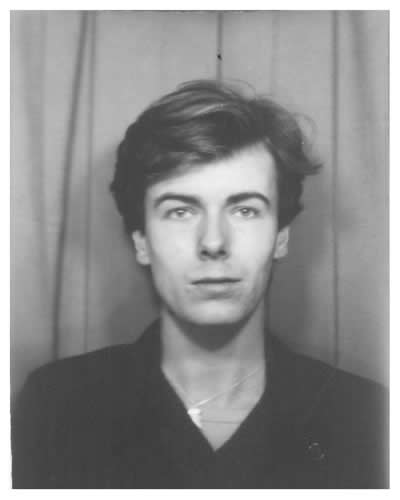 Circa 1977
Angus McFarlane

September 2014

The above gig single review for "Jerkin'" appeared in the Carlisle based fanzine "Dead On Arrival" #1 from August 1977.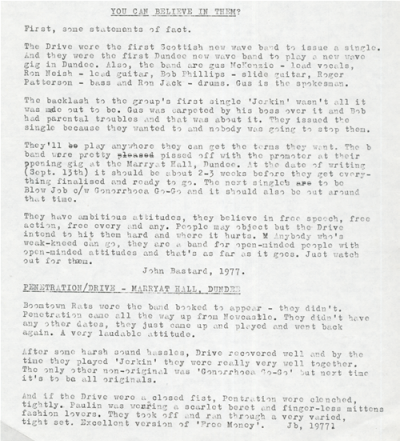 The above two articles appeared in the Edinburgh based fanzine "Hanging Around" #5 from September 1977.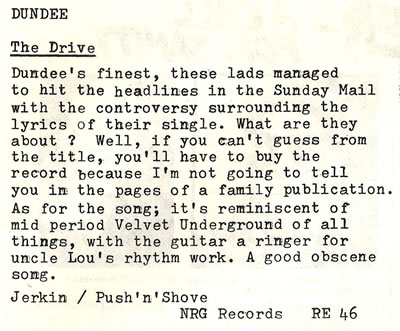 The above article appeared in the Aberdeenshire fanzine 'Granite City' #1 from August 1978.
The above is the original 10" Master tape box for the single 'Jerkin' / 'Push 'n' Shove' that was recorded at the 'Radio Edinburgh Ltd' (REL), Scotland.
The above is the original 7" Master tape box for the unreleased single 'Queen of the Bitches' / 'Steal Yourself' that was recorded at the 'Radio Edinburgh Ltd' (REL), Scotland on Saturday 7th January 1978.
Thanks to Bradders, Gus McFarlane, Colin Letham & Jenny Kermally
©Detour Records