Melbourne, Derbyshire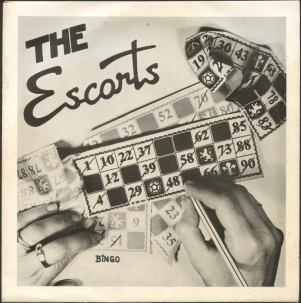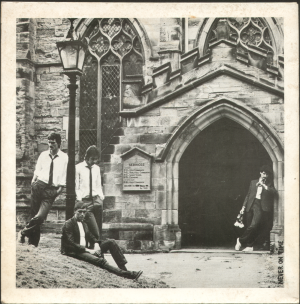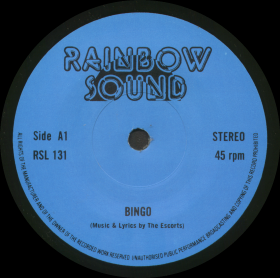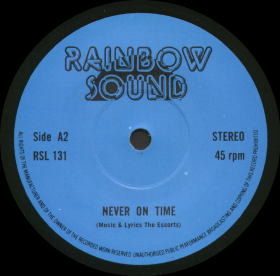 Bingo / Never On Time
Catalogue Number - RSL 131
Label - Rainbow Sound
Year Of Release - 1979 / 1981?
Quantity Pressed - 500 (Confirmed)
| | |
| --- | --- |
| Dave T - Vocals | Bob W - Guitar |
| Anthony G - Bass | Andrew S - Drums |
A true Mod / Powerpop classic from this quartet that hailed from a small town called Melbourne which is in the county of Derbyshire. Sadly this band never got the breaks they deserved and only played the local colleges, Pubs and clubs within their area. Their biggest gig was supporting 'The Only Ones' on Friday 2nd May 1980 that was put on by a company called 'What Promotions' and was staged at an old run down cinema called the "Ajanta" (aka "The Old Derby Playhouse") which was situated in Sacheverel Street. This venue was so run down, tins of rat poison could be spotted in several places through-out the venue and Bob the guitarist swears in saw a rat run across the stage while they were performing.
On this night, the band played to their best abilities and went down a storm much to the appreciation of their loyal fans who had travelled to see them! Unfortunately, they may have gone down to well as all loyal fans were cheering and banging the stage when all of a sudden the PA started playing up and the Bass was turned up all of a sudden.... Coincidence? Who knows?
The 'Ajanta' was featured on the front sleeve to the 'Discharge' single 'Decontrol'. Apparently the crowd scene is from when they played there!
In 1988 the venue was BULLDOZED down!
In their career span they released one killer record called "Bingo" which was recorded at the "Rainbow Sound Studios", Nottingham by Andy Terry & Paddy Flynn.
After the band split up, Dave, Bob & Andrew then formed a band called "Why?" and were asked down to London to record some demos by "CBS" Records but sadly nothing came from them...
Anthony went on to form a band called "Pink Miracle".
Thanks goes to Keely T, Bradders, Chris Plummer, Steve Mitchell & Mike Teo
©Detour Records