THE EXILE

Bishopsbriggs, Glasgow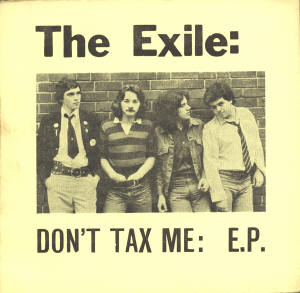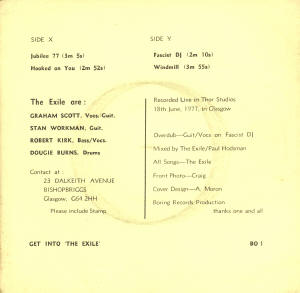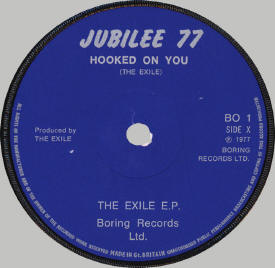 Jubilee 77 / Hooked On You / Fascist D.J. / The Windmill
Catalogue Number - BO 1
Label - Boring Records
Year Of Release - 1977
Quantity Pressed - 1600 (Confirmed)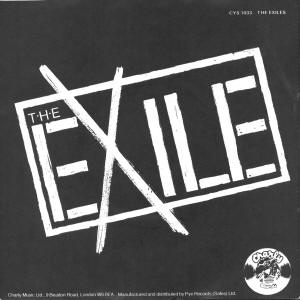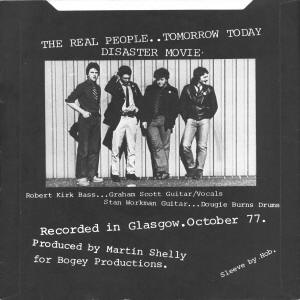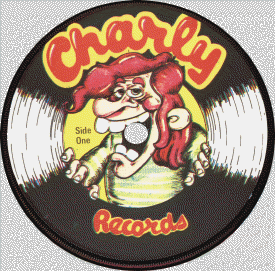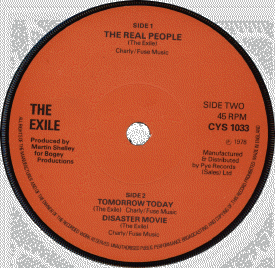 The Real People / Tomorrow Today / Disaster Movie
Catalogue Number - CYS 1033
Label - Charly Records
Year Of Release - 1978
Quantity Pressed - ????
ROBERT

KIRK

BASS

STAN

WORKMAN

GUITAR

GRAHAM

SCOTT

VOCALS / GUITAR

DOUGIE

BURNS

DRUMS
The above photos may of been taken by "Billy Sloan" at the Industrial Estate in Kirkintilloch in 1977
The Exile were a four piece Scottish Punk band who formed in February 1977 from one of the small suburbs of Glasgow called 'Bishopbriggs'. Graham Scott, the driving force of the band was previously in a band called "Free Flight" who were a straight forward Rock band covering such tracks by the 'Rolling Stones' to 'Santana'.
The Exile released two singles in their three year career, plus they were featured on the 'Beggars Banquet' Punk compilation album "Streets" with a track called 'Disaster Movie'. Their debut single being released in August 1977 on their own 'Boring' label in 1977. The track 'Fascist D.J' on the debut release was actually about a local D.J called 'Tom Ferrie' who actively hindered the Punk scene in Glasgow at the time! This is their homage to him (or not!!). Other local Punk heroes 'The Jolt' also paid homage to this DJ by writing a track called 'Mr Radio Man' which featured on their album!
Then in 1978 they signed to 'Charly' Records and released one more single in January 1978. Then in May of the same year, 'Robert Kirk' quit the band and was replaced by 'Gavin Peterson'. Gavin only stayed in the band until August of '78 and was then replaced by 'Paul Armour' previously of the 'Cuban Heels' but the cracks were showing and they decided to call it a day in 1980.
When the band was in existence they played with such acts as 'Trapeez' ,'The Lurkers', 'The Vibrators', 'The Boomtown Rats', 'Johnny and the Self Abusers (who went onto to be the Simple Minds) along with some local bands like 'Matt vinyl and the Decorators' , 'The Jolt', 'The Motels and 'The Trendies.
Out of the Ashes a new band was formed called "Friction" who released a single called 'World in Crisis' with a catalogue number of BO 3 back on their own 'Boring' label.
This is the last we heard of them, until now.....
Thanks goes out to 'Dougie Burns' of 'The Exile' for some of the above information.

3rd April 2005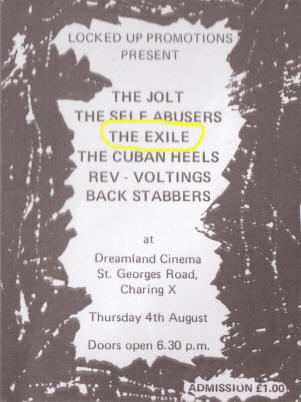 Above is an original gig flyer from 4th August 1977
The Third Single as "Friction"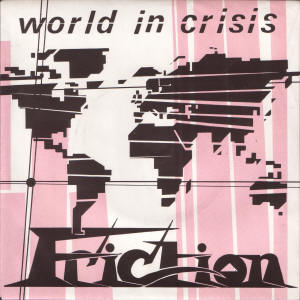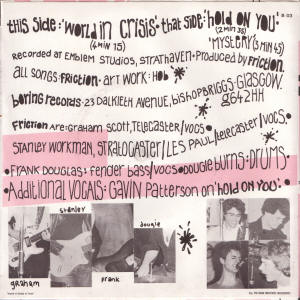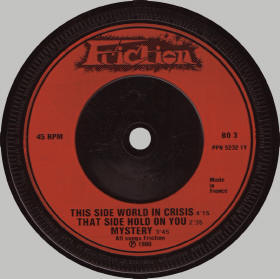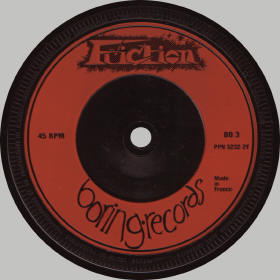 World In Crisis / Hold On You / Mystery
Catalogue Number - BO 3
Label - Boring Records
Year Of Release - 1980
Quantity Pressed - 1500
Stan Workman Guitar

Frank Douglas Bass

Graham Scott Guitar & Vocals

Dougie Burns Drums

Above is an original press photo for the bands debut single.
| | | |
| --- | --- | --- |
| | | The above gig review for the "Concert Hall" in Troon from February 1979 appeared in the Glasgow fanzine "Plain Sailing" #7. |
©Detour Records