| | | |
| --- | --- | --- |
| | West Midlands | |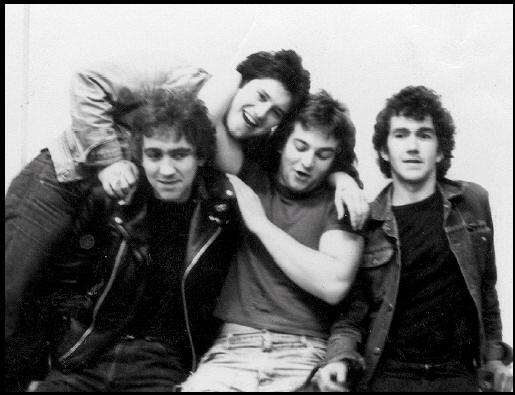 | | |
| --- | --- |
| MICK WALKER - VOCALS & GUITAR | TONY HOWELLS - LEAD GUITAR |
| ROGER HUDSON - BASS | SHANE LAWLEY - DRUMS |
The year was 1977, the members of the Injectors were Mick, Tony, Roger & Shane (aka "See you when I see you")
We played our first in 1977 supporting the 'Neon Hearts' at the "Lord Raglan" in Wolverhampton. We quickly built up a local following and went on to play various local gigs over the next coming months. On more than one occasion 'Shane' "See you when..." never turned up. Fortunately for us, 'Dexys Midnight Runners' drummer 'Andy (Stoker) Growcott' was usually in the audience and stepped in at extremely short notice and did us proud. This happened on two or three occasions where 'Shane' had not bothered turning up.
We then progressed to laying down some demo tracks with this line up and when the studio sound engineer calling us all in to do our 'thing' asked 'Shane' to play the 'high hat' to which he replied "What's that?" Two of these tracks can be heard on the compilation album "Bored Teenagers Volume 3"
After the recording session, Shane disappeared for what we thought was for good and the 'Injectors' disbanded. Out of these ashes, the 'Circles' were formed with Mick & Tony being the only surviving members. By now, Punk was on it's last legs so we decided to concentrate on the Mod thing that was just starting to sweep the UK. They recruited a new drummer, 'Keith Allen' from local Punk band 'The Neon Hearts'. After placing an advert for a new bassist they found 'Glen Tranter'. The Circles were now complete!!!!
After a string of successful local gigs, they got signed to local label "Graduate Records". The band went on a national tour to promote their debut single "Opening Up". The band were then next snapped up by major label "Vertigo Records" which was a sub division of "Phonogram". Things were on the up... Next up was another national tour to promote the second single 'Angry Voices" when none other than 'Shane' turned up and accused me of pushing him out of the band! I am not usually speechless but on this occasion all I could do is to shake my head...
Sadly the band fell apart in 1981 and the band split....
Then in 1999 the band got back together to play a few gigs with Mick on Vocals, Keith on Drums, Martin Ratcliffe (from the Neon Hearts) on Lead Guitar and old Injectors band member Roger back on Bass. They then went on to play the brilliant 'Mods Mayday '99' concert and can be heard on this historical release. It didn't end there!! They went on the record a brand new studio album called "Looking Back". This was one of our regrets, not recording an album at the time but now we have put this right....We are very proud of this release......
Mick Walker 2001
Live at "JB's", Dudley on Saturday 22nd April 1978
©Detour Records