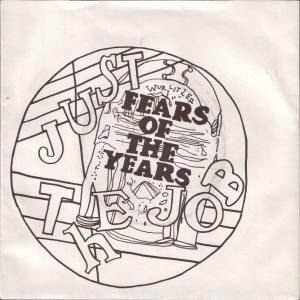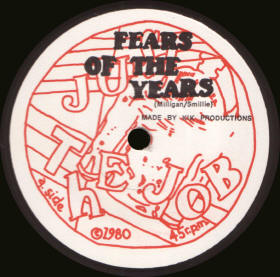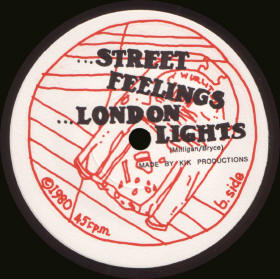 Fears Of The Years / Street Feelings / London Lights
Catalogue Number - KIK-2 A-1 / KIK-2 B-1
Label - KIK Productions
Year Of Release - 1980
Quantity Pressed - 500
CRAIG SMILLIE - RHYTHM GUITAR / BACKING VOCALS
PAUL MIDDLETON - VOCALS*
DAVE

MacLACHLAN

- BASS
DAVEY BARBOUR - DRUMS

GRAHAM BRYCE - LEAD GUITAR / PIANO / BACKING VOCALS
*Replaced Rachel Smillie
A very obscure Scottish 5-Piece from outta Glasgow who played a fine brand of quirky Power-Pop. This was the bands one and only release that was recorded at the 'Sirocco Studios' in Kilmarnock in May 1980.
Craig Smillie, Rachel Smillie, Graham Bryce, David MacLachlan & Davey Barbour
Just the Job
Just the Job formed in 1978 playing self-penned material with tunes stolen from the likes of Springsteen, the Ramones, Elvis Costello and all the 45s that were filling the charts at that time. The band comprised Davey Barbour on drums; Graham Bryce on lead Stratocaster; David MacLachlan on Bass; Craig Smillie on rhythm Telecaster; and Rachel Smillie on vocals. Lyrics were usually written by invisible band member Ian Milligan.
We played mainly the Glasgow pub circuit like The Burns Howff, The Doune Castle, The Dial Inn, The Ibrox House, The Glen Douglas, The Third Eye, etc – but made regular visits to Edinburgh, Dundee and Paisley, played some festivals down South and a few gigs in London and Manchester. The band got some radio play on Radio 1; we went down to London and recorded a session for Annie Nightingale at the BBC and were introduced as her "pet band."
In '79 Rachel became pregnant and left to be replaced by Paul Middleton. Biggest gig was at the Greenbelt Arts Festival where we played to 25,000 along with U2. (More had gone to see U2 than JTJ it has to be admitted.)
We continued regular gigging till our Farewell Gig on February 2nd 1982. Bryce went to live and be a doctor in Dundee; Barbour vanished into the world of banking; Middleton went to London where he seems to be working now in planning at Tower Hamlets; MacLachlan played with Tom Morton and a Glasgow funk outfit called Jeep; Smillie played in The Staceys, a roots shouting band, and with Ricky Ross in Dr Love.
In the mid '80s Smillie and Smillie formed a ceilidh band called The Hallanshankers which continues to gig regularly around Scotland and in hotter countries when we get the opportunity. Bryce and MacLachlan were eventually enticed in. They also play around Glasgow as The Bucks - a covers / party band. Springsteen is still The Man.
In the last couple of years we have been running an acoustic music night at Sammy Dow's Bar, Nithsdale Road, on the South Side of Glasgow. Milligan, Bryce, Smillie, Smillie and MacLachlan welcome you all along any first Sunday of the month, 8 - 11pm.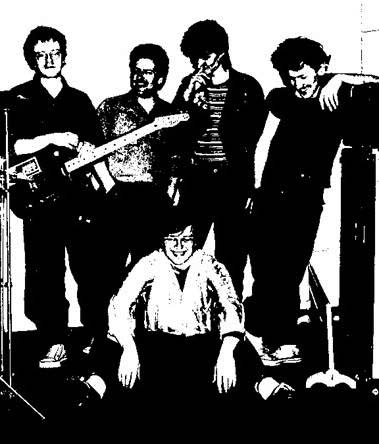 Smillie, Barbour, MacLachlan, Bryce, Middleton
Below is a short interview with Craig Smillie
Did the band record anything else?
I forgot to say we also recorded a 4 song cassette called "Living in the Welfare State".
Why did the band split up?
I think we got to the stage where we were spending all our rehearsal time just jamming on U2 riffs and we thought "We'll never be as good as them. Why bother?"
Any Bad gigs comes to mind?
I remember two that I thought we wouldn't get out off because the crowd just sat and snarled at us - Victorian Carriage, Greenock and The Parrot Cage, Craig millar, Edinburgh.
Any Good gigs comes to mind?
The night I almost knocked myself out jumping off the guitar stack at The Burns Howff and smashing my head off the low ceiling. Played the final chord of the song lying on my back. Or the night Middleton jumped up and crashed through the stage at a gig in London.
The rest is a haze.....






Above is a row of original 1¼" button badges from 1980
©Detour Records