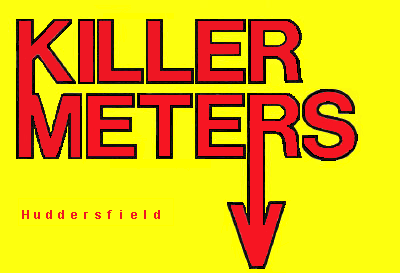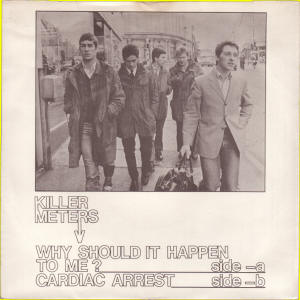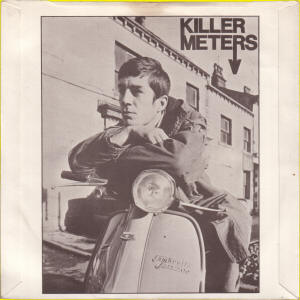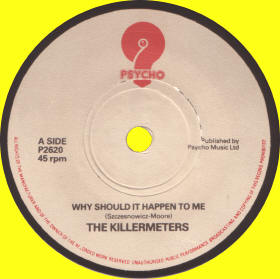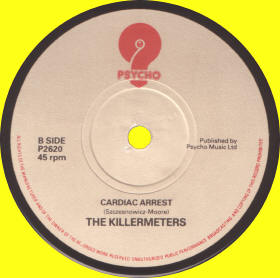 Why Should It Happen To Me / Cardiac Arrest
Catalogue Number - P2620
Label - Psycho Records
Year Of Release - 1979
Quantity Pressed - 1000
Stock Copy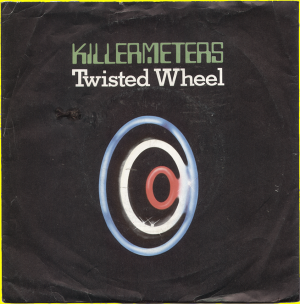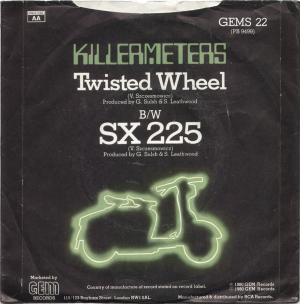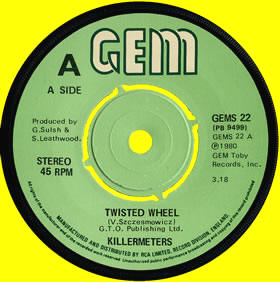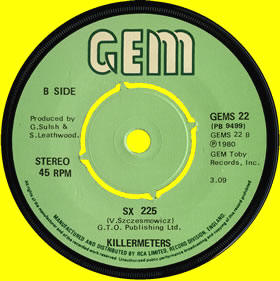 Twisted Wheel / SX 225
Catalogue Number - GEMS 22 (PB 9499)
Label - Gem Records
Year Of Release - 1980
Quantity Pressed - ????
Demo Copy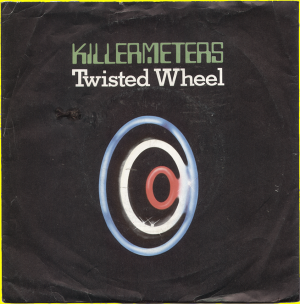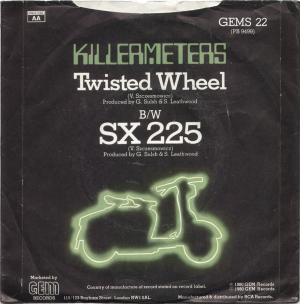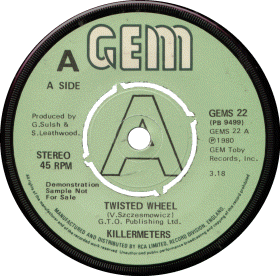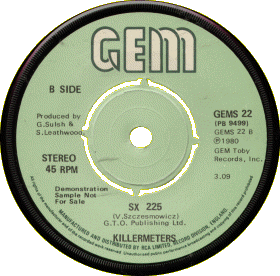 Twisted Wheel / SX 225
Catalogue Number - GEMS 22 (PB 9499)
Label - Gem Records
Year Of Release - 1980
Quantity Pressed - ????
1977 / 1978 Line Up #1

Owen Ford - Vocals
Vic Szczesnowicz (aka Vic Vomit) - Bass
Mick Moore - Lead & Rhythm Guitar
Graham "Jez" Jessop - Drums
1978 / 1979 Line Up #2

Vic Szczesnowicz (aka Vic Vespa) - Vocals & Guitar

Sid Ruttle - Bass

Mick Moore - Lead Guitar

Tony Ruttle - Guitar

Graham "Jez" Jessop - Drums
1979 / 1981 Line Up #3

Vic Szczesnowicz (aka Vic Vespa) - Vocals & Guitar
Sid Ruttle - Bass
Mick Moore - Lead Guitar
Tony Ruttle - Guitar
Gary "Horrace" Westwell - Drums
The Killermeters began as a punk rock band in 1977 when, like thousands of others across the country they swapped their clothes, modified their Rock/RnB sound and took a lot of speed. They were the best and most energetic band in the industrial Yorkshire town of Huddersfield and played all the club and pub venues in the north.
Influenced by Dr Feelgood, the Killer Meters (as they were known at that stage) main attraction was bass player Vic Szczesnowicz (his punk moniker was Vic Vomit). Their lead/rhythm guitarist was Mick Moore who worshipped Keith Richards. Another Rolling Stones obsessive was Killer Meters vocalist Owen Ford and their line up was completed by young Graham "Jez" Jessop on drums.
A good live act, their sound was a little too derivative to make it as a punk band, although Vick and Mick clearly had talent and one or two of their songs shone out above the standard punk thrash.
Fed up with the limitations of the genre, the band broke up in early 1978, only to reform at Vic's suggestion as "The Killermeters" in October of the same year. Another suggestion of Vic's was to adopt a Mod Style and their first new song "Back in Business" would indicate this new direction.
With Vic (now known as Vic Vespa) on vocals, Jez on drums and Mick on lead guitar, this new line up expanded to include two more musicians, the brothers Sid and Tony Ruttle. The Killermeters were now a much more exciting prospect. They looked right, sounded right and their songwriting had taken on a more melodic sixties influence. Vic had come a long way and the best of his songs were rooted in the stormy relationship between him and his girlfriend.
They soon developed into a very tight outfit, lacing their set with a few choice covers like Edwin Starr's SOS and the Who's A Legal Matter. With up to a dozen gigs a month, they built up a large following as the first 79 Mod band in the north. Fans included numerous Scooter Clubs which undoubtedly influenced the Killermeters anthem SX225. The band's debut 45 was "Why Should It Happen to Me c/w Cardiac Arrest on their own Psycho label. With just 1000 copies pressed it generated wider interest in the, until then, London based Mod scene (north/south mod rivalry was encountered at a joint gig with Secret Affair in May 1979.
A successful support slot on a tour of Scotland and the north by The Undertones was quickly followed by a large feature in Sounds in October 79. Sounds scribe Gary Bushell enthused about their "strong, well-structured perfect pop" and went on to describe their live act as "A lovely fresh pop sound … a creamy twelve song recipe that puts them well up in Mod's Division One.
With mounting record company interest and an impending "Observer" magazine front cover, in November 79 the ban played an exhibition gig at London's Moonlight Club. Sadly, their ill-timed consumption of pre-gig alcohol took it's toll on their performance resulting in a rapid loss of interest by the major record companies. Eventually the band signed to GEM Records, who despite their initial enthusiasm, never really understood the mod scene or the band's important place in it.
With a new drummer (Gary "Horace" Westwell) and a new single "Twisted Wheel" (which was written about the 60s Manchester mod club), the band should have broken though. However, the single was poorly produced by Cliff Richard producers "Sulsh and Leathwood" and failed to chart. The Killermeters hastily undertook a promotional tour with Eddie and the Hot Rods, but it turned out to be an expensive mistake. Although they were well received, it was completely the wrong audience for them.
In the true tradition of their sixties mod counterparts, the band began to experience, leaning in a psychedelic direction and adding 12 string guitar to enhance their sound. In 1981 Vic, Mick and Horace (later replaced by Steve Dutton) along with local guitar wizard Mick Massey evolved the Killermeters into "Soldiers Are Dreamers" taking their name from the Sassoon poem.
Strongly influenced by the film "Apocalypse Now" the band developed a great new live act and produced what was described by Dave McCullough in "Sounds" as "very fine edged pop music". Unfortunately the band were dogged by bad debts from their Killermeters days and never really took off. With the highly collectable and well respected two 45s and now this long overdue album, The Killermeters will always have a place in the mass history of pop music!
Thanks for the great music and the good times!
Stephen Dorril
Manager: Killermeters/Soldiers Are Dreamers 1979-1981
©Detour Records