London Pride

South Harrow
RICK FALLON - VOCALS
DAVE CURTIS - GUITAR
BRIAN HARRIS - BASS
ALAN CURTIS - GUITAR
MICK NORTH - DRUMS
Not too much is known about this band at the moment so we are hoping that now they are up on the web site ex band members or ex friends of the band may email in so that we can expand their page!
Brian Harris from the band informs us that they used to rehearse in his flat in South Harrow above the "JJS" Clothes shop.
Rumour has it that the bands name came from when the singer Rick Fallon, and another friend of his were in a pub when Rick mentions he's thinking of starting a punk band but can't think of a name, the friend then suggests the name London Pride, which was what they were drinking. They must of been in a Fullers pub!
So far, we have been told that they were on the London Punk circuit and supported bands like The Pack, The UK Subs, The Satellites & The Milk around West London in '78/79, a good live band.
One of the band members even had the name of the band dyed into his hair!
After the band split, Alan Curtis joined 'Duran Duran' for a while before leaving and teaming back up with his brother Dave Curtis and formed "Dif Juz".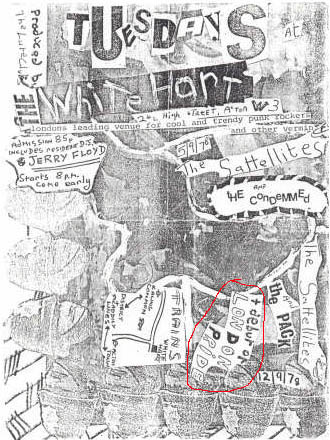 Above is an original A5 Gig Flyer from September 1978. This was "London Pride" debut gig on 12th September 1978.
Above is an original A5 Gig Flyer from Thursday 20th September 1979.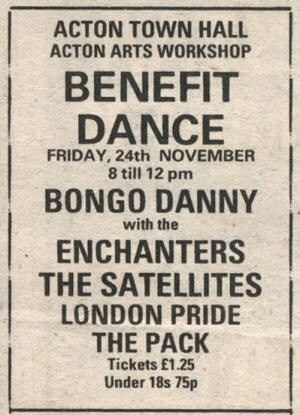 The above Benefit gig advert for 'Bongo Danny With The Enchanters', 'The Satellites', 'London Pride' & 'The Pack' at 'Acton Town Hall', London from Friday 24th November 1978 appeared in Sounds on 25th November 1978.
Thanks to Brian Harris, Mike Clarke & Peter Spence for the above gig flyers and information.
©Detour Records