Southend-On-Sea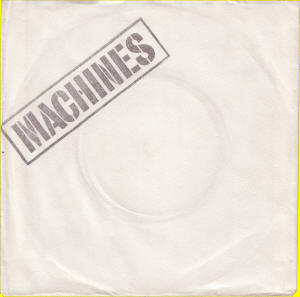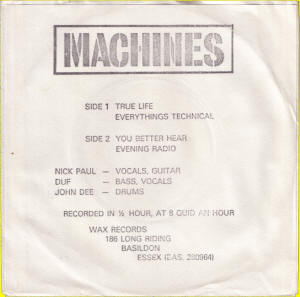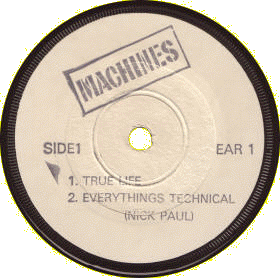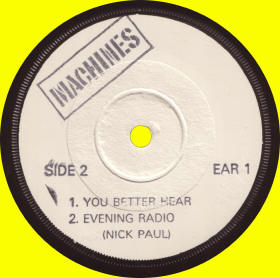 7" EP
True Life / Everythings Techinical / You Better Hear / Evening Radio
Catalogue Number - EAR1A / EAR1B
Label - Wax Records
Year Of Release - 1978
Quantity Pressed - 1000
When the band received their copies from the label, Nick Paul the singer was outraged at the sound quality as he thought it sounded muddy and lacked sharpness. The other two band members weren't too bothered as they were just happy to have a single out. Nick tried to get the pressing withdrawn but the label wasn't having any of it as it had already been pressed. The original pressing was cut at "CRS" and in the run out groove had EAR1A & EAR1B with CRS etched into the run out groove on both sides. Without the bands Knowledge, the two managers and label owner collected the master tapes back from CRS and had it re-cut at "TAPE ONE" studio. The mattrix numbers for this re-cut version has EAR+1+A2 in the run out groove on the A-Side and has EAR+1+B2 and has "MEAN MACHINE" etched into the run out groove on the B-Side. The reason for having it re-cut is still unclear and remains a mystery! Only 5 copies were pressed up just for the two managers and the label owner. The band were unware of this re-cut version until very recently! The re-cut version was much louder and far superior than the original pressing.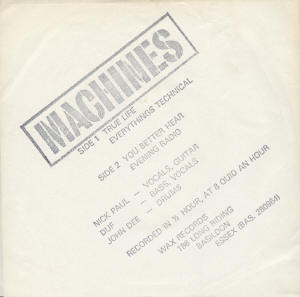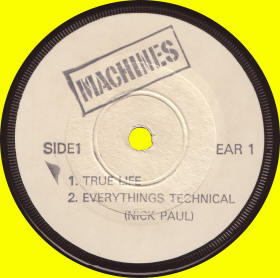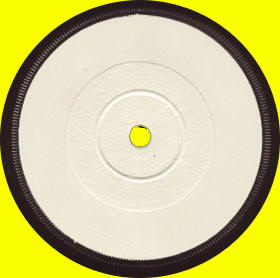 7" EP
True Life / Everythings Techinical / You Better Hear / Evening Radio
Catalogue Number - EAR 1+1+A2 / EAR+1+B2
Label - Wax Records
Year Of Release - Unreleased Version
Quantity Pressed - 5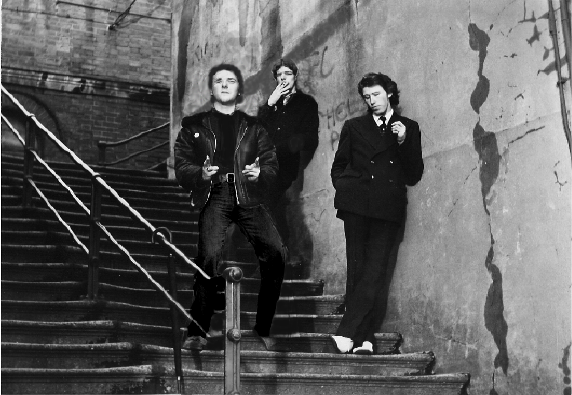 Nick Paul - Vocals / Guitar
Duff - Bass / Backing vocals
John Dee - Drums
The Machines - A biography
In 1977 I was living in Southend on Sea (about 35 miles from London) when I decided to form The Machines. I spent the first few months of that year sitting in my kitchen (the only room with any heat!) playing guitar and writing songs about 12 hours a day. Once I'd written about 16 songs I put an advert in the local paper for a bass player and a drummer who were " fast, loud and explosive". That's how Duff, the bass player, was recruited. Next Duff ran into someone in the pub who swore he was the man for the job and that was our drummer John Dee (nee John Dearlove). We started gigging June / July 1977.
The two tracks that appear on the Bored Teenagers volume 4 compilation album were taken from our first studio demo from late 1977 and have remained unreleased.....until now. Early in 1978 our two 'managers' (an 18 stone civil servant pogoing punk in an leg iron and a hairdresser) introduced us to a Basildon boy who had a couple of hundred quid spare and wanted to start a record company. Our 4 track 7" EP 'True Life' was the first release on his Wax Records label and it came out in March 1978. The back cover of the EP bore the legend "Recorded in half an hour at £8 an hour" - eat your heart out Pink Floyd! The initial pressing of 1,000 sold within days and got significant airplay (on the John Peel show, Capital radio etc) which pushed it straight into the 'Alternative' charts at No.20. Melody Maker admired our "Punky Throttle" (???) whilst NME floored me totally with " The guitarist is so beautifully crazed that John Lennon himself would be proud to achieve his sound". Even now 'True Life' turns up in all sorts of formats on all sorts of record labels around the world which is something after all this time! In terms of where we played, we played the lot, from youth clubs to pubs to halls and colleges and of course the twin Mecca's of London punk, The Roxy and The Vortex. We loved playing live and I'm proud to say that we never played a gig without getting called back on for more. My favourite was the City of London Polytechnic in 1978 where we were on the week after The Damned. They went down well and got 2 encores and we stormed the place and got 6! The Vortex was very good to. I think Keith Moon was there the night we played plus strangely enough the actor Gareth Hunt from The New Avengers! In about July 1978 I wanted to develop and move our sound forward, which didn't suit John's style, so sadly he had to be put down (OK, let go). Duff and I auditioned dozens of new drummers and none were up to it. I became disenchanted with the whole small town punk thing and decided to move to London, start again and form a new band there. Once I'd moved to London I lost touch with John and Duff although I heard John went on to join a reggae band called 'Bush Fire' and Duff became a printer. I went on to form another band 'The Collectors' but that, as they say is a whole new story! Sic Transit Gloria Mundi.
Nick Paul The Machines
27th July 2004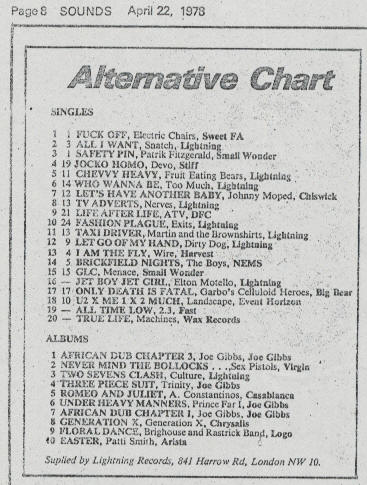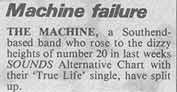 The above cliiping appeared in "SOUNDS"

29TH of April 1978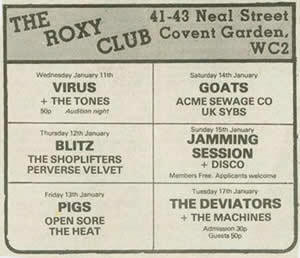 Above is the original 'Roxy Club' gig advert from Tuesday 17th January 1978.
©Detour Records