Mike Malignant & the Parasites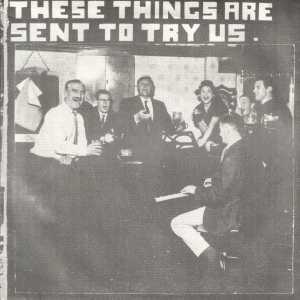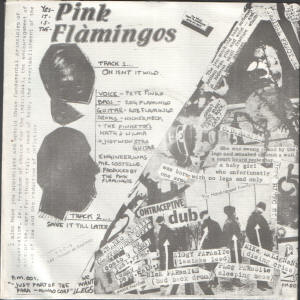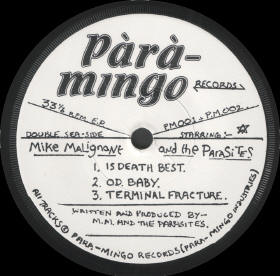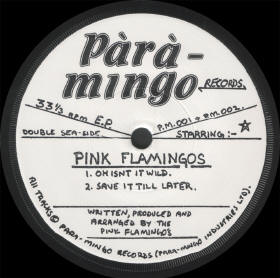 Mike Maligant & The Parasites
Is Death Best / OD. Baby / Terminal Fracture
Pink Flamingos
Oh Isn't It Wild / Save It Till Later
Catalogue Number - PM001 / PM002
Label - Para-Mingo Records
Year Of Release - 1980
Quantity Pressed - 500 (confirmed)
Lets go back in time to the late 70's to Havant where a free rock festival was being organised in the back garden of the Fergus house – the great free festival of Havant, aptly named "Havant Free Rock" 2pm start on a Saturday in aid of the 'Civil Rights Movement' this was the big one, it wasn't going to put Havant on the map but it was a big deal to me at the time, the line up read like this …Mike Malignant and the Parasites, Sods Opera, Violent Daffodils, Polygon and the Irregular Shapes, the End, Genetix, Quiet Men + Any other bands welcome, Plus head banging sounds from Overdose's Disco.
I suppose I should of mentioned by now that we had decided to form a band, I was designated to be the singer because of my tendency by this stage to be a bit of a attention seeking lunatic who would do anything to entertain the masses, Plog (the hedgehog) was given the privilege of playing the bass (mostly on one string) this really suited his character, he was a real mellow punk, a weed head, he loved his weed where the rest of us were more into anything that speeded us up, Plog was from a real laid back family, the best way to describe them was colonial hippy, both his Mum Dad and brother were all exactly the same all mellow. Ant was given the task to play guitar, Now he was 5 foot nothing with big hair and not a clue of how to play, perfect., and last but by no means least on drums was Nickerneck, he was another space head I never worked out whether he was on any drugs or just a regular space cowboy, I think it was the latter as I never actually saw him ingest any substances, but boy that boy could play drums, he was a session musicians for jazz bands, his parents were bang into the Jazz scene and he was brought up on it and had been playing with the fully fledged bands at a real young age.
What a great line up, Plog who couldn't play Bass, Ant who couldn't play Guitar, me who couldn't sing, (or dance some would say) heathens! And Nickerneck holding it all together with infectious jazz based drum beats.
We borrowed a guitar amp off Plogs brother, Nick owned a drum kit I think Ant bought a guitar from woollies, plog produced a bass from somewhere don't ask me where and we proceeded to set up practice in my mum and dads garage, the guitar bass and microphone went in the one guitar amp, the beer went down the throat and one of only about 4 practices started, Mike Malignant & the Parasites were born...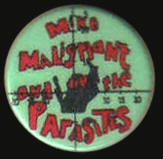 Above is an original badge from 1980.
Mike Pearce (aka Mike Malignant)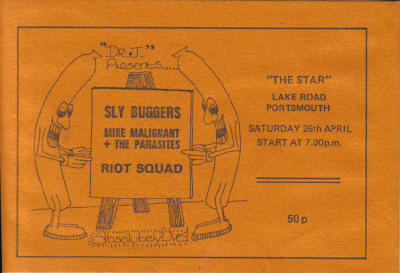 Above is an original gig ticket from Saturday 26th April 1980.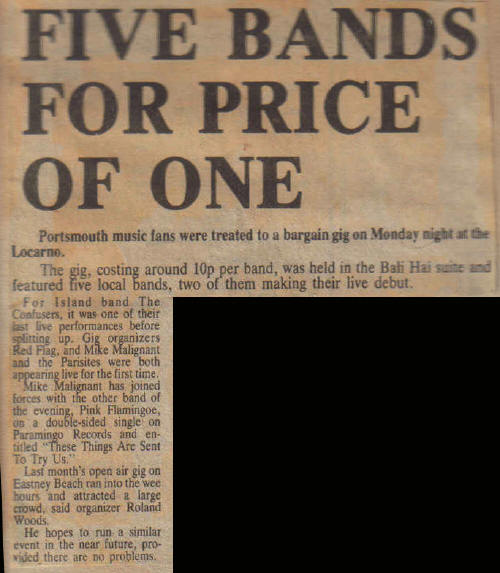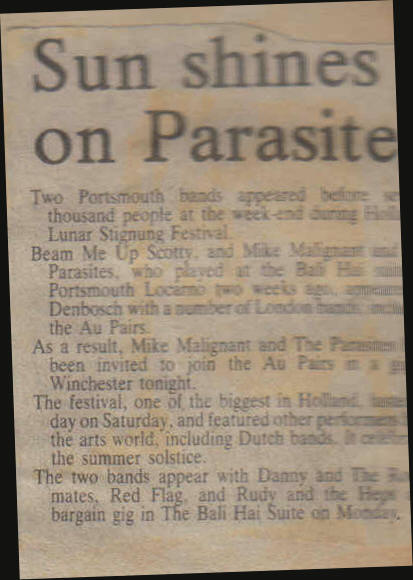 Above is an original gig flyer from Monday 9th June 1980.
The above colour photos are from when the band played in Holland in 1980.
Thanks goes to 'Mike Pearce' for all the above information and photographs.
©Detour Records