MOUTH TO MOUTH

Chichester / Postsmouth
Pete Frampton - Vocals
Bim Tiley - Guitar*
Chris Morley - Guitar
Rob Attwood - Bass
Tim Peters (aka Tim Page) - Drums
*Replaced by Graham Bushell who features on the below recordings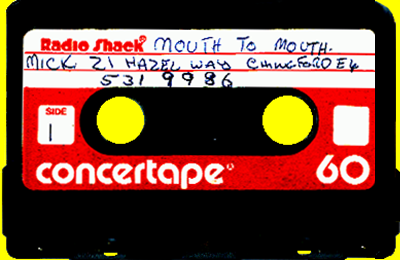 The above 3-Track demo tape was sent into the "Bridge House" pub in Canning Town, London in 1978/79 to try and see if they were interested in putting the band on. The tape features three awesome tracks "Take a trip", "Money, Money" & "Meanwhile back at the ranch"
The address stated on the demo tape actually belongs to an Irishman called "Mick Hurley" who was involved in bands in the 70s but only as a roadie. After talking to him on the telephone he informed us that he didn't really have anything to do with this band but his daughter did go out with a guy in the late 70s called Mick Piper who was originally from Portsmouth and he thinks if his memory serves him correctly he was the roadie for this band.
He obviously used his then girlfriends address as it was easier for him to obtain London gigs.
Please Note,
This is NOT the same band that released the very rare one sided hand stamped white label 7" single on the "Mouth" label in 1979. Even though the single was one sided, it did feature two tracks on the A-Side, one of which was "Gallery Of Dolls" but the other track isn't stated.
Well, this is where the story ends for now.....
Can any one help further?
Thanks to "Mario's" "45 Revolutions" book & "Alex Paraskevopoulos"
©Detour Records