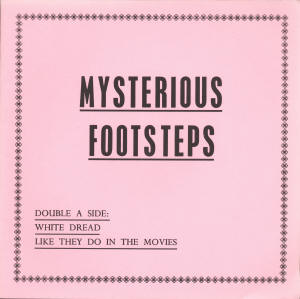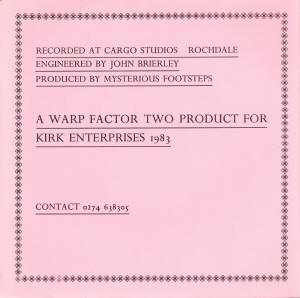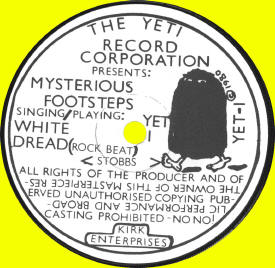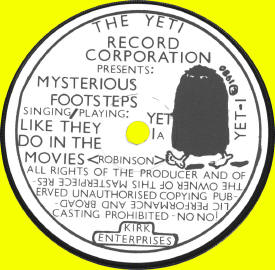 White Dread / Like They Do In The Movies
Catalogue Number - YET-1
Label - The Yeti Record Corporation
Year Of Release - 1980
Quantity Pressed - 2000
Originally released in 1980 with no picture sleeve. Out of the 2000 copies pressed, only approximately 1000 copies were sold at the time due to poor distribution. Then in 1983 the band decided to give it one more push and designed a sleeve to go with it (shown above). Now with a sleeve the record shifted it's remaining 1000 copies.
Bob Robinson - Lead Vocals / Bass

Tino Palmer - Drums

Pete Stobbs - Guitar / Backing Vocals
'The Mysterious Footsteps' were formed from the ashes of Bradford Punk band 'The Negatives. The band comprised of Bob Robinson, Pete Stobbs & Tino Palmer. The three members had realised that Punk was on its last legs. A slight change in musical direction from pure Punk was made to augment their Punk songs with Powerpop, Reggae and Ska. Original 'Negatives' lead singer 'Dave Wilcox' resisted change and left to form a new unsuccessful Punk band called 'The Negativz'. After several fruitless auditions existing band member 'Bob Robinson' took over lead vocals.
The 'Footsteps' immediately lost some of their hardcore Punk Bradford based following, but attracted a wider audience including many people who like Punk music but not the fashion that went with it. The band worked hard with a series of headline gigs with support bands such as the soon to be famous 'New Model Army' and 'Southern Death Cult (aka 'The Cult'). The band began to widen their fan base and attracted regular crowds of 300 - 500 with repeat bookings at Halifax (Polish Club) and other venues in Bradford (Queens Hall), Nelson, Keighley (Fun House) and Colne.
A five song video was then recorded for 'Pete Townshend' of 'The Who' through his company 'Eel Pie'. A recording deal was very close at this stage as 'Pete Stobbs' and manager 'George Thackray went to visit 'Eel Pie' for a few days. Unfortunately, 'Townshend' then left for America to escape tax demands. The band decided to release their own product and recorded six tracks at 'Cargo Studios' in Rochdale run by ex BBC cameraman 'John Brierley'. John Peel had recommended several bands to the studio. Master tapes on display included names like 'Echo & the Bunneymen' (and we thought 'They will never make it with a name like that'). The day before the 'Footsteps' Cargo session, 'Love will tear us apart' had been recorded their by 'Joy Division'. We were the first outside of the immediate band to hear it, which looking back was a privilege.
The day was also memorable for a long conversation with a solitary lovely old lady in the Pub next door who turned out to be the Mum of 'Bill Oddie' of the 'Goodies' fame.
A double 'A' side single "Like they do in the movies" c/w "White dread" was released which gained favourable reviews as the band won the front cover of the Bradford music magazine 'Wool City Rocker'. Other tracks that were recorded on the same day was "Brain Damage" which was a popular live number but was not released until some 24 years later on the popular "Bored Teenagers Volume 3" compilation series.
The 'Footsteps' enjoyed a relatively successful 15 month period but eventually disbanded when a recording contract didn't appear. The band had outplayed other bands such as 'New Model Army', 'The Cult', 'The Thompson Twins', but those bands travelled to London and worked full time for their well deserved success. 'The Footsteps' thought that success would come to them in Bradford which looking back was very naive. Still, we had a great time being 'local heroes'.
Bob Robinson 2002
| | | |
| --- | --- | --- |
| | | |
| TINO | PETE | BOB |
Just a bit of trivia for you, Tino Palmer has just informed us that the Yeti on the label was actually a Visigoth and was taken from the 'Astrix the Gaul' book. The lettering on the label was done by a pack of 'Letraset' rub-on pack bought from 'W.H. Smiths'. (How D.I.Y.????)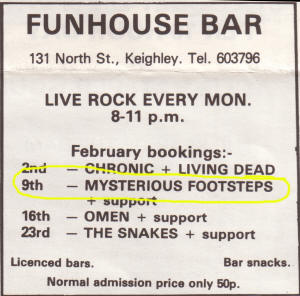 Above is an original advert for the 'Funhouse' which was in Keighley

for Monday 9th February 1981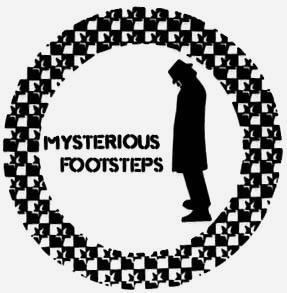 Above is the original artwork to the Picture Sleeve to the single which was shelved.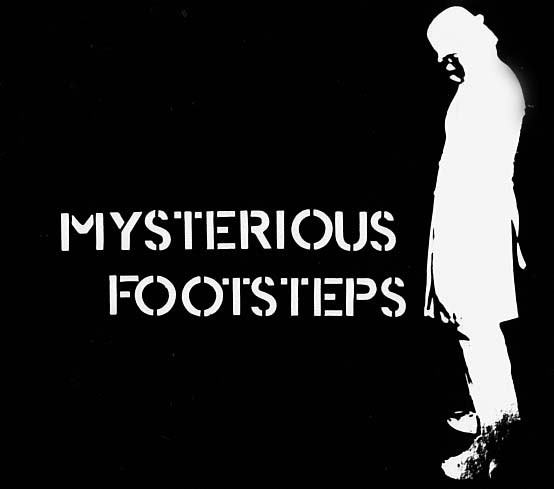 Above is more original artwork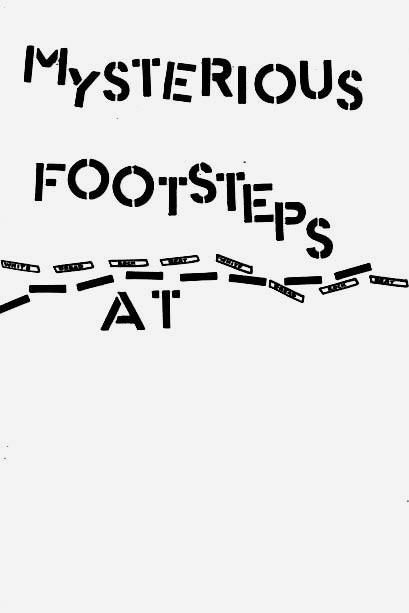 Above is the an original un-used gig poster.
©Detour Records