THE NEEDLES

Gorleston-On-Sea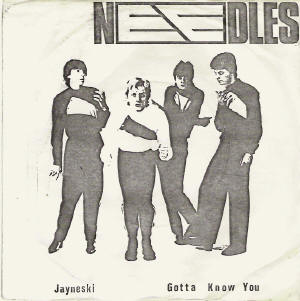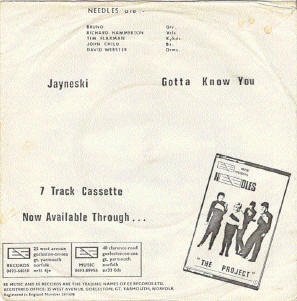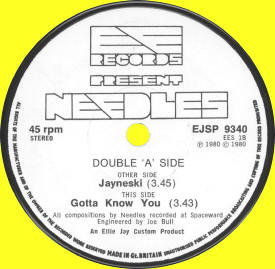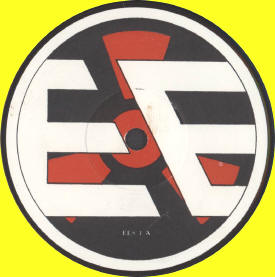 Jayneski / Gotta Know You
Catalogue Number - EJSP 9340 / EES 1
Label - EE Records
Year Of Release - 1980
Quantity Pressed - 500
First line up that recorded the single
RICHARD "Hammy" HAMMERTON - VOCALS
BRUNO - GUITAR + BACKING VOCALS
JOHN CHILD - BASS + BACKING VOCALS

MARK WESTERN

- DRUMS + BACKING VOCALS
Second line up
RICHARD HAMMERTON - VOCALS
BRUNO - GUITAR
JOHN CHILD - BASS
TIM FLAXMAN - KEYBOARD
DAVID WEBSTER - Drums
John Child
Richard Hammerton
Bruno

Mark Western
A very rare and obscure UK Punk / Post Punk release on the bands own "EE" label. This 4-piece (then a 5-piece later on) came from a small village out side of Great Yarmouth called 'Gorleston-On-Sea'. This was their only vinyl release apart from a 7-Track cassette. No picture sleeve was originally issued but one member of the band did make about 10 copies up for promotional use only. One of these have recently surfaced and is shown above. When the band were asked about this sleeve, they all denied knowledge of it until the scan of the sleeve was shown to all members. The jolted one of the band members memory and remembered doing it. Only one known copy has surfaced so far but there is another 9 copies out there some where....so happy hunting!!!
Thanks goes out to 'Oscar Alvaro Rodriguez' & 'Alex Paraskevopoulos'

for sending through the scan of the limited sleeve.
A special thanks goes to Mark Western for the above photo.
©Detour Records