OPEN SORE
Sean Burke - Guitar

Bob Kyley - Vocals

Barry O'Connor - Bass

Dave Arnold - Drums*

Holly Channer aka

Jenny Rate - Backing Vocals

*

Barry Benn - Drums
Formed around September 1977 in Slough, Open Sore played regularly around London, but are mainly remembered for 'Vertigo', their contribution to the Farewell To The Roxy compilation. It was arguably the best track on there. Mike Clarke of They Must Be Russians, another 77-era Thames Valley punk band, saw them supporting the Adverts, who had to cancel, at Slough College at the back end of 1977. He remembers that 'Vertigo' was considered something of an instant classic, and Brian GTA of reissue label Grand Theft Audio considers it one of the finest punk songs ever recorded. Despite its obscure origins, versions have been recorded by both the Walking Abortions and Twisted Nerve.
Guitarist Sean Burke takes up the story. "I was in a band with Bob Kyley called Paradox. They were like a Genesis-type band. I just joined them because they were better players than I was. I thought I could learn from them. We used to do a cover of Van Morrisson/Patti Smith's 'Gloria'. Of course, when I started to play it, I punked it up a bit." It was their version of 'Gloria' with which they passed an audition at the Roxy in Harlesden. Burke didn't know it at the time, but also auditioning that day were Gary Numan's Tubeway Army, whom he would subsequently join. "I just made a comment to Bob Kyley – I think we should be a punk band. Because it was happening then, and that's what I really liked. I listened to the Stooges at school and loved all that sort of music, the Dolls, Velvet Underground. All that Max's Kansas City stuff with Wayne County and so on."
"We got the gig at the Roxy before we had any songs. I was a bit wild at that point. I just went up there and said, 'I'm in a punk band, can you book us?' 'You'll have to do audition night.' 'That's OK. How long?' 'I can't book you for six weeks.' 'Oh, that's good.' So we had six weeks to find a bass player and drummer and put a set together."
Open Sore had lift-off. "We did the clubs and all that, and we used to play in a lot of gay bars. That was the only place you could get a gig, unless you went into London, which we used to do. But the only places out of London were the gay bars. Because of the Pistols swearing on the TV and that, you know? If you tried to get a booking they'd say no. Bob Kyley wrote 'Vertigo' with me. The bass player was Barry O'Connor. And the first drummer was Dave Arnold. But he wasn't on the Roxy album." By the time that was recorded, he'd been replaced by Barry Benn. "That was his first gig! That's why the drums sound like that. He carried on drumming after we finished the tune. If you listen to it, he keeps going, he fakes it."
They were booked by Roxy manager Kevin St John. "And he ripped us off over a show we did at the Richmond Rugby Club. He got £65 and he paid us a tenner for the gig. I found out when they tried to re-book us. Anyway, I wanted to box him out, but Bob didn't like it. "No, we can't behave like that!" "Aw, I'm sticking up for the band! We ARE a punk band!" So I joined Tubeway Army after I saw an audition and that was the end of Open Sore. Then we got together for a party, which was a one-off sort of thing. They released the album and put a tour together. It was a different drummer and guitarist, but it wasn't the same band." Wasn't Burke tempted to rejoin? "Well, he asked me, but I was with Numan. I was better off doing that. And Barry Benn, the drummer from Open Sore, he joined Numan as well. He followed after me. So we were doing that. We would do the odd thing for fun. It would have been good, because Open Sore had some good songs. The thing with Bob, he had a voice. He really could sing. It was a really powerful voice. He used to like to use it. It was a good band, but it didn't last very long. Maybe if it had have done, we might have done something more."
Unfortunately, these, including the band's title song 'Open Sore' and others such as 'Eyes On You', 'Fat Nymphomaniac' and their cover of 'White Christmas' did not survive. They would also cover the Stooges' 'Search And Destroy' and Cliff's 'The Young Ones'. 'It seems that the only hope of ever finding versions rests with whoever possesses the Roxy tapes that the compilation was drawn from. However, the band did enter the studio at least once, at Cat Balou in Slough, but nothing apparently survives.
The second version of Open Sore gave up the ghost in 1978 after both they and Blitz had their equipment stolen in Edinburgh on the Farewell To The Roxy tour. After Open Sore split Burke would continue with Tubeway Army before joining Jayne County's band, as did Barry O'Connor, and also later worked with Invasion Of Privacy, Menace In Mono and Robert And The Remoulds. Menace in Mono actually reinterpreted the original Open Sore riff for 'Eyes On You' to come up with 'Perfect Fit', which got some attention on XFM. He also auditioned for the post-Mick Jones Clash and post-Derwood Generation X, and turned down a chance to play for the pre-Marco Pironni Adam And The Ants. However, he was most upset by failing to get the gig with Brighton's Depressions, whom he loved. Bob Kyley would join The Company. Both principal songwriters are still in touch and contemplating putting something together musically.
Compilation:
Farewell To The Roxy (Lightning LIP 2 1978; 'Vertigo')
Sean Burke 2005
Dave Arnold

Jenny Rate

Jenny Rate

Sean Burke

Jenny Rate

Sean Burke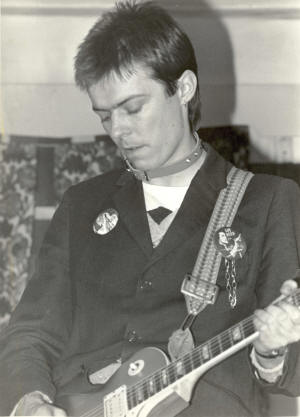 Sean Burke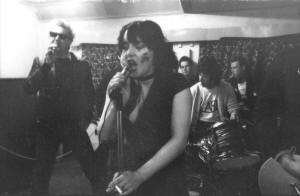 The above 'Roxy Club' gig listing is from 1977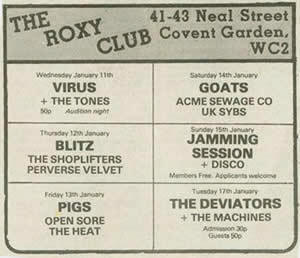 Above is the original 'Roxy Club' gig advert from Friday 13th January 1978.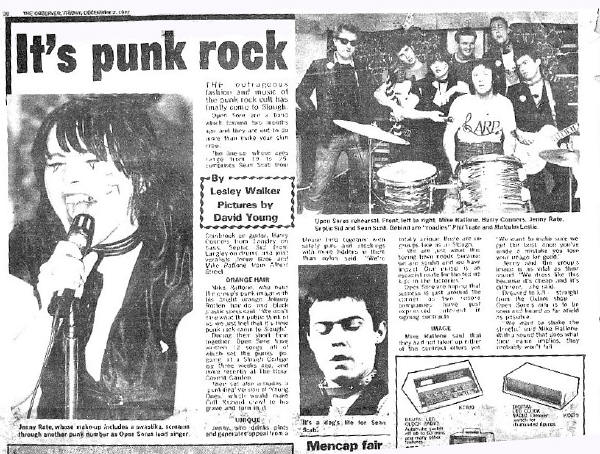 Above is from Slough Observer, Friday 2nd December 1977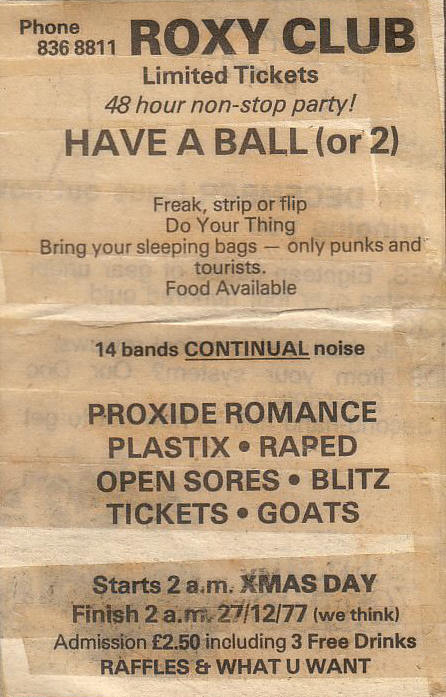 The above 'Roxy Club' gig listing is from 1977
Above is an original un-used ticket for the "Farwell To The Roxy" Tour.

On 24-April 1978 The Roxy Club London Closed its door for the last time, the manager of the Roxy Kevin St John came up with the idea of having a Farewell to the Roxy tour which consisted of 4 dates only all in Scotland. The bands that played the tour were "UK Subs", "Blitz", "XL5", "Red Lights, "Acme Sewage Co", "The Goats", "Open Sore", "The Jets" & "The Bears" , which all played Glasgow "Satelite City" on the 14th of June 1978.

Ticket supplied by
Thanks goes to Sean Burke, Alex Ogg, Mike Clarke

& Kevin Finch for all the photographs
©Detour Records