Oxy & The Morons
Rene Dustcart - Vocals
Simon - Lead Guitar
Phil - Rhythm Guitar
George - Bass
*Andrew Goodwin -drummer #1
*Andrew Goodwin was also the drummer in "Dry Rib"
Nice To Be Back / Dirty Harry on the Falls Road
Catalogue Number - MFD1
Label - Music For The Deaf
Year Of Release - 1981
Quantity Pressed - 500????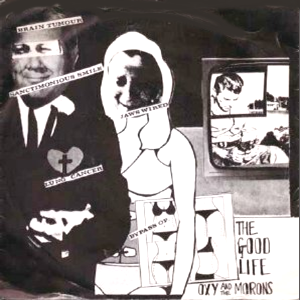 Work / The Good Life
Catalogue Number - MFD2
Label - Music For The Deaf
Year Of Release - 1982
Quantity Pressed - 500????
A very rare and obscure UK Punk / DIY band who apparently where from Hackney in London.
Two live recordings of the bands do exist:
Lambeth, London Feb/March 78


Arson Nazi
Rich Pricks
Swaine's Smoocher

Nobody's [instrumental]

Motorway
Urbane Guerilla
Pop Music
Spectacles
Vandals Round My Trashcans
Loot
The Neck

Lambeth, London on Thursday 28th April 78

Urbane Guerilla
Motorway
Arson Nazi
Spectacles
Pop Music
Nobody's Mono [vocal]
Loot
The Neck

John Jones

The above gig took place at the "Nashville", Kensington in London.

The above gig advert for 'Chats Palace', Homerton appeared in the 'NME' on 13th September 1980
The above 3-Track studio demo tape was sent into the "Bridge House" Pub in Canning Town in the late 70s to try and secure some gigs there!
The Final Line-Up
Emma - Vocals
Simon - Lead Guitar
Hank - Bass
Mike Tart -Drums
'Oxy and the Morons' played their last gig at the "White Horse" in Brixton in 1983. The were billed as 'The Morons' that night. I played drums. The lead singer Rene had left the band by then and the band was Emma-vocals, Simon-guitar, Hank-bass and Mike-drums.
The next gig there was a name change and we became 'See You in Vegas' and in 1983 re-released the single 'Work' with the B-side 'Dirty Harry on the Falls Road'. All new recorded at Berry Street in London with engineer 'Brian Pugsley'.
'Red Rhino' Records in York released the single.
The original 'Oxy and the Morons' released Work and Dirty Harry and I think I still have about 100 copies of the original 7" single in my loft in the original brown paper bag too!
'See You In Vegas' split in 1986 and I have a number of tapes recorded in Berwick Street with tracks such as Football Supporter, Anti-racist Friend, Holiday, Nice to be back. I could probably get together quite a lot of old stuff from Oxy and stuff as it happens
Mike Tart

August 2009
Thanks to Chuck Warner for some of of the above info.
©Detour Records