Blackburn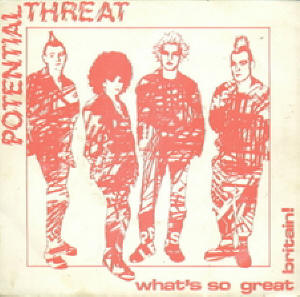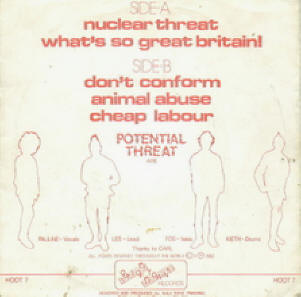 'What's So Great Britain' 7"..1000 copies pressed, the first 500 copies had pink printed sleeves' The second 500 copies came in blue printed picture sleeves. All copies originally came with lyric insert. It was released on the 'Out Of Town' records in 1983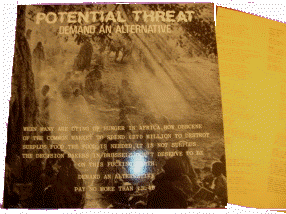 'Demand An Alternative' LP, 1000 copies pressed which saw a very limited amount come with lyric insert. It was released on the 'Mortarhate' record label in 1985.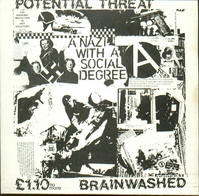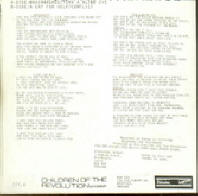 'Brainwashed' 7" was released in a pressing size of 1500 copies. It was released on the 'Cor' record label in 1984.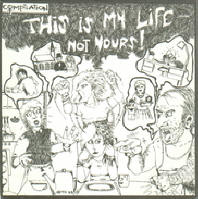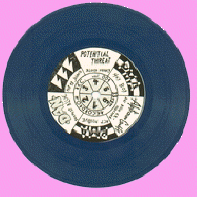 'This Is My Life Not Yours' 7" was a 6 track split EP featuring five bands. 'Potential Threat' track was called 'Blood Money'. 1000 copies were pressed, each copy was individually hand numbered. Most copies were pressed on blue vinyl but a very limited amount were issued on purple vinyl. It was released on 'Recordom' label in 1986.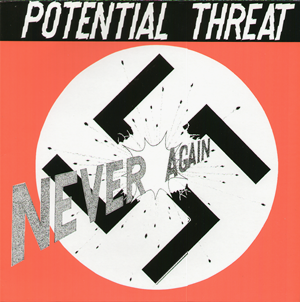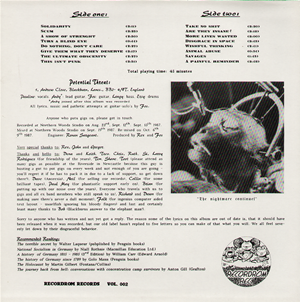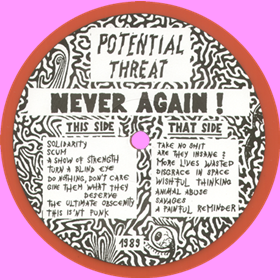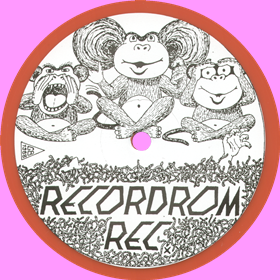 "Never Again!"
Side One

Solidarity / Scum / A show of Strength / Turn a blind eye / Do nothing, don't care / Give them what they deserve / The ultimate obscenity / This isn't Punk

Side Two

Take no shit / Are they insane? / More lives wasted / Disgrace in space / Wishful thinking / Animal abuse / Savages / A painful reminder
Catalogue Number - VOL. 002
Label - Recordrom Records
Year Of Release - 1989
Red Vinyl Version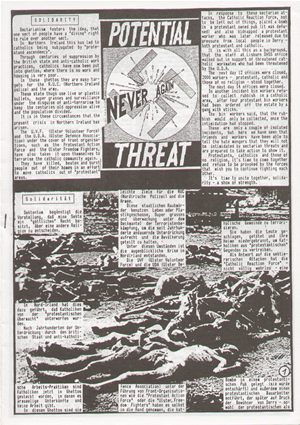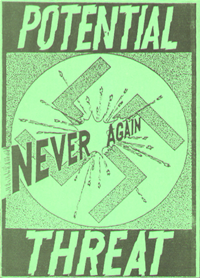 'Never Again' LP was originally recorded in 1987. This was to have been the 2nd release on the 'Mortarhate' label, however it wasn't until two years later that it eventually got issued. 1000 copies pressed on a multitude of coloured vinyl's, the rarest being a green & black marbleised edition. All copies came with 12 page lyric booklet. It was released on 'Recordrom' label in 1989.
THE HISTORY
Potential Threat formed in Blackburn in 1981, the first real line up being Fos, Carl & Les Donnelly joined soon after and the band began rehearsals, drummers at this stage came and went on a weekly basis, below are 2 shots of the band in early rehearsals.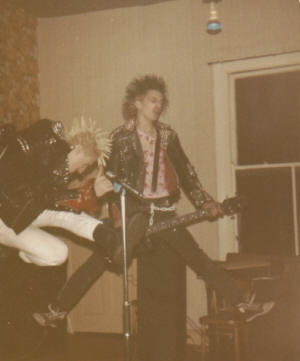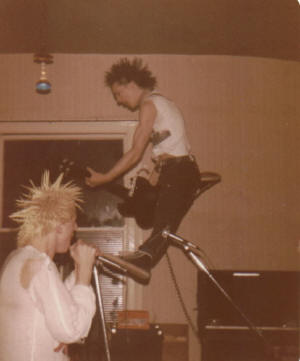 Few gigs were played, the most legendary being a show at the 'Cats Whiskers Club' located in Burnley. This gig was absolute mayhem and saw the band being forced from the stage due to flying glasses and bottles. It wasn't long after Carl quit the band.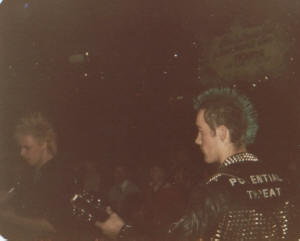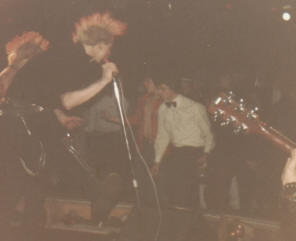 1982 saw the return of Potential Threat, this time fronted by Pauline on vocals, Fos on bass, Les on lead and Keith on drums. This line up saw the band release their debut 7" 'Whats So Great Britain'.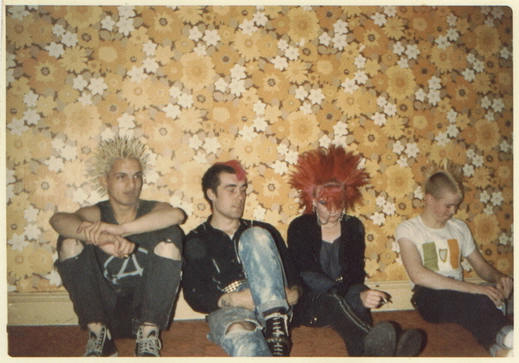 A second single was planned but shortly before the band were due to record, the drummer left, a replacement drummer was brought in and the band went into 'Revolution Studio's' and made the recording which never got released, the recording of the 2nd single was captured on videotape however.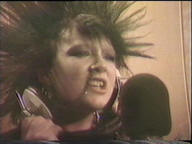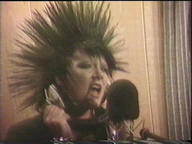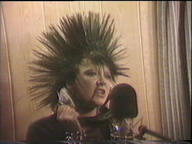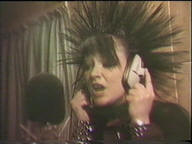 'Pauline' in the Revolution Studio's 1983'
1984 saw more line up changes with Les and Keith departing and new members being recruited, these being Andy on bass and Shaun on drums, Fos now switching to lead and Pauline still doing vocals. This line up of the band signed to 'Cor' records and released their 2nd 7" titled 'Brainwashed'. However it wasn't long before even more line up changes. Finally at last after at least a dozen drummers and numerous guitarists the band finally got together a line up which lasted for 3 years. The band recorded their debut album "Demand An Alternative" on Conflicts 'Mortarhate' label and it was released in 1985. A second album was also recorded for release on the 'Mortarhate' label but this was never released. .1987 saw the band release a track 'Blood Money' on a split 7" E.P. put out by a German record label. ( Recordrom Records )
Shortly after the above label released the LP that had been recorded for 'Mortarhate' label a few years earlier, this LP was titled "Never Again".
The last and most consistent line up of the group was Pauline on vocals, Fos on guitar,
Langy on bass and Ersy on drums. From this last band line up 2 members are still currently involved in recording/gigging.
Fos recently joined up with "Mad Kenny" from Blackburn band the Original Mushrooms and started the band "Urban Valley Chickens" and Ersy is still playing and recording with Blackburn Punk band Boredom U.K.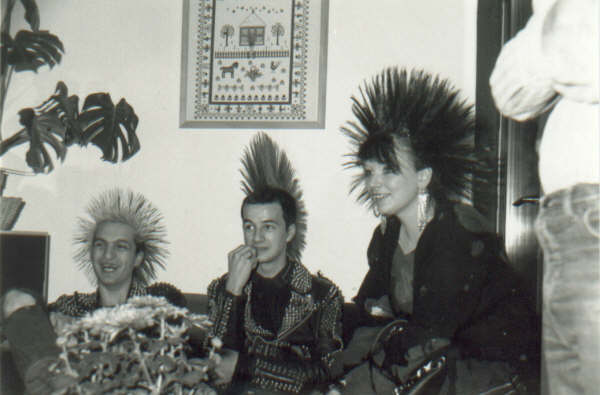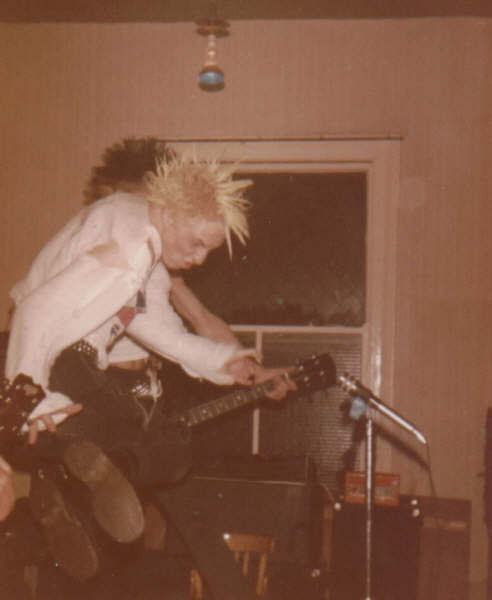 Above is a early live shot of "Potential Threat" that features the original singer "Carl". This shot was taken some when in 1981. A lot of people are unaware that the band started off with a male singer as hardly any gigs were played and no tracks were laid down onto vinyl until 'Pauline' had joined the band.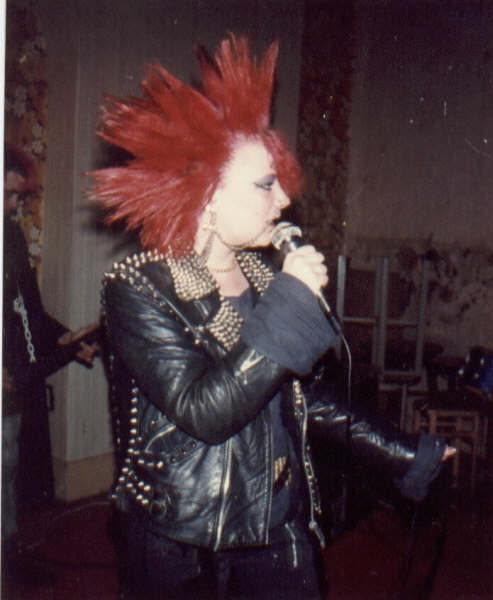 "PAULINE"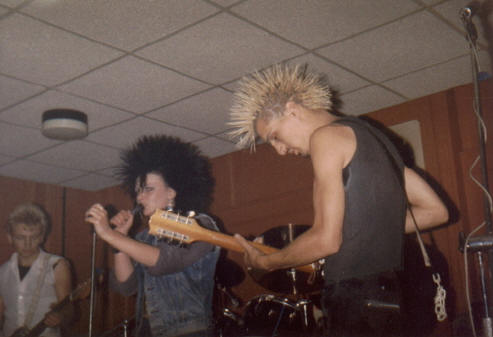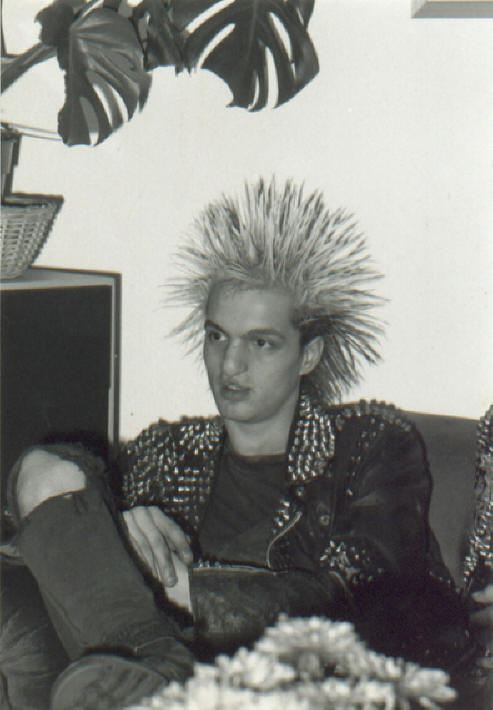 "FOS"
Thanks to E. Dawson for the photos and information
©Detour Records