its loud and drunk, its....... R21
newtown

star

one pub hero

today africa

poser

cold as ice

wartime

physical

throwing bricks

jaws
Doug Stow - Vocals
Dave Patten - Lead Guitar
Steve Townson - Guitar
Dave Fewel - Bass
Pete Hind - Drums
A Brief history.

R21 formed in the summer of 1976, from the ashes of the legendary Speedy Needle and the Acid Drops. The band went through numerous line up changes the only constant members being Dave & Doug. Passing members included Rob Parish, Steve Glock, Norman Fasey, Dave Bradley, Pete Glock (no relation) & Johnny Dignham. The band split up in 1980. The band drew on a wide variety of influences including Doctor Feelgood, Eddie & the Hotrods, The Stooges, Early Stones, Jimmy Cliff, Culture & Dillinger.
Local contemporaries included Slug Squad, The Expelled, New Devices & Richard the III.
The band were named after the room at Erith school that Rob and I had RE in. We originally started as a 4 piece - Dave Patten, Rob Parish, Pete Glock and Dave Bradley. We played loads of covers of songs by the Stones, Hot Rods, The Jam, Clash, The Stanglers as well as a few old rockers. We quickly progressed to writing our own material - including Newtown, Today Africa, Cold as Ice, Wartime and Star.
Gigs included the Marlow rooms, Erith Rowing Club, Shakespeare Woolwich, Woolwich Tramshed, Kings Head Deptford, Southampton and Ronnie Scotts.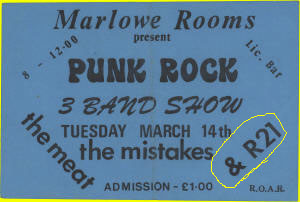 Above is an original ticket from
Tuesday 14th March 1978

The above snippet appeared in "Safe As Milk" #2 fanzine from 1979.
©Detour Records