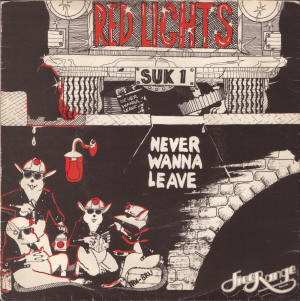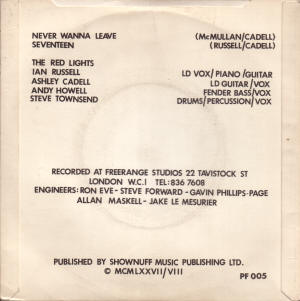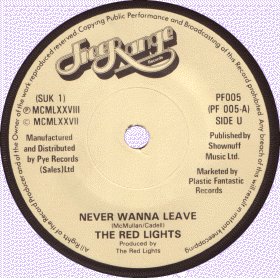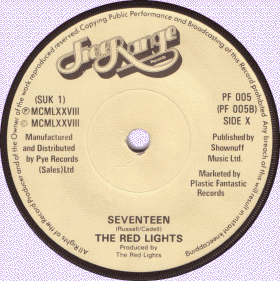 UK PRESSING
Never Wanna Leave / Seventeen 7"
Catalogue Number - PF 005
Label - Free Range Records
Year Of Release - 1978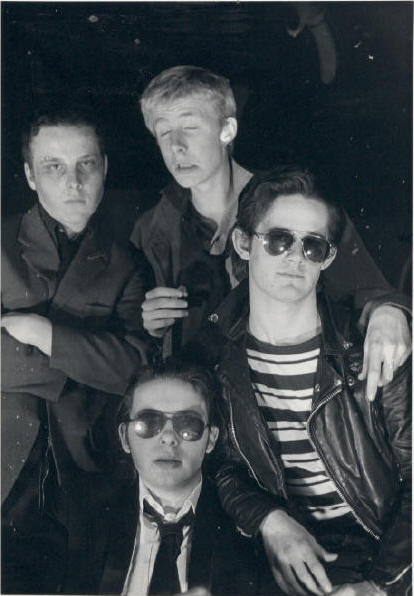 The Original Line Up
(From left to right standing, then sitting)
Ashley Cadell / Andrew McLauchlan / Andrew Howell / Dave McMullen
(Guitar) (Vocals) (Bass) (Drums)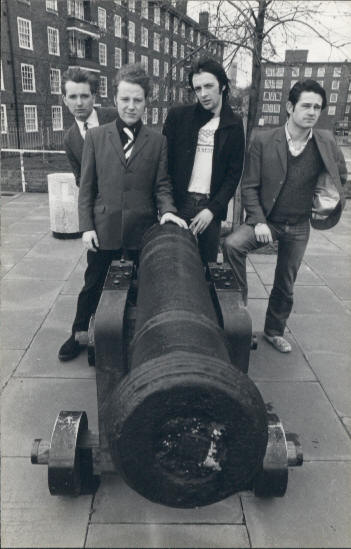 The Second Line Up Who Recorded the single
(From left to right standing)
Steve Townsend / Ashley Cadell / Ian Russell / Andrew Howell
(Drummer) (Guitar) (Vocals) (Bass)
The Red Lights hailing from Deptford, London started off life as The Rats. After venturing into the City with their first appearance at the legendary Roxy Club they realised that there was already a band with the same name. That being The Boomtown Rats....When back home they frantically tried to come up with a new name for the band...The Red Lights were suggested and the rest is history. The original line up of the band didn't last too long and sadly Dave McMullen is no longer with us. Their debut gig was as support to 'Menace' at the Roxy Club in November 1977. The second line up of the band was the most stable and lasted the longest. This line up went on to record the classic "Never Wanna Leave" single in 1978. Certainly not the fastest Punk record ever recorded but one of the catchiest!!! After hearing it just the once you'll be singing it all day. A faster version can be heard on the "Farewell to the Roxy" album which was recorded live in the last few days of this club being open. The band came to an end in 1979, with their last gig being support to 'The Specials' at the 'Moonlight Club' in May of that year.
Above is an original gig poster from late 1978 when the bands from the

closed 'Roxy Club' went on tour of the UK.

Above is an original un-used ticket for the "Farwell To The Roxy" Tour.

On 24-April 1978 The Roxy Club London Closed its door for the last time, the manager of the Roxy Kevin St John came up with the idea of having a Farewell to the Roxy tour which consisted of 4 dates only all in Scotland. The bands that played the tour were "UK Subs", "Blitz", "XL5", "Red Lights, "Acme Sewage Co", "The Goats", "Open Sore", "The Jets" & "The Bears" , which all played Glasgow "Satelite City" on the 14th of June 1978.
©Detour Records