THE SAME

Worthing, West Sussex
| | |
| --- | --- |
| Steve Rose - Guitar & Vocals | Pete Juster - Bass |
| Brian Morris - Rhythm Guitar | Tony Denyer - Drums |



First Pressing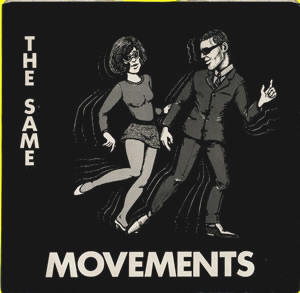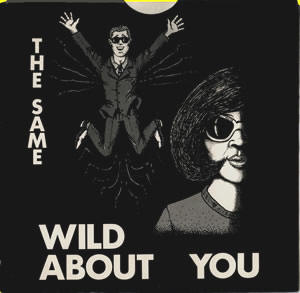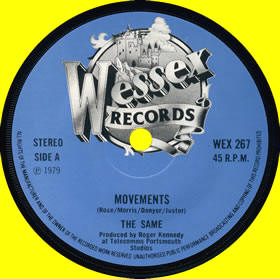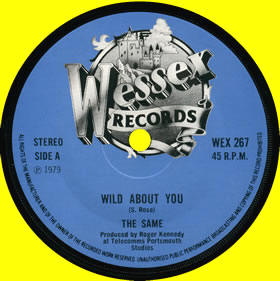 Movements / Wild about You
Catalogue Number - WEX 267
Label -Wessex Records
Year Of Release - 1979
Quantity Pressed - 1000 (Confirmed)
Second Pressing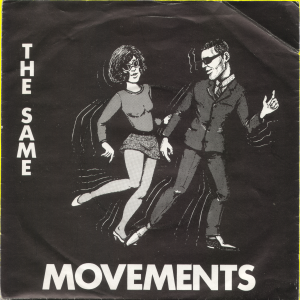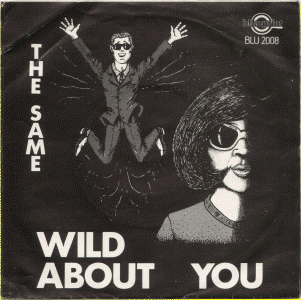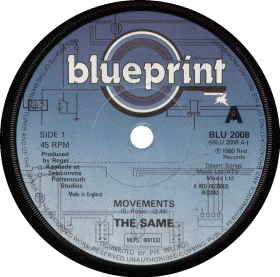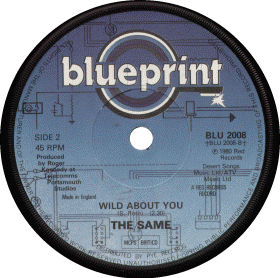 Movements / Wild about You
Catalogue Number - BLU 2008
Label - Blueprint Records
Year Of Release - 1980
French Pressing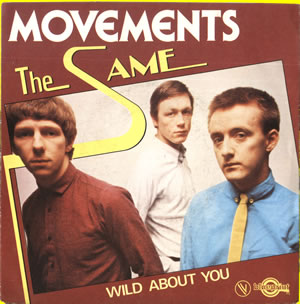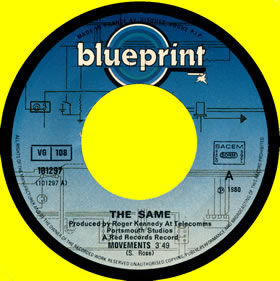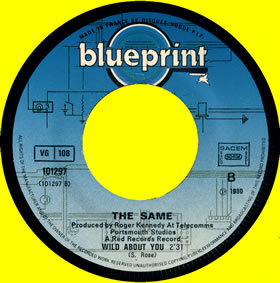 Movements / Wild about You
Catalogue Number - 101297
Label - Blueprint Records
Year Of Release - 1980
A brilliant three piece Mod band from Worthing who initially started off as a four piece. Forming out of the ashes of "Better Looking" who were active throughout the south of England between 1975 - 1978. When "Better Looking" called it a day, two bands formed from the ashes. One was "Twist 'n' Shout" who featured 'John Cohen' & 'Kevin Smith'. The other band was "The Same"..... This is their story!
Starting off in June 1979 as a four piece, Brian Morris left fairly early in the bands career and ended up marrying former band mate of 'Better Looking' Linda Doe'. The band carried on as a three piece leaving us with one brilliant double A-sided single that was original released in a very small quantity on the 'Wessex' Label and later re-issued on the 'Blueprint' label with the title track being moved to the B-side and the B-Side track becoming the A-Side. 'Blueprint' records kept the same band design picture sleeve but just adding their logo to the top right of the back of the sleeve.
These two tracks 'Movements' & 'Wild about You', were recorded at Portsmouth on Wednesday 26th September 1979 along with two other tracks 'Unfortunate' & 'Its so long'. These two other tracks have stayed unreleased.
For collectors out there, the single was also issued in France with a much classier and superior picture cover to the UK issue. Before they split the band recorded another session of unreleased tracks which proved to be their last recording session together and included the never released double A-sided single 'Time of my life' and 'funny funny'
One thing we would like to point out that there was another band with the "SAME" name who came from Eastbourne and were around at the same time as the Worthing trio. What made this more confusing was that this other band appeared on a Mod compilation called "Uppers On The South Downs" and featured a full colour picture of a scooter on the front cover. The second edition of this release saw 'The Purple Hearts' added but with a new Black & White' sleeve.
After the band split, 'Tony Denyer' & Pete Juster' would re-surface back with their old pre-Same band members from 'Better Looking' under the new name of 'The Hot Heads'. This new band featured 'John Cohen' on vocals, 'Alfred Armstrong' on bass, 'Tony Denyer' on drums, 'Greg Davis' on Tenor Sax and surprisingly Pete Juster on alto sax. At least three tracks were recorded by this band 'Assembly Line', 'Type Cast' & 'I'll Say She Is'. These tracks were recorded at the "Gateway Studio" in London on Saturday 9th April 1983.
Peter and Tony went on later to form a jazz jive combo called Henry's Pencil which included Greg Davis, Michael Willox, Al Stewart and Roger Guyot (Harry Potter films) and played the London circuit – including regular monthly slots at the famous 100 club in Oxford Street for the next 20 years.
Peter Juster continues to run a Rock a Billy / country rock combo with the aptly named 'Mad' Rob Kelly……..watch this space!
Thanks to Ian Shirley, John Cohen & Pete Juster
©Detour Records