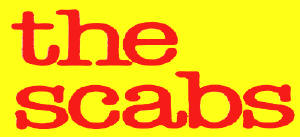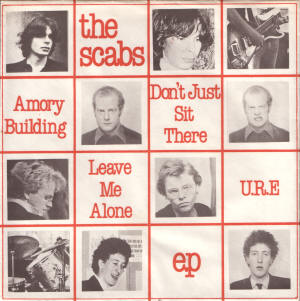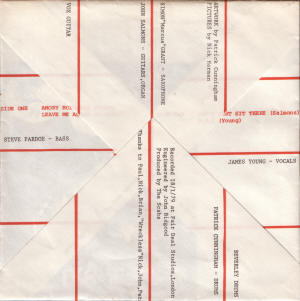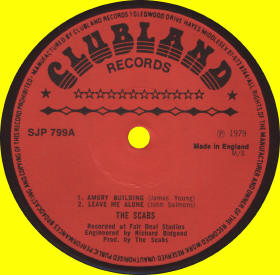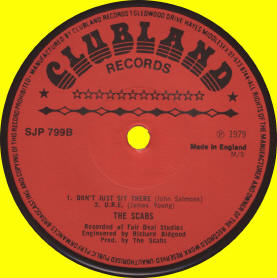 Amory Building / Leave Me Alone / Don't Just Sit There / U.R.E.
Catalogue Number - SJP 799
Label - Clubland Records
Year Of Release - 1979
Quantity Pressed - 2000
(1000 copies with a blue numbered sleeve & 1000 copies with a red un-numbered sleeve)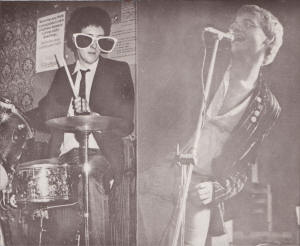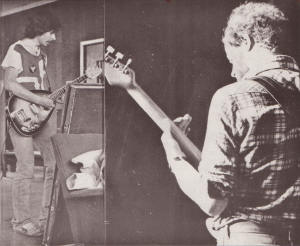 Above are the two inserts that came with the record.
| | |
| --- | --- |
| Patrick Cunningham - Drums | Steve Pardoe - Bass |
| James Young - Vocals | John Salmons - Guitar / Organ |
Simon "Marcus" Grant - Saxophone
A truly DIY Punk effort from these Exeter University Students. All four tracks are absolute Punk gems.....cheap guitars, kiddies keyboard, conflicting Saxophone, pounding drums and an over-the-top sneering vocals. The perfect mix for Punk ethics!!! All four songs are up-tempo, basic and good SING-A-LONG lyrics that even the simplest person could remember! The opening track is about a building in the Exeter Campus of their university.
The thing that makes this release special to me is that I went to school with Patrick Cunningham's younger brother 'Andy' at the Midhurst Grammar School. He was a sixth former there and I was in the year below. I can remember that he was a typical looking sixth former with glasses and a big 3" Scabs badge on his coat. He went around at every break and every dinner time trying to sell these 'Scabs" 7" to the unexpected school kids. At this time they were selling for a £1.00 each and I must of been his best customer as I bought several copies off him just to get to know him. After a few weeks I got to know him quite well and he informed me that it was his brothers band who was at University in Exeter. From that time on, I also then went around with a box of singles under my arm trying to flog off these singles to everyone that no one has ever heard. I think we must of only sold about 25 copies in total!! If only we had hindsight?
Then at the end of the year, the school split for the summer holiday and it was the last time I ever saw him and the last I thought about the Scabs for many years.
I still carried on collecting Punk / New Wave / Mod records over the years and started buying more and more as I had a fairly well paid job. Then my collecting started turning into a small little business and I ended up buying and selling records. After a few years I had built up a fairly good mailing list and started receiving "Wants Lists" and to my amusement the "Scabs" started appearing on them! This made me smile and made us feel good that we were there at the forefront in trying to sell the records for the band!!!!
Sadly the band broke up after just one release when the students all went there separate ways after finishing University.
However, two of the members did form another band called "The M5s" but their music was a bit watered down and took on a more of a New Wave direction.
Dizzy Holmes

2005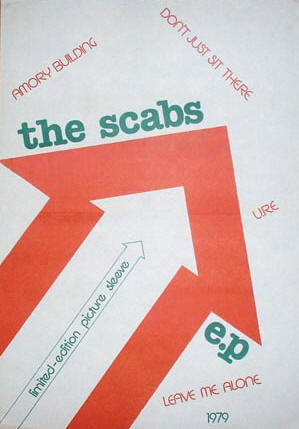 Above is an original Promo Poster for the bands debut release.
Patrick Cunningham Remembers...
We were all university students in Exeter with with very varying degrees of musical ability but but that wasn't the point. It was the thing to do and we had a good time doing it. We only lasted about 18 months and apart from a few support slots (including The Members) and a final tour in the summer of 79, the EP, our only recording, was the highlight. All four tracks were recorded and mixed in four hours in a shed of a studio in West London as part of one of those all-in recording & pressing deals. I hired a minibus and we drove up and back in a day, except that on our way back we got snowed in in Somerset and had to spend the night on the bus. It was released on the studio's own 'Clubland' label. In true DIY fashion I designed the sleeve and ended up folding most of them and putting in the inserts. The first pressing was issued with a red and blue cover, this quickly sold out and there were two further pressings of 500 each, but with red and black covers. It sold quite well outside Exeter after some favourable music press coverage, although Melody Maker were very sniffy, dismissing us as being merely 'college punks', as if that somehow meant we didn't count. Rough Trade and Virgin picked up on it for distribution and one or two of the tracks have ended up on numerous punk compilations.
Live we were always a quartet, although on the EP we roped in a sax player. We didn't play much outside of Exeter, apart from our swansong tour of places such as Bradford and Bicester. We had about 10 of our own songs and also covered 'I'm A Believer' (The Monkees), 'Let's Dance' (Chris Montez) and 'Swallow My Pride' (The Ramones).
We never took ourselves too seriously (I made up badges with the slogan 'The Scabs Have Appeal'), which was probably a good thing, but I think if we'd stayed together we could have made a half-decent album. Myself and the bassist went on to form a ska-pop band called The M5's
Patrick Cunningham

2006
©Detour Records