| | | |
| --- | --- | --- |
| | London | |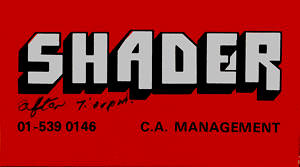 Above is an original business card from the manager of 'Shader' from 1981
Above is an original 4 track Demo Tape that features 'Sounds Of The Night', 'Rolling Man', 'If Looks Could Kill' & 'Hit Man' that was sent my the bands manger to the 'Bridge House' venue in Canning Town, London to try and secure a few gigs there!
London based biker / New Wave Of British Heavy Metal band who released one great 45 on the 'Piston Broke' label with a catalogue number of EJSP / REDASH 1 in 1981 with a pressing size of only 500 copies.
The tracks were 'Bad News Blues' / 'Banging Like a Shit House Door'.

The above snippet appeared in "Sounds" on 14th March 1981.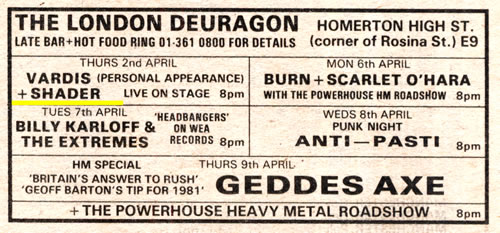 The above gig advert appeared in "Sounds" on 4th April 1981.
©Detour Records