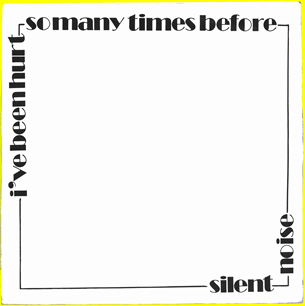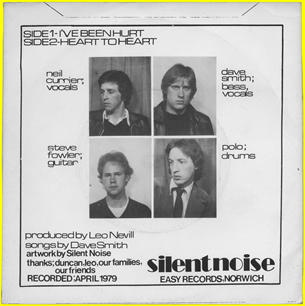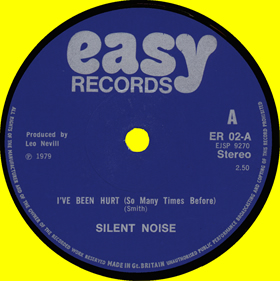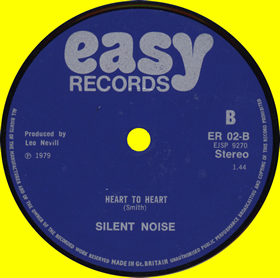 I've Been Hurt (So Many Times Before) / Heart To Heart
Catalogue Number - ER 02 / EJSP 9270
Label - Easy Records
Year Of Release - 1979
Quantity Pressed - 1000
During 1978 'Dave Smith' played bass for a local middle of the road group, 'Misty Web'. He then poached their lead singer, 'Neil Currier', and along with the ex-Rasputin guitarist 'Steve Fowler' and ex-'Toad' drummer 'Polo', formed the 'Broadside Outcasts'. They performed at least one gig with an added saxophonist at the 'Woolpack' pub in Muspole Street some when in late '78.
The band's name was then changed to 'Silent Noise' after one of Dave's songs. In April 1979 they cut one self-financed record (1000 copies): I've Been Hurt (So Many Times Before) c/w Heart to Heart on the Easy Records label. It achieved two air-plays on Radio 1 (John Peel, of course) and they also mimed to it at one of John Peel's gigs at the UEA. I believe Radio Norfolk also played it at least once in 1980 on the 'Wally Webb Show' which, at the time, had become the local outlet for hopeful groups. Webb also played 'Nightclubbing' which, finances permitting, would have been the second single. However, lack of funds resulted in it never being pressed onto vinyl at the time.
Silent Noise played a few gigs through out 1979. I certainly attended one in Acle sometime in February 1979 (notable because of the accident on the journey back which resulted in a broken collar bone for Dave Smith) and another at a nightclub near Anglia Square (Pennies?). I also made some 4-track recordings of the band during 1979.
Dave Smith's next group was 'The Trouble With Girls'. I believe it existed around 1981/82 and consisted of 'Dave Smith', 'Polo', 'Steve Fowler' and 'Lucy Bales' on keyboards. There may have been another guitarist. As far as I can recall the band did not play any gigs.
More recently 'Dave' has formed 'More Trouble With Girls'.
David Viner
Neil Currier - Vocals

Alan "Polo" Pollard - Drums

Steve Fowler - Guitar

Dave Smith - Bass
| | | |
| --- | --- | --- |
| | | The above snippet appeared in the "Maximum Speed" #8 from1979. |
Thanks goes to 'David Viner' & 'Polo' for all the photos and News Paper articles.
Detour Records