SLOWGUNS
First Single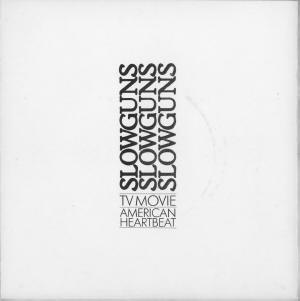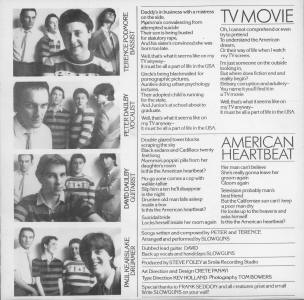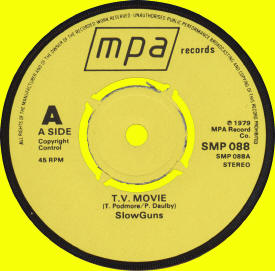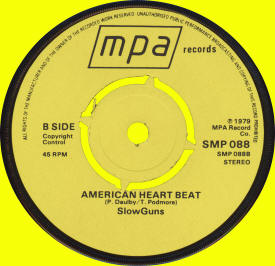 T.V. Movie / American Heart Beat
Catalogue Number - SMP 088
Label - MPA Records
Year Of Release - 1979
Quantity Pressed - 1000
Second Single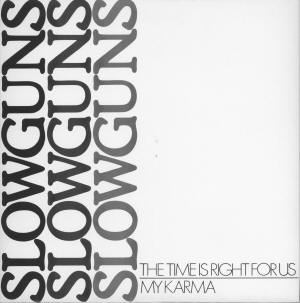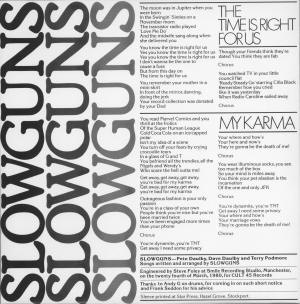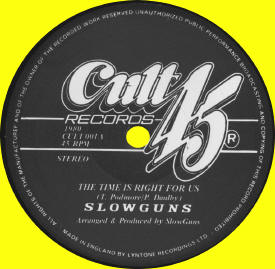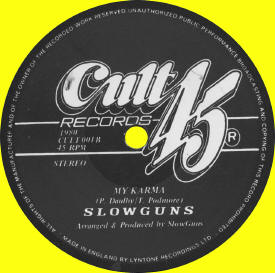 The Time Is Right For Us / My Karma
Catalogue Number - CULT 001
Label - Cult Records
Year Of Release - 1980
Quantity Pressed - 1000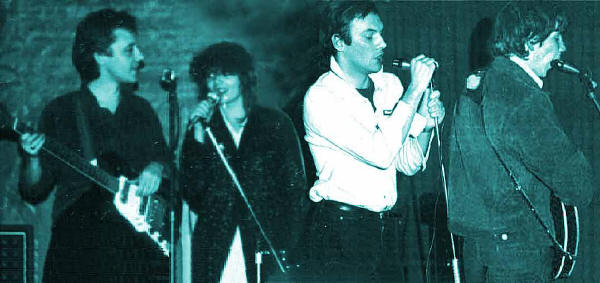 | | |
| --- | --- |
| Pete Daulby - Lead Vocals | Dave Daulby - Guitar / Vocals |
| Terry Podmore - Bass / Vocals | Paul Kearslake - Drums |
Joanne Whalley - Backing vocals
1978 - 1980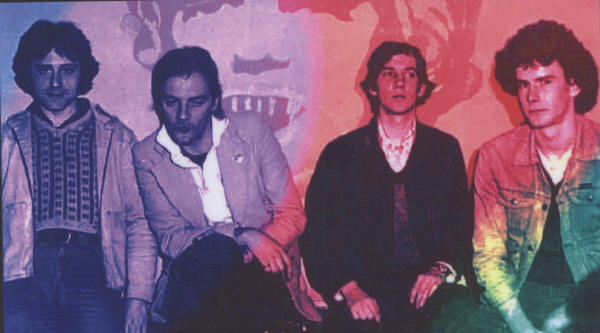 Their Story
The SlowGuns journey took them from the backstreets of Stockport and back again in two short, yet eventful years. A strong local following followed them everywhere, often against their better judgement. In 1979 the band recorded and released their now collectible first single 'TV Movie' b/w 'American Heartbeat'. The single received lots of airplay, including Radio 1 (John Peel) and had high praise in the national music press. The band played many gigs, accompanied on backing vocals by 'The Bullettes', two young ladies who answered an ad placed by the band in the NME. One of these birds soon flew the coop, but the other remained, and this bird's name was Joanne Whalley. 'Jo' sang backing vocals on many SlowGuns songs, including taking lead vocals during gigs on a song written specially for her by the band, "He's My Man". She eventually left in 1980, confirming, as they suspected, her thespian tendencies, eventually achieving worldwide fame by appearing in 'The Singing Detective' on TV and the hit movie 'Scandal'. She met her future husband (and future Batman/Jim Morrison actor) Val Kilmer on the set of their film 'Willow'. When she left the band, Terry told her she'd never work in Stockport again, and he was right - to this day she never has.
Drum & Drummer
SlowGuns released their second single 'The Time Is Right For Us' b/w 'My

Karma' in 1980 on their own 'Cult 45' label. But unfortunately, by the time of the

single's release the band had already began to implode, blaming arguments

caused by the taking on of too many tasks themselves i.e. managing, promoting,

booking gigs, writing, rehearsing, recording, the hiring and firing of drummers,

and who's turn it was to get the beer in.
Future Renaissance
SlowGuns vinyl singles have since proved highly collectible amongst post-punk

aficionados from Manchester to Tokyo.

The original 1,000 copies of 'TV Movie' have all been sold, and the limited edition five track

CD (now available from Detour) has also been a success. The band's nucleus are still very

much in touch, and discussions are currently underway for further CD releases.
Any further questions about the band, why don't you email them direct on:
Terry Podmore Bass
David Daulby Guitar
Paul Kearslake Drums
Peter Daulby Vocals
The Discography
Single: TV Movie / American Heartbeat (MPA - SMP088) 1979

Single: The Time Is Right For Us (Cult 45 -

Cult 001

) 1980

CD compilations: CULT 002: SlowGuns - The Singles CD (Red Sleeve) 2001

CULT 002: SlowGuns - The Singles CD (Blue Sleeve) 1st Limited Edition of 100

CULT 003: Relics from a Bygone Age (Promo) CD 2001*

CULT 004: Funny Old World

(Promo) CD 2003**

* Released under the name "Pea-Shooters"

** Released under the name "The Third Man"

Thanks to Pete, Terry & Paul
©Detour Records