SOCIETY

West London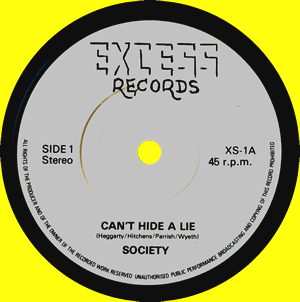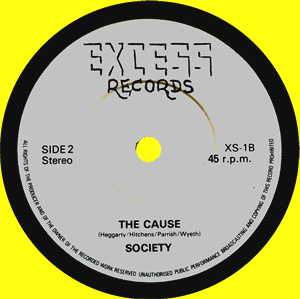 Can't Hide A Lie / The Cause
Catalogue Number - XS-1
Label - Excess Records
Year Of Release - 1980
Quantity Pressed - 500
SIMON PARRISH

– Vocals & Sax

LEIGH HEGGARTY

– Guitar

MARK WYETH

– Bass & Vocals

GARY HITCHENS – Drums
Gary Hitchens
Leigh Heggarty
Mark Wyeth
Simon Parrish
SOCIETY – A SHORT HISTORY
"We wanted to change the world – one record at a time!!"
SOCIETY were formed in the latter part of 1979 with the intention of making at least one decent single of their own original material.
The band were formed by Mark Wyeth and Leigh Heggarty – bass and guitars – who had previously played together in a band at their school Abbotsfield in Hillingdon, a suburb of West London.
By 79'/80' Mark and Leigh had both left school and were playing in different bands but they agreed to collaborate for what was to become a special 'one-off' single.
Both were heavily influenced by local punk heroes THE RUTS and the band name Society was chosen as an homage to the Ruts – it being the title of the flip side to 'Babylon's Burning'.
Leigh and Mark collaborated on the two songs that were to become the A and B side of the single. It was agreed that the A side would be a punk stormer and that the B side would be in a reggae vein.
The A side went through several re-writes. When Simon Parrish was brought in to sing on the A side – new lyrics were written by him and the title changed to 'Can't hide a lie' – a reflection on trust.
The B side retained its original lyrics – written by Mark – and as Simon didn't fancy singing that side – Mark did the vocal chores. Simon played the sax on the B side. The song is called 'The Cause' and was a reflection on the troubles in Northern Ireland.
Great drumming was provided by Gary Hitchens – a fellow Abbotstonian – who was a no-nonsense rock fan – but also happened to be a versatile drummer.
The single was recorded at the Fastbuck 8-Track recording studio in Chiswick, West London. Backing vocals on the A side were provided by Spencer from 60's pop group The Fortunes.
Mark and Leigh formed their own label – Excess Records and Leigh's brother Terry did the artwork/logo for the single. Finances dictated that the picture-sleeve bag idea had to be dumped.
The single was pressed and labels printed by Harrisons in Essex.
500 copies of the single were pressed. There was never a re-press and there never will be as the stampers were melted down and re-cycled many years ago.
Distribution of the single was limited due to Mark living in Leicester by 1980 and Leigh being in London and both moving on to other groups – Leigh forming THE OTHERS and Mark playing with THE WENDY TUNES and then THE SINATRA'S.
SOCIETY never played any live shows or sought any deal off the back of the record. It was simply an artistic statement that Wyeth and Heggarty wanted to make.
Praise for the single
In the years following its release some nice things have been said about the record. Steve La Maq once told a fanzine that included in his Top 5 Desert Island Disc's he would want to have 'Can't hide a lie' by Society – a tune he described as "perfect pop punk".
The existence of the single was pretty much forgotten until Mark and Leigh – in 2007 – played together again on some shows. Mark was by that time playing bass with FOXY'S RUTS – featuring Paul Fox (original guitarist of The Ruts). When Paul's cancer made him too ill to play, Leigh agreed to guest on some shows with the band at Paul's request. In the course of those handful of shows – including Rebellion at Blackpool in 2007 (see You-tube for clips) – the single was asked for and a few remaining copies located and were snapped up!.
Mark Wyeth

June 2009
WHAT THE BOYS DID NEXT
The members of SOCIETY went on to play with many different bands and at least three of the four original members are still active in music and playing gigs on a regular basis.
LEIGH HEGGARTY
Original guitarist with SOCIETY.
Having played in school bands including Moulin Rouge – after Society Leigh formed the great post-punk band THE OTHERS.
The Others featured the vocal skills of one Stuart Morgan, the drums of Pete Kennedy and Dr. K on bass. They recorded no singles or records but there are some dodgy video tap recordings of the band covering the period in 1982 when Mark Wyeth came back to play bass on some shows.
In the mid-eighties Leigh formed the band he is probably best known for THE PRICE. The Price recorded a flurry of really good singles and a mature mini-album 'The table of Uncles' along with a storming retrospective CD with So What Record's supremo Andy Peart. The Price also provided two tracks on the seminal 'Underground Rockers Vol. 2' compilation and shared the studio with a Welsh band called the Manic Street Preachers to record their tracks. The Price toured Germany and also played with The Neurotics, Perfect Daze and the Mega City Four.
In recent years Leigh has played with many bands including The Commitments, Chicago Blues Brothers Band and many more.
MARK WYETH
Original bass player and vocalist with SOCIETY.
Following Society and playing with The Wendy Tunes and The Sinatra's in Leicester – he returned to London in 1982 and thereafter had stints as fill-in bass player with Leigh in both THE OTHERS and THE PRICE – but made no recordings with either of those bands.
Through the 90's and early 80's Marks first love of Ska and Reggae lead him to found CLUB SKA and the CLUB SKA label – where he was known to many as 'Geno Blue'. CD's and DVD's on the Trojan and Cherry Red label followed.
Mark played bass and wrote songs with LAUREL AITKEN in the 90's. This culminated in the release of the Zigger Zagger EP on Cherry Red Records which – we are informed - has been the most popular CD single they have ever produced.
In 1997 Mark revived the Excess label to release a limited edition blue vinyl recording by the Chelsea Punk Rock All Stars. That band featured Paul Fox of The Ruts on guitar, Manic Esso of The Lurkers on drums and Mark on bass and vocals. The single was called "Chelsea's Gonna Win" b/w " Chelsea Maniacs". 1000 copies were pressed and it was sold from the Chelsea Independent Supporters stall with all profits to the charity Multiple Sclerosis. Some say that Suggs got the idea for the Blue Day lyric concerning 'Hoddle restoring our pride' from the CPRAS single – but that has yet to be determined!
In 2001 Mark recorded a live album with Laurel Aitken and Rico (from the Specials).
In 2004 Mark made the DVD 'Laurel Aitken & friends – Live at Club Ska' released on Cherry Red Records.
In 2005 Mark's film of the last Neurotics gig (previously released on Jungle Records in 1991) was re-edited, extended and released by Cherry Red Films.
In 2006 Mark was asked to play's bass with FOXY's RUTS. The band made their big stage debut at Badfest 2006 playing with Vice Squad, UK Subs and Sham 69 on the Friday. This show in turn lead to a European and UK tour with BAD MANNERS.
In March 2007 FOXY'S RUTS played at the Punk and Disorderly Festival in Berlin and had a tremendous reaction. Then Paul discovered that he had lung cancer. Paul died in October 2007.
In 2008 Mark and Lol Fox (drums with Foxy's Ruts) joined SYMARIP – the legendary Trojan Records Ska band. Mark and Lol have toured with SYMARIP and played Dublin and Skasplash and The Boss Sounds Festival with SYMARIP. They also occasionally play with SAVAGE CIRCLE – a spin off of the FR's and which also features Mark Paul on vocals and Rob Brook (guitarist with CASE and now with Johnny Moped).
Mark is currently working on a series of re-issues of Laurel Aitken albums on Pressure Drop and has been appointed as curator of the Laurel Aitken exhibition at The New Walk Museum Leicester – due to show in October 2010.
Original Drummer with SOCIETY.
At the time that Gary was leant on to play with SOCIETY he was in fact drummer with New Wave of British Heavy Metal legends METAL MIRROR. MM's self penned classic 'Rock and Roll aint ever gonna leave us' will set you back a cool Ł250 quid if you can find a copy.
After MM Gary played with another metal group called Vigilante – who put out one Cassette single.
In the 80's Gary joined fellow Abbotstonian Danny Jones in a band called National Anthem and they went to the US to try their luck for several years.
Gary returned to the UK in the 90's and played with a group called BITTERSWEET.
In recent years Gary has played drums with AC/DC tribute band DIRTY DC having before that spent some time in Atom Seed.
'H' remains a wicked rock drummer.
SIMON PARRISH
Original Vocalist and Sax player with SOCIETY.
After SOCIETY Simon – we think – gave up on music.
It would be nice to hear from him again.
Thanks to Mark Wyeth
©Detour Records