Some Chicken
| | |
| --- | --- |
| Ivor Badcock - Vocals | Jess Chicken - Guitar |
| Terry Bull - Bass | Galway Kinnell - Drums |
Some Chicken tend to get overlooked as non-entities behind the Users and Killjoys when people assess the impact of Lee Wood's Raw Records. But they're actually pretty good, in a scratchy, primitive vein. Certainly both sides of their raucous debut single are well worth investigating. John Peel was certainly a fan – he included 'New Religion' in his posthumously famous box of treasured 7-inch singles that he couldn't live without. The Melody Maker was less taken with their efforts. "Landlocked punk. Dull, thudding, nothing new". Galways Kinhell may, actually, have been Bob Fawcett, who later worked with groups including Skin Patrol.
By the advent of 'Arabian Daze' they'd opted for a much poppier sound, which is not unappealing but the production is terrible. And the band keep falling in and out of time.
Alex Ogg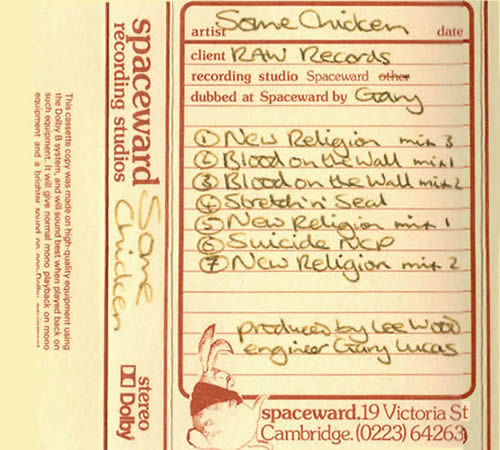 The above is the original tape inlay that the band took away with them on the day they recorded these seven tracks from the 'Spaceward' Studio in Cambridge in 1977.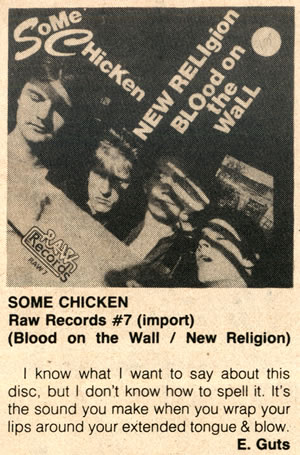 The above review appeared in the Los Angeles fanzine "Slash" #7, issue 1 from January 1978.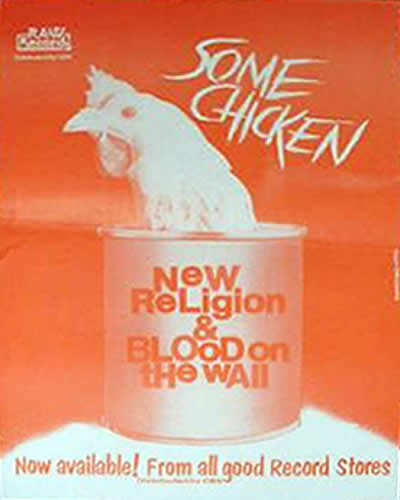 The above is an original promo poster for the bands debut single from 'Raw' Records.
©Detour Records