SPEED

Northshields
Johnny Fusion (aka

Johnny Brown) - Vocals

Steve - Guitar

Rob Grant - Bass

Maggie - Drums*
* Ian Templeton was also the drummer at some point.
Speed were one of the earliest Punk bands to form in the North East alongside Penetration. Their roots can be traced back as early as 1976, their average age was only 15 years of age! They soon got onto the pub circuit playing many local dives, one of which was "Gatsby's" in Whitley Bay which was a renown Gay hang out.
Their speciality was just turn up at other bands gigs and gatecrash the stage and just play using the other bands equipment until they got chucked off the stage! On one occasion, they were booked at a local Bikers haunt along-side fellow Punkers Blitzkrieg Bop.
By 1978 the band had splintered..... Johnny Fusion then moved to London and in 1984 formed "Band Of Holy Joy" who went on and released several releases over the years until calling it a day in 1992..... then in 2002 they reformed and released "Love Never Fails" album on the 'Rough Trade' label.

The above article appeared in the Sheffield based fanzine "Gun Rubber" #6 from 1977.

The above snippet appeared in the North East Punk fanzine "Gabba Gabba Hey" #4 from 1977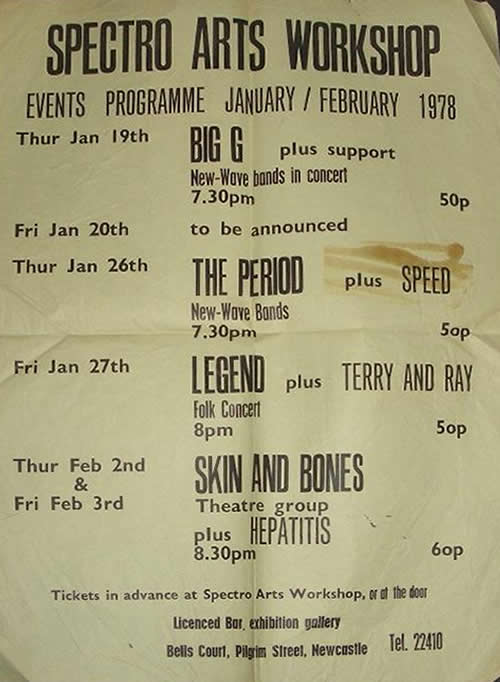 Above is an Original gig poster for 'The Period' & 'Speed at the "Spectro Arts Workshop', Newcastle on Thursday 26th January 1978.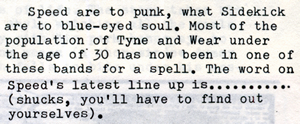 The above snippet appeared in the North East fanzine "Out Now" #9 from 1978
©Detour Records