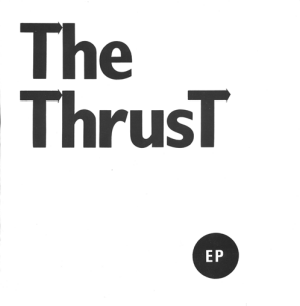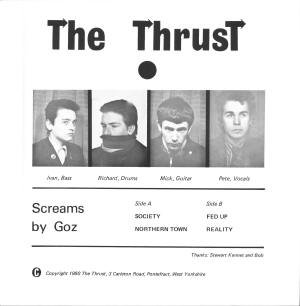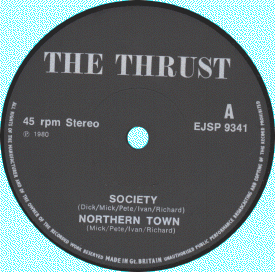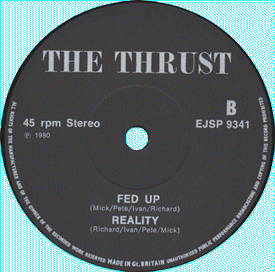 Society / Northern Town / Fed Up / Reality
Catalogue Number - EJSP 9341
Label - Ellie Jay Special Pressing
Year Of Release - 1980
Quantity Pressed - 500
| | |
| --- | --- |
| PETE SIMPSON - VOCALS | MICK GRIFFITHS - GUITAR |
| IVAN THOMAS - BASS | RICHARD BATTYE - DRUMS |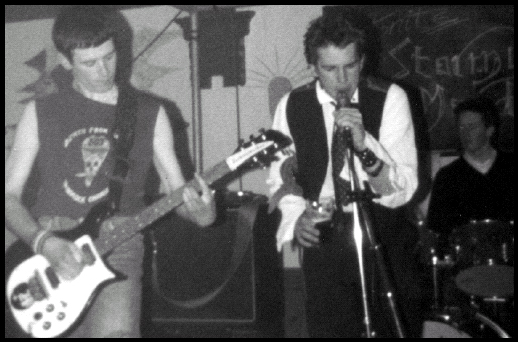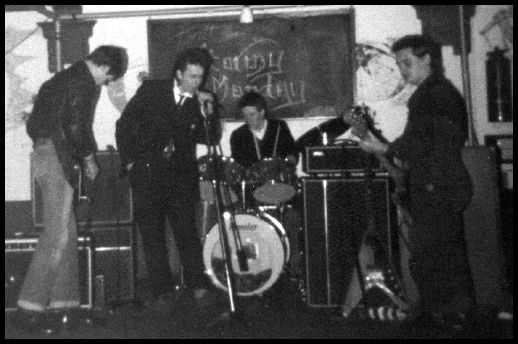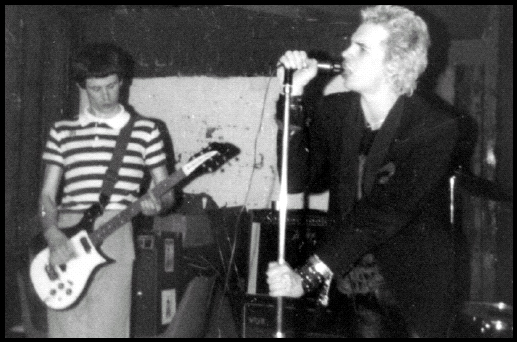 The above gig snippet is from Thursday 24th May 1979.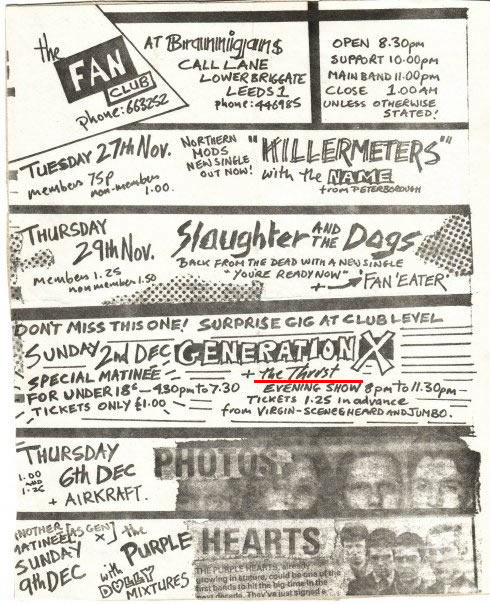 The above gig flyer is from Nov / Dec 1979 and advertises 'Generation X' & 'The Thrust' for the 'F-Club' on Sunday 2nd December 1979.
From their debut gig on Christmas eve 1977 to their last gig in December 1980, 'The Thrust were dogged with an unstable line up. Throughout that three year period there were eight different line ups. Vocalist 'Pete Simpson' and Guitarist / Songwriter 'Mick Griffiths' remained throughout the bands existence. However, three different Bassists and six changes of Drummers meant that the band never fulfilled their potential to develop due to the necessity of having to constantly to re-hearse their old songs.
The line up on 'The Thrust' EP of 'Pete', 'Mick', 'Ivan' & 'Richard' was probably the most stable and longest one. However, the second half of 1980 saw the band disintegrate and untimely fold shortly following 'Mick's' move to work as a hospital porter in Wakefield.
Highlight was an Anti-Nazi League organised festival gig in the summer of 1978 when the band were better received than the up and coming 'Gang Of Four' at Knottingly's 'Big K' Miners Social Club. Low point was the last gig at Pontefract Town Hall, definitely time to call it a day. Ironically, the last few months of the band's lifespan saw stronger and more forceful compositions, in particular 'Maybe Tomorrow' and 'New Times' becoming show stoppers.
'The Thrust' EP (Or 'Screams By Goz') was independently produced by the band themselves, released in early 1980 with only 500 copies pressed out of which only the first 100 copies came with picture sleeves.
Today, you can find Ivan (or Ifan as he now is) working as tour manager for the US Rockers 'The Bloodhound Gang'.
MICK GRIFFITHS

2000
©Detour Records