The Undertakers
| | |
| --- | --- |
| ROD WALKER - VOCALS | PAUL HUGHES - GUITAR |
| MIKE HOGAN - BASS | DEAN MARSHALL (aka MARIO) - DRUMS |
ROD WALKER
PAUL HUGHES
MARIO
MIKE HOGAN
Formed on 27th may 1977 when Paul met Rod at a Television/Blondie gig at Birmingham Odeon, the Undertakers took shape adding two more members, Mike and Mario who they met at Hobs Moat Youth club in Solihull the following month.
The band used to rehearse at Hatchford Brook youth club in Solihull, having a free run of the place on non club nights. The band soon worked up a rowdy punk set of early songs such as 'Down to Hell', '3 Coffins In My Head', 'NF', and the semi-legendary song 'Who Killed Jean Debney?' The band were later threatened by her parents with legal action if they ever played it live (needless to say it became a local anthem!).
The undertakers soon became Solihull's top live band, with a large raucous local following at Solihull venues especially 'The Lair' at the Golden Lion pub in the town centre. They were the band all the others wanted to support.
After a year or so of getting a red hot tight set, Paul Panic invited them to add a track to the Mell Square Musick EP, after the Dum Dum Boys, a band featuring a young Ranking Roger on drums dropped out. This led to John Peel playing 'Illusions' on his show on 12/9/79, and a residency at the Winyates social club in nearby Redditch.
They had already recorded a track called 'illusions' at Outlaw Studios (now Ocean Colour Scenes, Moseley Shoals studio) on 8 track, which was much more professional than the other bands who were only on 4-track.
Rod was a kind of Barrie Masters (Eddie and the Hot Rods) character, known for running around and jumping all over the stage and equipment, and some of the gigs were really riotous in the early days.
The band played around the country resulting in a memorable evening at the Moonlight Club in London blowing 'Fay Ray' off stage.
Around 1981 with the rise of 2-tone in nearby Coventry, the band changed their name to ME-I-MAFIA, and became more Punk/Reggae influenced (think the Ruts!), eventually meeting and recording with Charlie Anderson, the Selector's bass player.
Paul remembers that, Solihull for a while had a vibrant local punk scene, which had started at Solihull Technical college, in the common room which had a jukebox, and often resulted in a party atmosphere with the likes of the Accused / 021 / Cracked Actors / Undertakers / Swell Maps/ Life Support / Cult Figures, and often other Solihull based heroes at the gigs such as Spizz, and Genesis P Orridge.

UNDERTAKERS RELEASES SO FAR:

ILLUSIONS-MELL SQUARE MUSICK EP(1979)
OVERLOAD-TALE OF 2 CITIES COMP (1980)
UN-RELEASED SONGS AND INTERVIEW AND SUPER 8mm early film from 1978-MELL SQUARE MUSICK THE MOVIE DVD(2009)

ROD WALKER

PAUL HUGHES

ROD
PAUL
MIKE

MARIO

PAUL
MARIO
ROD

PAUL
MARIO
ROD

MARIO
PAUL
ROD
MIKE
Martin walker

PAUL
ROD
MARIO

ROD WALKER

MIKE
MARIO
PAUL

In front is Paul Panic, the three at the back are (L-R) are Mario, Mike Hogan & Paul Hughes

PAUL

MIKE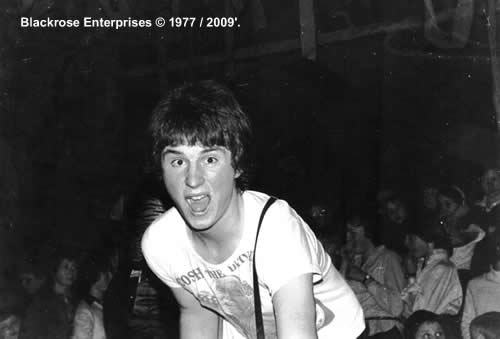 Paul Hughes live at the Hatchford Brook youth club in Solihull in 1978 with his 'Ronnie Biggs Cosh The Driver" T-Shirt.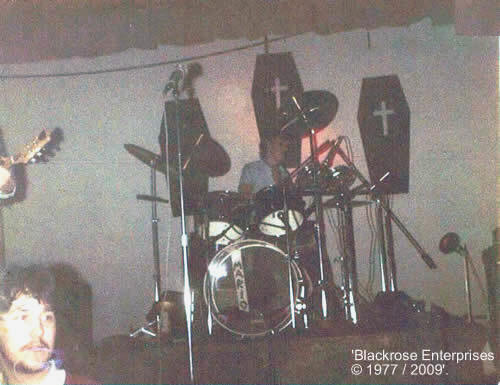 Mario live on stage at the 'Civic Hall' in Solihull promoting the 'Mell Square Musick' EP with his coffins as a backdrop!

The above Gig Advert with 'Helpless Huw' appeared in 'Sounds' on the 21st March 1981.

The above Gig Advert with 'The Gift' appeared in 'Sounds' on the 4th April 1981.
Thanks to Paul Hughes & Paul Panic
©Detour Records