THE VEKTORS

Edgeware, London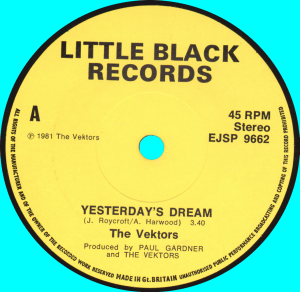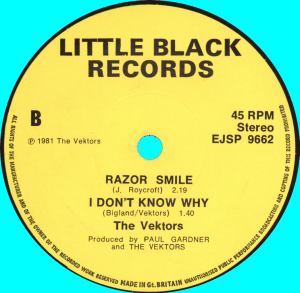 Yesterday's Dream / Razor Smile / I Don't Know Why
Catalogue Number - EJSP 9662
Label - Little Black Records
Year Of Release - 1981
Quantity Pressed - 300
A very rare UK Mod / Powerpop release from 1981. The band hailed from the out skirts of London and only released this one and only single. All copies came without a picture sleeve. Out of the 300 pressed, about 100 were destroyed by a broken water pipe incident at the bass players house!! The band sold / gave away about 150 to their "fans" and the remaining 50 copies dwindled away of the years.
"Andrew Harwood" - Vocals
"Jon Roycroft" - Guitar
"Dan Rogers" - Bass
"Paul 'Macko' McDonell" - Drums
Got together in 1979 at Edgware Secondary School, North London and stayed together until late 81. The drummers move to go to College in Brighton being the clincher.
Andrew Harwood was replaced by Gary Topp on Jan 81 after "musical differences" or just the fact that Andrew was being a bit of a dick, or perhaps we were, who knows the mists of time have taken their toll.
Played gigs around North London, including the Starlight Rooms and....Middlesex Poly and picked up a vocal if not huge following.
First gig was at the School Drama Room which was put on 6 weeks after the band was formed. Tracks played included the first self penned number "Bills Dog" dedicated to a school colleague Bill Sykes and his dog surprisingly enough, also interesting versions of "I will follow" and "Get it on".
Recorded 5 demo tracks at a studio in Rickmansworth, tracks were.
"Don't Know Why"
"Razor Smile"
"Too Serious David"
"One Way Flight"
"Plain Glass"
After about a year decided to "do" a record which was released in summer 81, three track single "Yesterdays Dream", "Don't know why" and "Razor Smile" , the A side was a Roycroft -music and Harwood-lyrics, 2nd track was a joint band effort with a bass line donated by a friend Grant Bigland and the third track was a Roycroft solo effort.
After we took on the new singer we did a couple of more gigs, even adding a saxophonist who was known as Lumberjack (think his real name was Phil Wright). We introduced a strange punk/skiffle version of Hawaii 5-0 and even attempted to do Pig Bags "Pappas got a brand new pig bag", But the writing was on the wall.
Check out the two rare pieces of footage below.

(

Live at the Starlight Rooms, 1980)

(

live at Harwood Hall, 1979)
Jon Roycroft

March 2005
©Detour Records