VICE SQUAD
(Doncaster)
Above: Vice Squad's Phil Tasker at their first gig (1978).

Vice Squad were formed in Doncaster, South Yorkshire in 1977.

Front man Phil Tasker takes over … "We started as three kids just out of school, there was me on guitar and vocals, Chris Bedford on bass and a guitarist called Ray Campbell. I had been writing stuff for a while and we started writing together and rehearsing at a place in Woodlands. We decided to form a band because we were excited by bands that we'd seen, mainly at the Outlook, such as The Boys, Generation X, Buzzcocks, Stranglers and many more. Early influences were The Stooges, Velvet Underground, Lou Reed, Roxy Music and Bowie, also more locally, Be Bop Deluxe. The main problem that we had was we had no drummer, and without a drummer there was no drive behind the music.

Eventually we heard about Roger Jackson and Clive Brooks, they were still at school and had long hair but were keen to join a band, so we got together and things seemed to gel. We started rehearsing at a youth centre near a cemetery in Balby and worked on original material with the odd Velvets track and a punked up version of 'Can't Buy Me Love' by The Beatles. We were all from the Intake area and had a Green Transit van called 'The Green Bomber'.
The first gig was at The Woolpack in Doncaster in February 78 and had a good turn out, mainly because people were so curious about these 'punk rockers'. It went pretty well, there were no major incidents although we were very nervous, especially as we were playing our own stuff and most people were used to bands doing covers. I had moved to just doing vocals now that we had two guitarists and we kept working on new material. Not long after, in March, I think, we played at the Outlook supporting Sham 69, it had been snowing and the van was playing up, I remember we had to push it quite a lot, sliding about in winkle pickers! The gig was packed to the roof and we were extremely nervous, I felt like I wanted to throw up, especially as I was the front man. Of course, everyone had come to see Sham 69; I think they had been on Top of the Pops with one of their famous tracks and we really felt like we were second class citizens. I remember Jimmy Pursey not being particularly friendly, I think he thought we were just hicks from the sticks. The gig itself didn't seem too bad but it all went by in a blur, I remember we were gobbed on copiously, but that came with the territory really, all bands whoever they were got gobbed on in those days. Of course, we relied on friends to help hump the gear about, a bloke called Andy Fountain used to drive the van and roadie for us. People were always asking for freebie ties as we wore skinny ties sometimes as if they were some kind of sales gimmick. We did a 4 week residency at Lincoln AJ's which was also very strange but we needed the money, talk about the city of the dead!"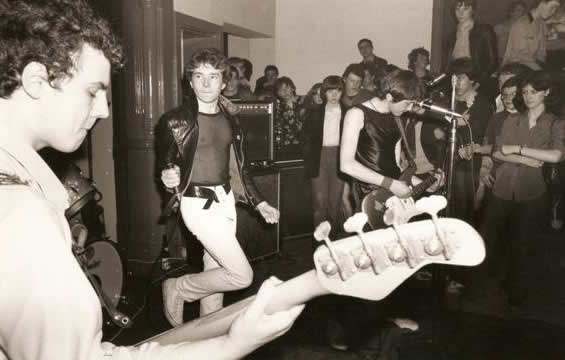 Above: Vice Squad' from left Chris Bedford; Bass guitar – Phil Tasker; Vocals and Clive Brooks; Guitar – seen here playing a 'Rock against Racism' gig at the First Aid Youth Centre in Doncaster .
Eventually we had enough material for a demo tape, and we managed to find a recording studio at Heckmondwyke, can't remember the name of it, I think Be Bop Deluxe had recorded there. We recorded five or six tracks, live in the studio, no overdubs, and it was ok really, we were quite proud of it. Not long afte recording the demo, Ray decided to leave the band, and the master tape disappeared with him, never to be seen again! We continued to rehearse and did some hideous gigs at Thurnscoe Hotel and somewhere else I can't remember, working men's clubs venues were not a good idea especially after the Bill Grundy debacle with the Pistols.
There was a constant threat of violence and when one venue had guard dogs roaming about, we were out of there quicker than you could say Johnny Rotten!
Above: Vice Squad Live – including a support slot at Retford Porterhouse with Adam and the Ants in early 1979
The Adam and the Ants gig we did was early on in 79 and Adam was conspicuous by his absence, we never saw him in the dressing room, I think we saw him once off stage, he was wearing a see through rain coat and national health glasses at that particular time, and of course the Ant followers used to have those angular lines drawn on their faces with eye liner. I don't think we actually spoke to Adam at all, and he didn't talk to us! Perhaps he stayed in a hotel; I remember it was really cold and snowy that night, more pushing the van in the snow!
Later that year we recorded two tracks for the 'New Wave from the Heart' LP, I remember we recorded the tracks live in some guys garage studio with overdubs for guitar and backing vocals. The record was recorded locally, with the tracks 'Prison Girls' and 'Words and Pictures'. Not brilliant, but a product of the minds of four teenagers at the time! We never met any of the other bands but we had some weird rivalry with Subliminal Cuts for some reason.
In the studio it was packed out with kids and there was a really good atmosphere, everyone seemed to really enjoy the whole experience and it felt good to end on a high. It was a shame to have to end it really, it had been a really creative time and we had produced some quite valid music for the short period that punk actually existed in its true form."
Special thanks to Phil Tasker (Vice Squad) and Tony Beesley (Author of 'Our Generation' - a unique account of the Punk generation of Sheffield and the surrounding area)