VICTIMIZE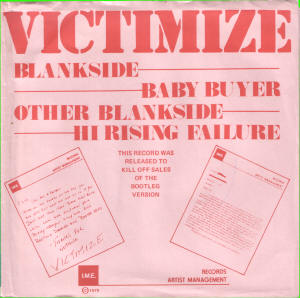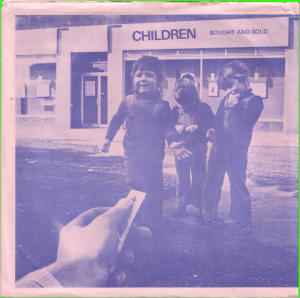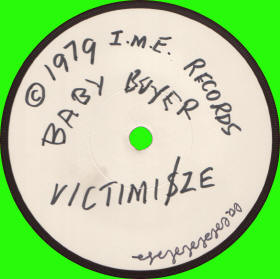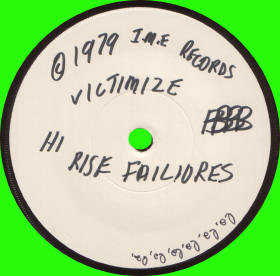 Baby Buyer / Hi Rise Failures
Catalogue Number - I.M.E. 1
Label - I.M.E. Records
Year Of Release - 1979
Quantity Pressed - 1000???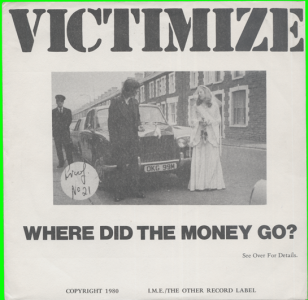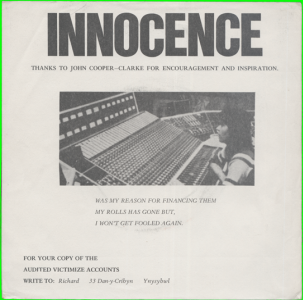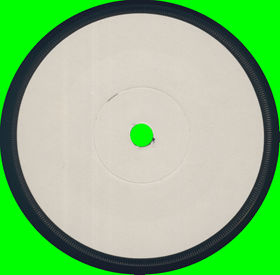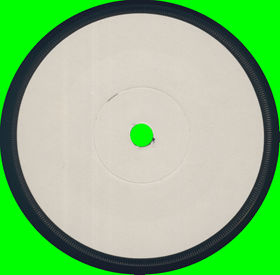 Where Did The Money Go? / Innocence
Catalogue Number - I.M.E. 2
Label - I.M.E. Records
Year Of Release - 1980
Quantity Pressed - 500???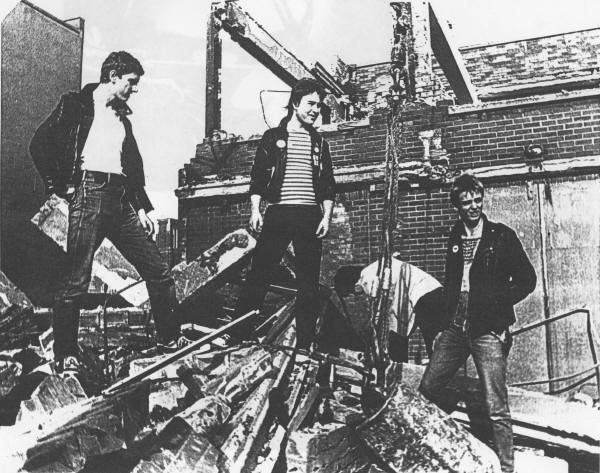 Victimize 1978
Left to Right
'Andy Johnson', 'Bryn Merrick', *Steve Alexander* & 'Andy James'.
*Steve Alexander* was posing as 'Mike Rudman' as he had a football trial with Bristol Rovers on the day of this photo shoot.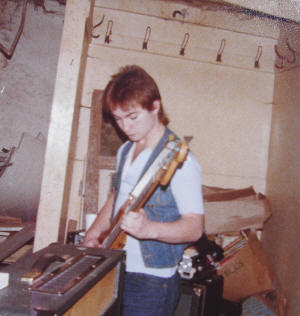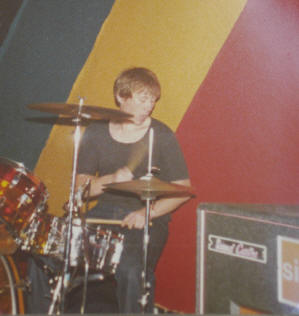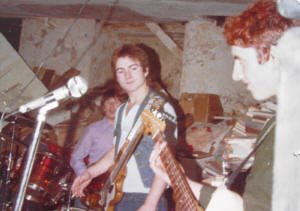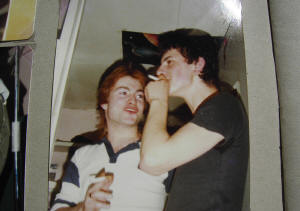 | | |
| --- | --- |
| Jeff Davies, Bryn Merrick & Andy Johnson | Bryn Merrick & Andy Johnson |

Pre "Victimize"

"Red Alert & The Rejects"

Andy James, Andy Johnson, Peter David Hopkin, Mike Rudman & Bryn Merrick posing at the 'Barry Memorial Hall' in February 1978.

Jeff Davies

"Live at 'Grannies', Cardiff 1979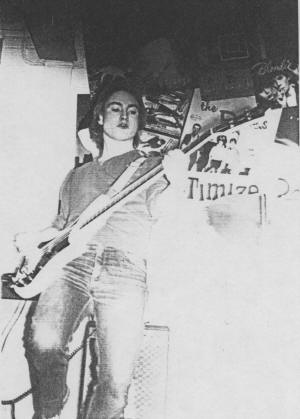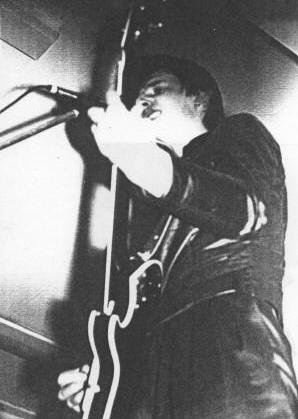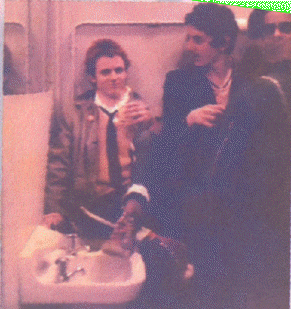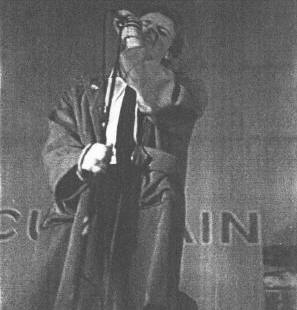 Pre "Victimize"

"Red Alert & The Rejects"

Andy James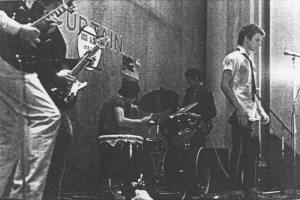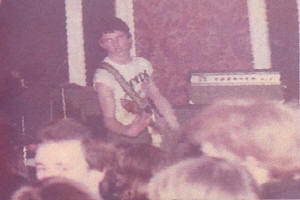 Pre "Victimize"

"Red Alert & The Rejects"

Andy Johnson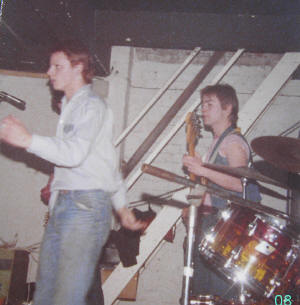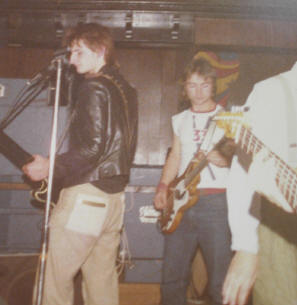 | | |
| --- | --- |
| Andy James & Bryn Merrick | Roman Jug, Bryn Merrick & Andy James |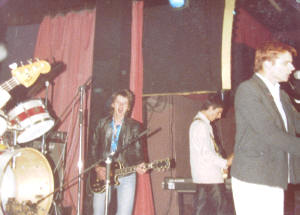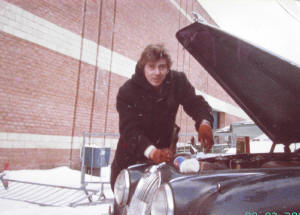 Roman Jug, Andy Johnson & Andy James

Live at 'Cardiff's Top Rank'

Richard Haines

(The Manager)
1977
In late 1977 Bryn Merrick & Andy Johnson made the musical transition from playing early seventies rock to playing out and out Punk on the advice of one Steve Alexander, a long time friend who had been converted to Punk via John Peel's radio show and his attendance of the infamous Sex Pistols gig in nearby Caerphilly. Steve introduced the boys to some early Punk material including The Damned, The Sex Pistols, The Clash and The Stranglers. Merrick & Johnson soon started putting some original material together with their limited musical talent and roped in a 15 year old Mike Rudman on drums, whose previous experience was playing snare in the local Jazz Band. The next recruit was Andy James on vocals, not because they liked him or because he could sing, but because he looked the part, being the only other Punk Rocker in the town. His lyrics were topical of the times with titles like GRUNWICK, concerning the long running dispute, HEADLINES, about the incessant reporting of the Northern Ireland troubles, THIS IS THE AGE, echoing the nuclear and computer age, BABY BUYER, about the baby boom in Mexico, HI-RISING FAILURES, a slating of tower blocks and WHERE DID THE MONEY GO, in reference to his Giro.
The band's first gig was a friends birthday party on 4th February 1978 under the name of Red Alert & The Rejects. They played again under the same name a few weeks later having recruited one Peter David Hopkin on lead guitar, a rather strange character whom James and Johnson had met on a New Years Eve bender. He was instrumental in rearranging Baby Buyer and adding to the set list such songs as COMMERCIAL T.V. and I'M SO BORED. He left the band soon after and later committed suicide using Cyanide after a police chase ended with his arrest for drink driving in 1986. One Tim Weaving replaced Hopkin for a short while but didn't stay with the band.
The other four members continued to gig and soon gained a reputation as a Hardcore Punk outfit on the Cardiff Pub scene, building a strong army of followers, throughout 1978. Significant venues were 'Grannies', 'Lions Den' & 'Grass Roots'.
In late '78 Richard Haines, a local businessman and self styled Promoter signed the band, who had now become THE VICTIMS. Initially it was just a management contract but Haines, keen to cash in, offered to finance the recording of two singles. The tracks were recorded in a small studio in Hayes, Middlesex. Haines then opened GRANNIES CLUB, a disused Porn cinema . It was soon the centre of all Punk activity in Cardiff thanks to headline acts like STIFF LITTLE FINGERS, THE DAMNED, THE U.K. SUBS, THE SKIDS, JOHN COOPER CLARKE etc etc.
Needless to say VICTIMIZE played support to most of these acts, increasing their popularity and, by now, cult following.
The first single was released during this period. BABY BUYER c/w HI-RISING FAILURES sold quickly in and around Cardiff but distribution was difficult in other areas. John Peel added it to his play list but only HI-RISING FAILURES was played due to the B.B.C. rejecting BABY BUYER because of its subject matter.
Mike Rudman, who had left the band just after the single was recorded, was replaced by Jeff Davies on drums. He in turn introduced Roman Jug on guitar who added a new approach to song writing within the band. This was the final line-up of Victimize and the one that played most of the gigs at Grannies and the other Punk stronghold, GRASS ROOTS in Charles Street.
The band continued to write and play in and around Cardiff producing such songs as SEX IN CHAINS, JENNY, THE DAY I MET GOD, SOCIETY'S CHILD, SOCIAL PORTRAIT, and ONE OF OUR AIRCRAFT IS MISSING.
Into 1980 and NEW WAVE was beginning to take over leaving Victimize to rue their chances. Relations with Richard Haines were at an end, their was no sign of the second single release. Jeff Davies was sacked and TREVOR REES was brought in on drums. His first and Victimize's last gig was a support to GANG OF FOUR at Cardiff University.
Andy James left the band and Merrick, Johnson, Jug & Rees turned to playing a more poppy sound masquerading under such names as THE SCANNERS and THE CARBURETTORS. Only ONE OF OUR AIRCRAFT IS MISSING survived from the old set lists of Victimize. It was short-lived and Johnson went to play with a couple of local outfits including NO FLIES IN JAVA and the SYSTEM. Merrick, Jug and James regrouped as THE MISSING MEN attempting a new psychedelic sound. Johnson rejoined along with Don Sinclair, the drummer with the SYSTEM. After a couple of indifferent gigs Andy James left the band and Roman took over on vocals. The band gigged locally for a while.
In late 1981 Roman, who had befriended Paul Gray of Damned fame left to join The Damned on keyboards. The Missing Men collapsed, Merrick joined Heavy Metallers STORM QUEEN and played throughout 1982 whilst Johnson and James regrouped as the WARHEAD SISTERS, a Punk-Comedy duo. In late 1982, Merrick was asked to join The Damned after the departure of Paul Gray. He went on to play with them until around 1990 appearing on such albums as STRAWBERRIES, PHANTASMAGORIA and ANYTHING with Roman. Meanwhile, Johnson and Sinclair formed The Missing with locals Christian Sargent and John Smith. This final Missing line-up produced a single, ELECTRICITY HEAD c/w SPIRIT on their own label and toured with The Damned on the Anything tour in 1986. The Missing split in 1987.
In 1991 Merrick returned to Cardiff and, with Johnson, started recording some new material. They recruited Sargent on Vocals and became BUG, gigging for about six months before folding.
N.B. None of the original members of Victimize had any say in the release of WHERE DID THE MONEY GO c/w INNOCENCE in 1980. Richard Haines released it, using local musicians, posing as the original members. Needless to say the scam didn't work!
Original band members even had to buy their own copies of the single from the local record shop!
'BABY BUYER' was written by MERRICK, JOHNSON, JAMES & HOPKIN
'HI-RISING FAILURES' was written by JOHNSON, JAMES & MERRICK
'WHERE DID THE MONEY GO' was written by JOHNSON, JAMES & MERRICK
'INNOCENCE' an adaptation of JOHN COOPER CLARKE'S 'INNOCENTS'
Where Are They Now?
Bryn Merrick (Bass) - Lives In Cardiff - Unemployed
Roman Jug (Guitar) - Lives In Southend On Sea - Now Producer & Solo Artist
Andy Johnson (Guitar) - Lives In Barry - Bar Manager
Andy James (Vocals) - Lives In Cardiff - Silk Screen Printer
Tim Weaving (Guitar) - Lives In Cardiff - Builder
Mike Rudman (Drums) - Lives In Barry - Fireman
Jeff Davies (Drums) - Lives in Hengoed - Policeman ?
Peter David Hopkin (Guitar) - Committed Suicide in 1986
Trevor Rees (Drums) - Lives In London - Employment Agency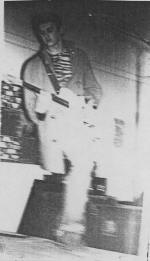 Andy Johnson 20th December 1996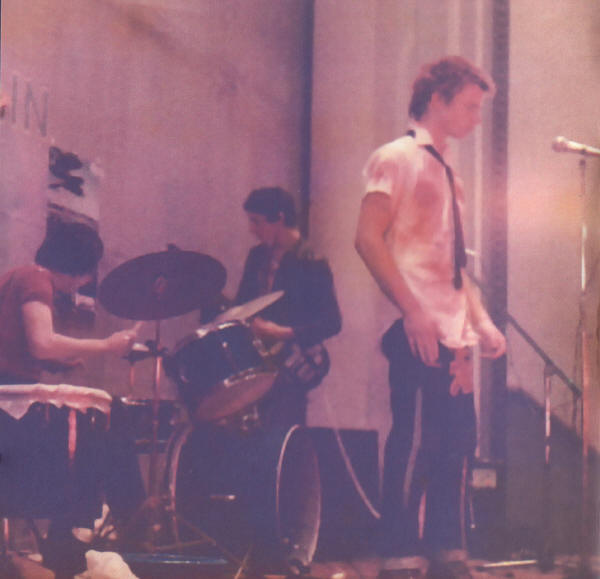 Thanks goes out to 'Andy Johnson' & 'Jeff Davies'
©Detour Records