| | |
| --- | --- |
| Chris Nott - Vocals | Glyn Davies - Lead Guitar |
| Steve Wilson - Bass | Andy Hubble - Drums |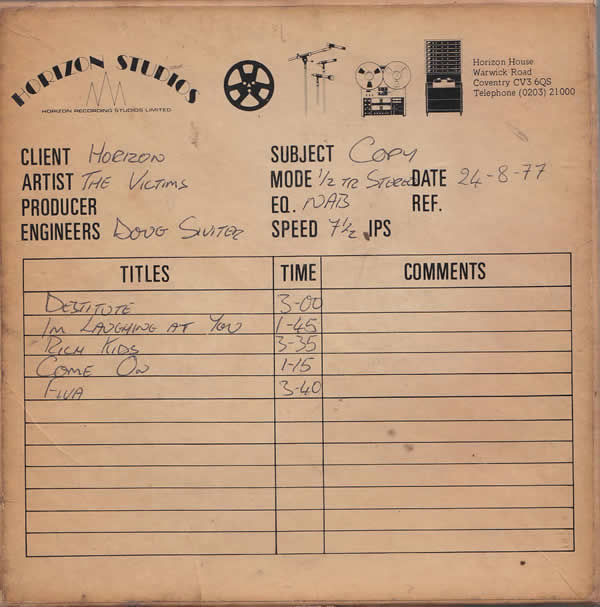 Above is the original reel to reel master tape from the 'Horizon Studio', Coventry from 24-08-1977.
Formed out of the ashes of Glamsters... 'Snaps' who were managed by 'Roy Massey' who also went onto manage the mod band 'The Circles'. In the bands short career, they ventured into the studio twice to lay down seven tracks.
In early 1977, the band ventured into the 'Horizon Studio' in Coventry and recorded 'I'm laughing at you', 'Rich Kids', 'C'mon', 'Destitute' & 'Fiver'. The 'Horizon Studio' is were the majority of the 'Two Tone' bands recorded.
Then in late 1977, the band ventured into 'Nest Studio', Birmingham to record 'Standing Waiting' & 'Pogo'
Above is an Original 70cm x 53cm Gig Poster from 1977.
Andy Hubble
Chris Nott
Steve Wilson
Glyn Davies
| | | |
| --- | --- | --- |
| | The above interview feature in the Stevenage 'City Chains' #2 fanzine from September / October 1977. | |
The above article on the 'Birmingham Punk Festival' that took place at "Barbarellas", Birmingham on the 29th August 1977 appeared in the 'NME'.

The above tour dates were from September 1977 and were with "London" (unless stated).
Thanks to Chris Nott & Andy Hubble