The Zippz

Northampton
| | |
| --- | --- |
| Martyn Smith - Vocals & Guitar | Wilf Woods - Vocals & Guitar |
| ???? - Bass | Jack (Neil Arrowsmith) - Drums |

It was 1977 and the era of Punk and so a complete change of direction for me. Not wanting to miss the bus I joined up with Wilf, Jack and ? (all previously with local R&B band Wild Thing) and we formed a power pop / punk band playing all original material written by Wilf with both of us sharing lead vocals. This was our first big crack at fame and fortune and although we played some local gigs we had set our sites on being spotted in London. It wasn't long before we managed to get the chance to play at the infamous Roxy Club (birthplace of the Sex Pistols and The Damned etc.) the 101 Club (where we supported The UK Subs, to an audience of Skinheads) and The ? in Stoke Newington. These gigs were a real eye opener after playing sleepy Stanwick. The audiences were crazy and we would regularly come off stage covered in gob from the admiring punks (this was a sign of popularity....honest!) Once or twice every week we would get in our beaten up Trannie and head to London. One night The Damned came to watch us and borrowed our gear to do an impromptu set. We made some recordings at Beck Studios in Wellingborough and also at Cliff Richards studio in Regent Street. You can hear some of these songs (in poor quality) on the jukebox. Wilf was a great song writer and of all the people that I've met during my career he was the one who had the most "star" quality. Unfortunately we were never quite in the right place at the right time and it never happened for us but I'll never forget my days (nights) with the Zipppz.
(Does anyone have any pictures?)
Above is an original 'Roxy Club' gig listing for 'The Zippz', 'The Tax Exiles' & 'The Vamp' from Friday 10th March 1978.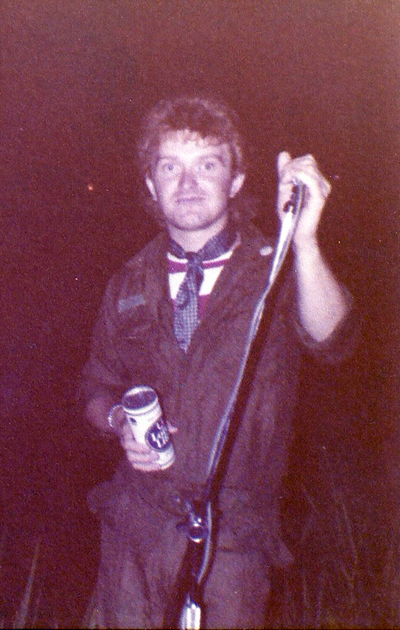 'Martyn Smith' a few years later in a band called 'KSN' in 1979
Thanks to Martyn Smith for the above info.
©Detour Records