The Reziziters
The Rezizters were. Dave Davenport vocals, Elena keys & synths, Keef drums & percussion, Mark Fane 1st guitar, Chris 2nd guitar, and Paul bass.

The band were formed in 1977 and all band members lived in Cannock, Staffordshire. There own music was a mix of punk / trash -rock.
They played many cover versions of chart songs at that time, some to mention are: the Sex Pistols, the Dammed, the Ruts, the Clash , Magazine etc. We played small pubs first, the "Nest" in chadsmore, the "Star an Garter" in Cannock, various Youth Clubs and self promotion gigs, till we got our own promoter he put us on at Cannock Forum theatre, Bilston Town Hall, Darlaston Town Hall, these were much bigger venues and we were doing many other gigs in the West Midlands area and attracting a very loyal following. We did some demos en stuff but our music kept changing to the point that we were having musical differences. Mainly due to the electronic age creeping upon us. Synthesizers! Computers! Electric drums! Gasp! Horror! Anyway we enjoyed every minute we played, even when our transit van broke down on the M6 on our way to a gig in Coventry!, it cost us about sixty quid to get home that night that was two weeks wages in them days!
Sadly the band split in 1980...
Keef Bennett
Live at the "Star & Garter"

Cannock, 1979

Live at the "Nest" Chadsmore, 1979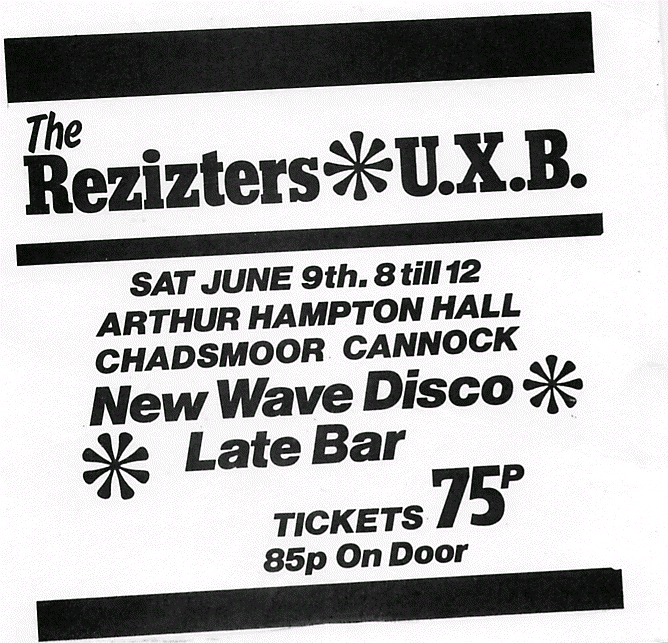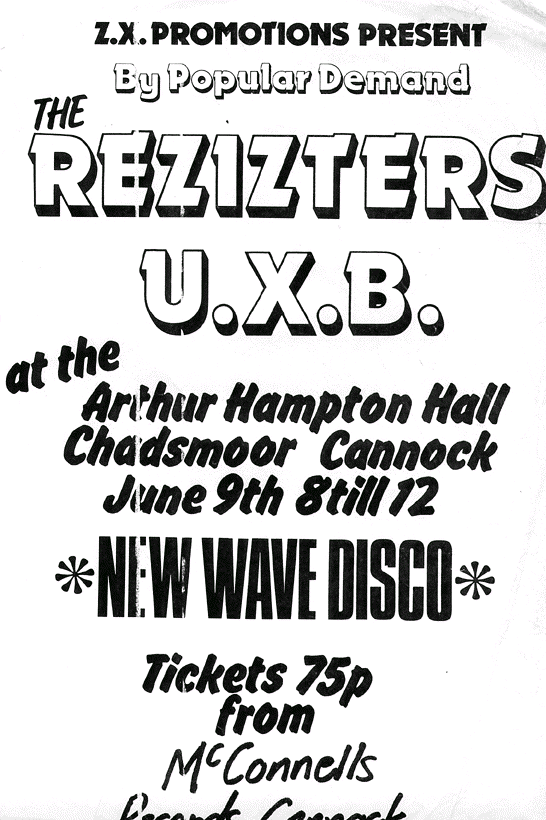 Above are two original gig flyers from Saturday 9th June 1979.
Thanks to Keef Bennett & Colin Bennett
©Detour Records